If you're a true southerner, then you know what time of year it is. It's Football Season! For the next few months, parties and weddings will be planned around football schedules.
On home game weekends, cars and trucks will be packed up with coolers of food and libations as happy fans park and party waiting for the much-anticipated kick off. The recipes this week are great for tailgating! My favorite nurse-turned-singing sensation, Velma Polk, was the inspiration for the Jalapeno Corn Dip. She made a fabulous corn dip for a party a few weeks ago – and I ate most of it. This is my copycat recipe. Add more or less jalapeno, to your taste. I actually used about ¾ cup when I created the recipe. The hotter, the better. Stuffed French Bread is great to make ahead and will stay warm for quite a while wrapped in foil in an insulated cooler. It's hearty and filling and delicious. Crunchers are just a little something sweet. Use either crunchy or smooth peanut butter. On a personal note, Go Pack! I'm still a North Carolina girl at heart, you know.
Jalapeno Corn Dip (above)
1 (8-ounce) package cream cheese, at room temperature
2 tablespoons mayonnaise
1 cup shredded sharp cheddar cheese
½ teaspoon garlic powder
¼ teaspoon onion powder
¼ teaspoon seasoned salt
Dash hot sauce
1 (15.25-ounce) can sweet corn, drained
¼-½ cup (to taste) diced jalapeno peppers, drained
1 green onion, chopped
Salt and pepper
Preheat oven to 350 degrees. In a medium bowl, mix together cream cheese, mayonnaise, cheddar cheese, garlic powder, onion powder, seasoned salt and hot sauce. Fold in corn, jalapeno peppers and onion. Season, to taste, with salt and pepper. Place in a greased baking dish and bake in preheated oven for 15 to 20 minutes until heated through. Serve with tortilla chips. Serves 4.
Stuffed French Bread

1 (8-ounce) French baguette
1 pound lean ground beef
¼ cup chopped onion
1 teaspoon minced garlic
¼ cup chopped green bell pepper
¼ cup chopped red bell pepper
2 tablespoons fresh chopped Italian parsley
1 (10.5-ounce) can cream of mushroom soup
2 tablespoons milk
3 teaspoons worcestershire sauce
Salt and pepper
1 cup shredded sharp cheddar cheese

Preheat oven to 350 degrees. Slice the baguette in half, lengthwise, creating two equal pieces. Scoop out the bread in the center of each piece. Place bread in a large bowl and tear into pieces. Place the two halves of the French bread on a large piece of aluminum foil. Brown the ground beef and onion in a large skillet, over medium-high heat. Drain any grease. Add the garlic and bell peppers, cook until peppers are tender. Add, parsley, soup, milk and worcestershire sauce. Season, to taste, with salt and pepper. Stir and cook until mixture is heated through. Add the beef mixture to the bread in the large bowl, stir to combine. Spoon mixture into the center of one half of the French bread, spread out evenly. Top with the shredded sharp cheddar cheese. Top with the other half of the bread. Wrap with aluminum foil and bake for 10 to 15 minutes, until cheese is melted. Remove from oven and let stand for 5 minutes before slicing and serving. Serves 4.

Crunchers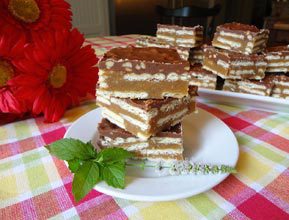 2 sleeves club crackers
1 cup butter
2 cups graham cracker crumbs
1 cup firmly packed brown sugar
½ cup milk
1/3 cup sugar
2/3 cup peanut butter
½ cup semi-sweet chocolate morsels
½ cup butterscotch morsels
Line an ungreased 9×13-inch baking pan with aluminum foil, leaving an extension of foil easy removal. Line the foil with one layer of club crackers. In a large saucepan, melt butter over medium heat. Add graham cracker crumbs, brown sugar, milk and sugar. Bring to a boil and boil for 5 minutes, stirring constantly. (Begin timing 5 minutes from when you see the first bubbles.) Remove from heat and spread evenly over the crackers. Place another single layer of crackers evenly over butter mixture. Spread remaining butter mixture evenly over crackers. Top evenly with remaining crackers. In a small saucepan, combine peanut butter, chocolate morsels and butterscotch morsels. Melt over medium-low heat, stirring constantly. Spread evenly over top of crackers. Cover and chill for at least one hour. Lift foil overhand and remove from pan. Cut into bars. Store in refrigerator. Makes 24.

The writer owns Catering by Debbi Covington and is the author of two cookbooks, Gold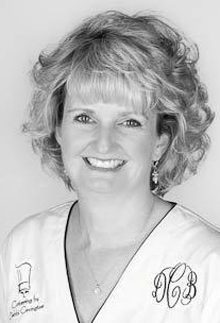 Medal Winner of the Benjamin Franklin Award, Celebrate Everything! and Dining Under the Carolina Moon.  Debbi's website address is www.cateringbydebbicovington.com. She may be reached at 525-0350 or by email at dbc@cateringbydebbicovington.com