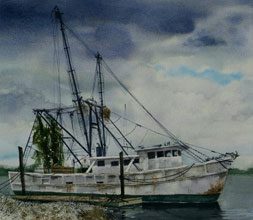 Travel with artist Thomas Hanlon on a Lowcountry Excursion this September at Art League Gallery. Hanlon began painting at age 12 with mentor Edwin Havas, AWS, and has continued to be a working artist for most of his career. Hanlon and his wife traveled the United States from 1989-2015 selling his works at festivals and fine art shows.
       This exhibit stems from Hanlon's childhood of going on Sunday family trips to anywhere and everywhere. Each newfound place became a new subject to paint. "There has always been joy for me in recognizing powerful compositions revealed in naturally occurring situations," states Hanlon. Now a Lowcountry resident, Hanlon knows you do not have to travel far to find inspiration.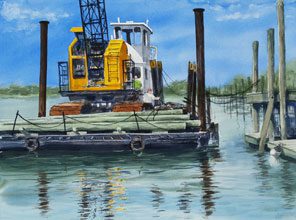 View the Lowcountry in a new light this September. Lowcountry Excursion, Watercolors by Thomas Hanlon will be on exhibit at Art League Gallery, August 28 – September 22, 2018. An Artist's Reception will be held on Wednesday, September 5, from 5-7pm, and Artist Demonstrations on Saturday, September 1 and Saturday, September 8, both from 10am-12pm.
       Art League Gallery is located mid-island inside Arts Center of Coastal Carolina, 14 Shelter Cove Lane, Hilton Head Island, 843-681-5060.