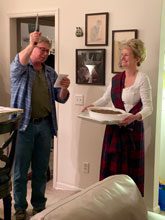 I blame my editor. Margaret Evans, this is all your fault. We were sitting on the Lowcountry Weekly porch during Water Festival and I mentioned that I was looking for a new historical fiction series to binge watch on Netflix. Almost immediately, Margaret said, "Outlander. Have you watched Outlander yet? I bet you'll love it."
"The one about time travel?" I asked. "Yes! It's about a nurse from World War II who travels back to Scotland about 200 years earlier. You WILL LOVE IT." "Okay," I said, "I'll check it out." Not really convinced, one hot day the next week, I decided to take an afternoon nap with my kitty, Belle, and selected Outlander to fall asleep with. Twenty minutes later I sent Margaret a text with an emoji of a fish on a hook. I've been totally fascinated with all things Scottish ever since.
A number of years ago I spent quite a bit of time researching my family history in the North Carolina Archives. Consequently, I knew much about my Scottish heritage. I already owned a kilt, scarfs and pins from my clan, Lindsay. So, imagine when I realized that there was an official Scottish holiday that we could celebrate here in the Lowcountry, on January 25th, and just by chance it was on a Saturday night this year. I started secretly planning a Burns Night celebration immediately. Burns Night commemorates the birthday of the bard (poet) Robert Burns, who was born in 1759. It also celebrates Burns' contribution to Scottish culture. His best know work is Auld Lang Syne.
Vince and I hosted our first Burns Night last Saturday with some of our nearest and dearest friends. I must say, we do have the funnest group of chums. In the spirit of the evening, they all dressed in tartans and plaid, lots of kilts and lots of bare knees. Adventurous lads and lassies, they all tasted my rendition of Haggis – and liked it. Vince said the Selkirk Grace, LCW publisher, Jeff Evans, gave the Address to A Haggis and then stabbed the wee beastie. (See us pictured above.) Brad Ballington did his homework and gave a fabulous Toast to the Lassies and Louise Hodges responded with a Reply to the Laddies by writing a wonderful poem. Mike McFee tickled the ivories on our piano as we all sang Auld Lang Syne.
Since this is supposed to be a food column, I'd better get to the food part. Traditional Burns Nights are often seated dinners with many courses and lots of speeches. I wanted our gathering to be more of a party so I took some traditional Scottish dishes and turned them into hors d'oeuvres, canapes and cocktail party foods. Our non-traditional event featured a Scotch whisky cocktail called The Presbyterian, Rumbledethumps Canapes, Deconstructed Scotch Eggs with Highlander Mustard, Balmoral Bites, Goat Cheese and Bacon Toasts, Scottish Smoked Salmon Terrine with Highland Oat Crackers, Grilled Pork Tenderloin with Scotch Whisky Sauce, Lowcountry Haggis, Neeps and Tatties Salad, Bitter Greens with Grapes and Toasted Hazelnuts, and Selkirk Bannock Bread and Butter Pudding with Butterscotch Whisky Sauce for dessert. This issue, I'm sharing several recipes from our Bill of Fare. If you'd like to use some actual biadhan (that's Scottish for 'food') visit scottishgourmetusa.com. I purchased Haggis Sauce, Oat Crackers and Selkirk Bannocks from them and was very pleased.
Back to the title of my column, here's a wee bit of trivia for you to share with your friends The traditional Scottish Gaelic toast when raising a glass to say 'cheers' is Slàinte Mhathwhich is pronouncedslan-ge-var. Aye! How fun is that?
"Should auld acquaintance be forgot, and never brought to mind? Should auld acquaintance be forgot, and auld lang syne? For auld lang syne, my jo, for auld lang syne, we'll tak' a cup o' kindness yet, for auld lang syne."
The Presbyterian (Featured Cocktail)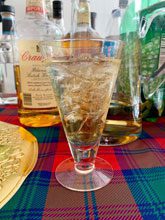 I made two big pitchers of this concoction. I didn't actually measure anything and just dumped it all in. It was delicious! If you're not a fan of Scotch, use bourbon or rye instead.
¼ cup scotch whisky
½ cup ginger ale
½ cup club soda
Serve over ice. Serves 1.
Deconstructed Scotch Eggs with Highlander Mustard
This lighter version of a old favorite features a delicious fiery mustard.
For the mustard:
1 cup Dijon mustard
½ teaspoon dried red pepper flakes
1 tablespoon cider vinegar
1 tablespoon honey
1 tablespoon scotch whisky
½ teaspoon grated nutmeg
½ teaspoon sea salt
For the canapes:
6 large eggs
1¼ pounds (5 sausages) mild Italian sausage
Oat, multigrain or whole wheat crackers
Italian parsley, to garnish
Mix mustard ingredients together in a small bowl. Cover and refrigerate for at least 12 hours before using. In a medium saucepan, cover the eggs with about 1-inch of cold water. Place the lid on the pan and bring the eggs to a boil. Immediately turn off the heat and set the pan aside for 15 minutes. Remove the eggs from the pan and plunge into a bowl of cold water. Once cooled, remove the eggs from the shells. Slice eggs into rounds. Remove casings from sausages and divide each sausage into 6 pieces. Form into small patties and saute until brown and cooked through. To assemble the canapes, put a hearty dot of Highlander Mustard on each cracker round. Top with a slice of egg and a warm sausage patty. Garnish with a leaf of Italian sausage. Makes 30.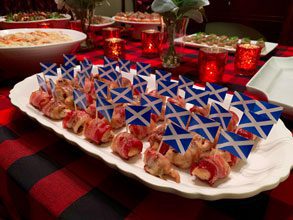 Balmoral Bites
A super easy party nibble with a Scottish twist.
8 chicken tenders, cut into thirds
6 large white mushrooms, quartered
12 slices bacon, halved
Grains of paradise or dried sage
Haggis sauce or redcurrant jelly
Preheat oven to 350 degrees. Spray a baking sheet with cooking spray. Wrap a piece of chicken tenderloin and a slice of mushroom in a halved slice of bacon and place seam side down on prepared baking sheet. Bake for 15 minutes. Remove from oven and brush liberally with hassis sauce or jelly. Continue baking for 15 to 20 minutes more or until bacon is crispy and chicken is cooked through. Serve hot. Makes 24.

Lowcountry Haggis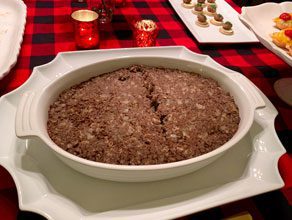 The idea of eating Haggis can be a bit offputting for some folks. Officially named by Lowcountry Weekly editor, Margaret Evans, my recipe uses easier-to-find and more palatable ingredients that will please every one of your guests.
2 tablespoons butter
2 medium sweet onions, chopped
2¼ teaspoons ground corriander
2¼ teaspoons nutmeg
2¼ teaspoons allspice
1¼ teaspoons dry thyme leaves
1¼ teaspoons black pepper
¾ teaspoon ground cinnamon
1½ pounds chicken livers, roughly chopped
2 pounds ground lamb
1 pound ground beef
1 (14.5-ounce) can chicken broth
1½ cups oats
1-1½ teaspoons salt
Melt butter in a large heavy bottomed pot. Add diced onion and cook over medium heat until softened, about 5 minutes. Add the corriander, nutmeg, allspice, thyme leaves, black pepper and cinnamon; cook for 1 minute. Add the chicken livers, lamb and ground beef. Brown the meat until cooked through. Add the chicken broth and simmer, uncovered, for 20 minutes. Stir in the oatmeal, mixing well. Season with salt. Remove meat from the pan with a slotted spoon and drain well on a stack of paper towels. Preheat oven to 350 degrees. Prepare a large baking dish with cooking spray. Spread meat mixture evenly in pan. Bake, uncovered, for 30 minutes. Serves  12.

Rumbledethumps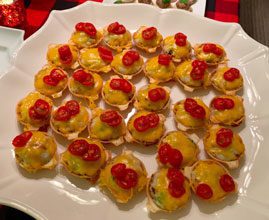 I love the name of this Scottish dish! Serve it as a side dish or do like I did and turn it into canapes by serving small bites in little pastry shells.
5 large red potatoes, unpeeled
1 (15-ounce) can seasoned cabbage, lightly drained
1 stick butter
2 tablespoons heavy cream
1 bunch green onions, chopped
1 cup extra-sharp cheddar cheese
Chopped tomatoes, to garnish
Dice potatoes and cook until tender in boiling water. Drain and return potatoes to the pot. Add butter and heavy cream and mash. Stir in green onions. Spread evenly in a lightly greased casserole dish and top with cheddar cheese. Garnish with chopped tomatoes. Bake in a preheated 350 degree oven until warmed through and cheese is melted. Serves 6.

Selkirk Bannock Bread and Butter Pudding with Butterscotch Whisky Sauce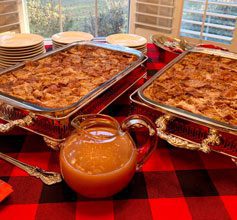 Selkirk Bannocks are very dense Scottish raisin breads. Challah bread with a handful of raisins would be a good substitute. This recipe can easily be halved and cooked in an 8×8-inch baking dish. Just reduce the cooking time to 50 to 60 minutes.
For the sauce:
1 (13.25-ounce) jar butterscotch sauce
2 tablespoons scotch whisky
For the bread pudding:
2 (1-pound) Selkirk Bannocks
½ stick butter, melted
6 eggs
2/3 cup sugar
2 teaspoons cinnamon
2 teaspoons allspice
2 teaspoons vanilla extract
2 cups whole milk
2 cups heavy cream
In a small bowl, combine butterscotch sauce with scotch whisky; set aside until ready to serve. Slice bannocks into 1-inch cubes, about 12 cups. Spread bread evenly in a greased 9×13-inch baking dish. Drizzle melted butter over bread. In a large mixing bowl, mix eggs with sugar, cinnamon, allspice, vanilla, milk and heavy cream. Pour evenly over cubed bread. Let sit for 30 minutes or until bread has absorbed most of the liquid. Lightly mash the bread down with the back of a fork, if necessary. Cover with foil. Preheat oven to 350 degrees. Bake for 70-80 minutes, removing foil after 60 minutes, to allow the top to brown. The bread pudding is done when it is golden brown and springy to touch. The center of the pudding should be baked through and not at all liquid. Serve warm with Butterscotch Whisky Sauce. Serves 12 to 15.

The writer owns Catering by Debbi Covington and is the author of three cookbooks, Celebrate Beaufort, Celebrate Everything! and Dining Under the Carolina Moon. Debbi's website address is www.cateringbydebbicovington.com. She may be reached at 525-0350 or by email at dbc@cateringbydebbicovington.com.