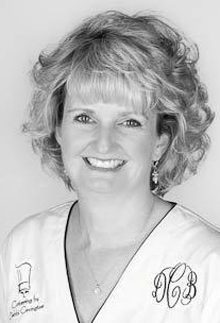 Nothing compares with the aroma of freshly baked bread! All of this week's recipes are for easy-to-prepare breads and muffins that are best when served warm. Some of my favorite serving suggestions include:  Cheesy Spinach Muffins with tomato soup, Praline Muffins and Cranberry Butter with a green salad, Herbed Parmesan Biscuits with spaghetti or pasta, Sour Cream Muffins with chicken salad, Peach Poppy Seed Muffins with spinach quiche, Black-Eyed Pea Cornbread with pork chops, and Miniature Buttermilk Biscuits with baked salmon. Happy baking!
Cheesy Spinach Muffins
1 (10-ounce) package frozen chopped spinach, thawed and squeezed dry
½ cup chopped onion
2 eggs, beaten
½ cup grated Cheddar cheese
½ cup grated Parmesan cheese
½ cup Blue cheese salad dressing
¼ cup butter, melted
1/8 teaspoon garlic powder
1 (8½-ounce) box corn muffin mix
Combine all ingredients.  Spoon into three lightly greased mini muffin pans, filling about three-fourths full.  Bake for 14 to 17 minutes in a preheated 350 degree oven.  Cool in muffin pans for 5 minutes before serving.  Serves 8 to 12.
Praline Muffins with Cranberry Butter
2 sticks unsalted butter, softened
¾ cup dried cranberries
6 tablespoons powdered sugar
2 teaspoons grated lemon peel
1 cup coarsely chopped pecans
1 cup light brown sugar
½ cup all-purpose flour
¼ teaspoon baking powder
¼ teaspoon salt
2 eggs
½ teaspoon vanilla extract
2 tablespoons butter, melted
Coarsely chop cranberries with sugar and lemon peel.  Add butter and blend until mixture is combined but slightly chunky.  Cover and chill. Combine next 5 ingredients in a medium bowl and mix well.  Add eggs, vanilla, and butter.  Stir until all ingredients are combined.  Spoon into greased muffin pans, filling half full.  Bake at 300 degrees for 20 to 30 minutes.  Serve with Cranberry Butter that has been brought to room temperature.  Serves 12.
Herbed Parmesan Biscuits
1 (16-ounce) can refrigerated buttermilk biscuits
¾ stick butter, melted
½ teaspoon dill weed
1 teaspoon dried minced onion
1 tablespoon chopped fresh parsley
2 teaspoons grated Parmesan cheese
Preheat oven to 350 degrees.  Separate biscuits and divide into quarters.  Add dill weed, onion, parsley, and cheese to melted butter; mix well. Roll each biscuit piece in butter mixture to coat well and place on buttered baking sheet.  Bake for 8 to 10 minutes until golden. Serves 4 to 6.
Sour Cream Muffins
1 cup self-rising flour
1 (4-ounce) container sour cream
½ cup butter, melted
Stir together all ingredients just until blended.  Spoon batter into a lightly greased miniature muffin pan, filling to the top.  Bake in a preheated 350 degree oven for 20 minutes or until lightly browned. Serves 8.
Peach Poppy Seed Muffins
2/3 cup pureed peaches (can use baby food peaches)
1 teaspoon baking soda
10 tablespoons butter, softened
1 cup sugar
2 eggs
1¼  cups all-purpose flour
¼  teaspoon salt
1 teaspoon peach schnapps or vanilla
3 tablespoons poppy seeds
¼ cup peach schnapps
½ cup powdered sugar
Stir baking soda into pureed peaches and prepare for the mixture to foam.  Cream butter and sugar until mixture is smooth, then add eggs one at a time.  Alternately add flour and peach puree.  Stir in salt, schnapps, and poppy seeds.  Fill 12 greased muffin cups nearly to the top.  Bake at 350 degrees for 20 to 25 minutes or until a wooden toothpick inserted in one of the muffins comes out clean. Cool in pan for 5 minutes.  Remove muffins and place on baking racks to cool.  Mix  ¼ cup schnapps with powered sugar.  Drizzle over warm muffins.  Store in an airtight container.  Serves 8 to 10.
Black-Eyed Pea Cornbread
1 pound pork sausage
2 (8½ -ounce) packages cornbread mix
1 sweet onion, chopped
½ cup chopped green pepper
1 (15-ounce) can creamed corn
1¼ cups (5 ounces) grated Swiss cheese
1 (15-ounce) can black-eyed peas, drained
Brown sausage and drain. Prepare cornbread mixes according to package directions. Add sausage, onion, pepper, corn, cheese, and peas to cornbread mixture.  Bake in a lightly greased 9×13-inch dish at 350 degrees for 45 minutes.
Serves 12 to 15.
Miniature Buttermilk Biscuits
1 cup butter
4 cups self-rising flour
1½ cups buttermilk
Melted butter
Cut 1 cup butter into flour with a pastry blender.  Add buttermilk, stir until dry ingredients are moistened.  Turn dough out onto a lightly floured surface.  Knead lightly 3 to 5 times.  Roll dough to 1/2-inch thickness, cut with a 1-inch biscuit cutter.  Place on lightly greased baking sheet.  Bake at 425 degrees for 10 to 13 minutes.  Brush with melted butter. Serves 12 to 15.
The writer owns Catering by Debbi Covington and is the author of two cookbooks, Celebrate Everything! and Dining Under the Carolina Moon.  Debbi's website address is www.cateringbydebbicovington.com. She may be reached at 525-0350 or by email at dbc@cateringbydebbicovington.com.