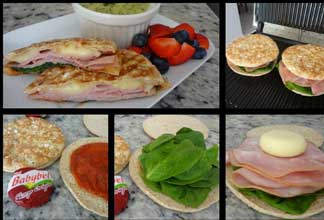 Okay, so we're all looking for quick, tasty and low-calorie foods to help us unload a few extra pounds. These two SKINNY recipes are easy, satisfying and delicious — and take almost no effort. They're fast to whip up and won't leave you starving in the afternoon.
Add a side of fresh berries (about 30 calories) and you'll have a beautiful meal suitable for a luncheon guest or two! Yummy! (For more skinny recipes visit my Celebrate Everything! blog, at www.cateringbydebbicovington.com)
Skinny Sandwich
Only 225 calories per sandwich!
1 multi-grain sandwich thin
1 heaping tablespoon jarred pizza sauce
Fresh spinach leaves
2 ounces sliced deli ham
1 mini Babybel cheese round
Preheat panini grill or sandwich press. Place half of sandwich thin on a cutting board. Spread evenly with pizza sauce, add spinach leaves and deli ham. Place cheese round in the center. Top with remaining half of sandwich thin. Spray heated grill with baking spray. Place sandwich on grill and cook until bread is crispy and cheese is melted. Serves 1.
Skinny Broccoli and Cheese Soup

Only 125 calories per serving!

1 (10¾-ounce) can cream of broccoli soup

1 (10¾-ounce) can fat free broccoli and cheese soup

½ cup skim milk

2 cups fresh broccoli florets, steamed

Fresh chopped Italian parsley, to garnish

Heat soups and milk in a medium saucepan over medium heat until warmed through. Add broccoli and stir until hot. Garnish with chopped Italian parsley before serving. Serves 4.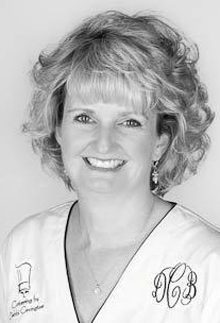 The writer owns Catering by Debbi Covington and is the author of two cookbooks, Celebrate Everything! and Dining Under the Carolina Moon. Debbi's website address is www.cateringbydebbicovington.com. She may be reached at 525-0350 or by email at dbc@cateringbydebbicovington.com.