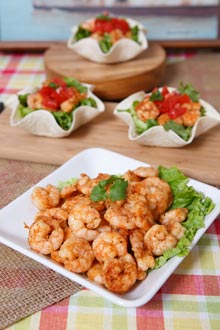 "Anyway, like I was sayin', shrimp is the fruit of the sea. You can barbecue it, boil it, broil it, bake it, saute it. Dey's uh, shrimp-kabobs, shrimp creole, shrimp gumbo. Pan fried, deep fried, stir-fried. There's pineapple shrimp, lemon shrimp, coconut shrimp, pepper shrimp, shrimp soup, shrimp stew, shrimp salad, shrimp and potatoes, shrimp burger, shrimp sandwich. That- that's about it." – Bubba
Roll out the red carpet! The 8th annual Beaufort International Film Festival is here – and that means you'll be catching up on all of the nominated flicks leading up to the Awards Ceremony on Saturday night. Add a little gourmet delight to your movie experience with some tasty recipe ideas! This week we're celebrating the 20th anniversary of the filming of Forrest Gump with three recipes inspired by Bubba's favorite food – SHRIMP! Thank you, Susan DeLoach, official photographer for the Beaufort International Film Festival, for shooting the great food photos for this issue. A little piece of family trivia: The shrimp boat painting in the photos was painted by my husband Vince's brother, Jamie Covington, who was a scenic for Forrest Gump. Jamie was one of the artists responsible for painting Forrest's boat "Jenny." He currently works in New York, as lead scenic, on the set of Law & Order: Special Victims Unit. For more information about the Beaufort International Film Festival and to purchase movie tickets visit www.beaufortfilmfestival.com. See you at the movies!
Shrimp and Italian Sausage Pizza
"My given name is Benjamin Buford Blue, but people call me Bubba. Just like one of them ol' redneck boys. Can you believe that?" – Bubba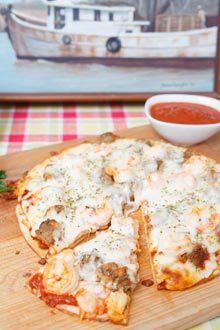 1 packaged pizza crust
1 cup prepared pizza sauce
1 medium sweet onion, thinly sliced
½ pound sweet Italian sausage; cooked, drained and crumbled
½ pound medium shrimp; cooked, peeled and deveined
Dried oregano
2 cups shredded mozzarella cheese
Extra pizza sauce, for dipping
Preheat oven to 350 degrees. Place pizza crust on a prepared pizza pan. Spread crust evenly with pizza sauce. Top with sliced onion, Italian sausage and shrimp. Season, to taste, with dried oregano. Cover evenly with shredded cheese. Bake for 20 to 30 minutes, until cheese is melted and lightly browned. Serve hot with extra pizza sauce on the side for dipping. Serves 4.
Shrimp Fondue with Ginger Dipping Sauce
"So Bubba was from Bayou la Batre, Alabama, and his mama cooked shrimp. And her mama before her cooked shrimp, and her mama before her mama cooked shrimp, too. Bubba's family knew everything there was to know about the shrimpin' business." – Forrest Gump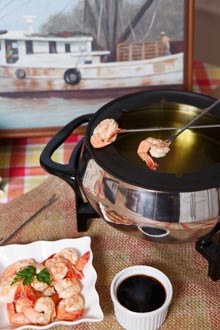 For the dipping sauce:
2 teaspoons grated fresh ginger
1 clove garlic, minced
½ cup low-sodium soy sauce
Mix all ingredients and set aside for at least one hour before serving.
For the shrimp:
2 pounds medium shrimp, peeled and deveined
¼ cup fresh lemon juice
1 tablespoon soy sauce
½ teaspoon grated fresh ginger
1 clove garlic, minced
Vegetable oil for cooking
Place shrimp in a glass bowl. Mix together lemon juice, soy sauce, ginger and garlic. Pour mixture over shrimp and toss to ensure that each piece is thoroughly coated. Refrigerate for two hours. Heat the oil in a fondue pot and cook the shrimp until pink and cooked through. Serve with dipping sauce. Serve 6.
Cajun Shrimp  (see top of page)
"Bubba was my best good friend. And even I know that ain't something you can find just around the corner. Bubba was going to be a shrimping boat captain, but instead, he died right there by that river in Vietnam." – Forrest Gump
1 teaspoon paprika
¾ teaspoon dried thyme
¾ teaspoon dried oregano
¼ teaspoon garlic powder
¼ teaspoon salt
¼ teaspoon ground black pepper
¼ teaspoon cayenne pepper
1½ pounds shrimp, peeled and deveined
1 tablespoon vegetable oil
Combine first 7 ingredients in a medium bowl; stir to mix. Add shrimp and toss to coat. Heat oil in a large non-stick skillet over medium-high heat. Cook and stir shrimp in hot oil until they are pink and cooked through, about 4 minutes. Serves 4.

The writer owns Catering by Debbi Covington and is the author of two cookbooks, 2013 Gold Medal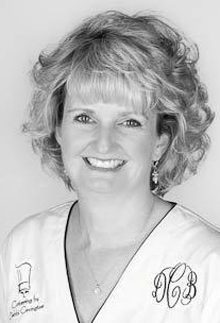 Winner of the Benjamin Franklin Award, Celebrate Everything! and Dining Under the Carolina Moon. Debbi's website address is www.cateringbydebbicovington.com. She may be reached at 525-0350 or by email at dbc@cateringbydebbicovington.com.