John Lennon said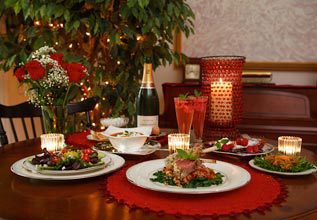 , "Life is what happens to you while you're busy making other plans." Isn't that true? We're all so busy, almost all of the time, and we put off celebrating the everydayness of our lives. Don't forget to spend some quality time with the person you love the most. Always take the time to enjoy each other — today, tomorrow and every day. Take a break from the hustle and bustle of the outside world to spend a quiet evening at home with your true love.  These delicious recipes will ensure a great meal and a special night.        
                                                                 Photography: Susan DeLoach Photography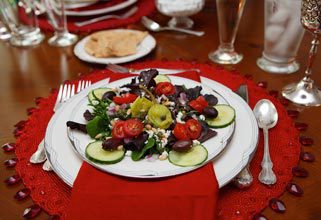 Greek Salata with Pita Bread
Authentic Greek salads consist of chopped tomato, cucumber and red onion, seasoned with oregano, salt and pepper and topped with olive oil. Extras such as pepperoncini, kalamata olives, anchovies and feta cheese may or may not be included.

For the vinaigrette:
3 tablespoons olive oil
½ teaspoon garlic powder
½ teaspoon dried oregano
½ teaspoon dried basil
½ teaspoon Dijon mustard
½ teaspoon fresh lemon juice
¼ cup red wine vinegar
For the salad:
4 cups mixed salad greens
1 small cucumber, sliced
8 to 12 grape tomatoes, halved
8 to 12 kalamata olives, pitted
1 tablespoon diced red onion
4 to 6 pepperoncini
2 ounces feta cheese, crumbled
2 teaspoons pine nuts, toasted
Dried oregano
In a small bowl, whisk vinaigrette ingredients together until well mixed; set aside. Place lettuce in a large salad bowl. Dress with vinaigrette; toss to coat.  Top with cucumber, tomatoes, olives, red onion and pepperoncini. Garnish with feta cheese and pine nuts. Season to taste with dried oregano. Serve with a side of fresh pita bread. Serves 2.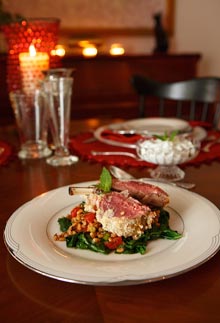 Rack of Lamb with Farro Salad, Sauteed Spinach and Mint Yogurt Sauce
Cooking rack of lamb is very simple, allowing you gourmet appeal without a lot of work.  The secret is browning the rack of lamb on all sides ahead of time. Then all you need to do is brush the rack with some Dijon mustard and press on a tasty coating of seasoned breadcrumbs. The lamb can be prepared ahead in the day and then brought to room temperature before roasting. The Farro Salad needs to be made a few hours before serving. Saute the spinach just before plating. The spinach is served hot, the farro salad is served at room temperature and the lamb is served warm. Very easy!

For the Farro Salad:
1 cup whole wheat farro
3 roma tomatoes, seeded and diced
2 tablespoons chopped fresh Italian parsley
1 green onion, chopped
¼ cup extra-virgin olive oil
¼ cup balsamic vinegar
1 pinch dried red pepper flakes
¼ cup crumbled feta cheese
Salt and pepper, to taste
Prepare farro according to package directions. Add the tomatoes, parsley, onion, olive oil, vinegar, red pepper and feta. Season to taste with salt and pepper. Let sit for 4 hours to allow flavors to marry. Refrigerate any leftover salad. Serves 4.
For the spinach:
1 (9-ounce) bag baby spinach
1 tablespoon olive oil
Dash nutmeg
Salt and pepper, to taste
Wash and dry fresh spinach. Heat olive oil in a large skillet over medium-high heat. Add spinach and saute until just wilted. Season with nutmeg, salt and pepper. Serves 2.
For the Lamb:
¼ cup dried breadcrumbs
2 cloves garlic, minced
1 tablespoon chopped fresh rosemary
Sea salt
Freshly ground black pepper
2 tablespoons olive oil, divided
1 (6 to 7 bone) frenched racks of lamb, well-trimmed
2 tablespoons Dijon mustard
Position rack in center of oven. Preheat oven to 425 degrees. Combine breadcrumbs, garlic and rosemary in a bowl. Season with salt and pepper. Stir in 1 tablespoon olive oil. Set aside. Season lamb rack all over with salt and pepper. Heat remaining tablespoon of olive oil in a large, heavy, oven-proof skillet over medium-high heat. Sear lamb for 1 to 2 minutes on all sides. Set aside to cool. Brush lamb racks with the mustard. Press breadcrumb mixture evenly on the meaty side of the rack. Cover the ends of the bones with foil and place bone-side down in the skillet. Roast for 20 to 25 minutes or until internal temperature reaches 125 degrees with an instant-read thermometer. Let rest for 5 minutes before serving. Serves 2.
For the Mint Yogurt Sauce:
1 cup plain Greek-style yogurt
2 tablespoons chopped fresh mint
2 cloves garlic, minced
1 shallot, minced
1 tablespoon fresh lemon juice
Salt
Freshly ground black pepper
Combine all ingredients in a small bowl. Refrigerate until ready to serve. Makes 1 cup.
Fudge Cake with Raspberries and Cream
This recipe actually serves 6 to 8 people. No worries! The leftovers won't last for long.
1 stick butter, softened
1 cup sugar
2 eggs
1 teaspoon vanilla
3 tablespoons cocoa powder
½ teaspoon salt
½ cup all-purpose flour
Chocolate syrup
Powdered sugar
Sweetened whipped cream or ice cream
Fresh raspberries
Fresh mint, to garnish
Preheat oven to 350 degrees. Cream butter and sugar with electric mixer until light and fluffy. Add eggs and vanilla; mix well. Add cocoa powder, salt and flour and stir until well-combined. Grease and 8-inch pie plate with butter. Pour mixture into pie plate. Bake for 30 minutes or until center is set. Cool for 30 minutes before serving. To serve: Drizzle dessert plates with chocolate syrup. Place a slice of cake on each plate; dust with powdered sugar and serve with a side of whipped cream or ice cream. Garnish with fresh raspberries and a sprig of fresh mint. Serves 6 to 8.
 


Raspberry Champagne Cocktail
A festive beverage that's a step up from the classic glass of champagne!
Raspberry sorbet
Champagne or Prosecco
Fresh raspberries
Fresh mint
Place two or three small scoops of frozen sorbet into two champagne glasses. Pour champagne over the sorbet to cover. Garnish with fresh raspberries and a sprig of fresh mint. Serves 2.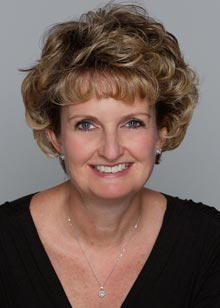 The writer owns Catering by Debbi Covington and is the author of two cookbooks, Gold Medal Winner of the Benjamin Franklin Award, Celebrate Everything! and Dining Under the Carolina Moon.  Debbi's website address is www.cateringbydebbicovington.com. She may be reached at 525-0350 or by email at dbc@cateringbydebbicovington.com.