Beethoven, Stravinsky, Debussey and Weber at the USCB Festival Series
            There are leaders and followers, pace setters and pack members. The Sunday, February 8, Chamber Music Concert features trail blazing music written at a crucial point in each composer's career.
Beethoven's first published work was Piano Trio, Opus 1, his coming out party as a composer on the big stage—Vienna. Within this three-work set, "Trio No. 3 in c minor" was unusual for a composition meant to appeal to a large audience. It was not pleasant, salon-listening music but immediately recognizable as the work of a fiery, rule-breaking personality.
           Igor Stravinsky had already shocked the world by the time he wrote L'histoire du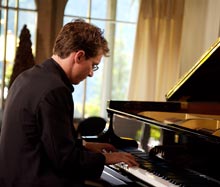 Soldat (The Soldier's Tale). World War I had turned him in a more inward direction, searching for order and control, and this piece led him to begin an entirely new period of composition, Neo-Classic. Originally written for seven players as part of a multimedia show, the trio version—arranged by Stravinsky—places formidable demands on the performers. Although exhibiting classical balance and proportion, the tight rhythm, crisp articulation, and jagged phrases stamp the language as 20th century.
            Ground-breaker Claude Debussy wrote what he wanted and how he wanted it from his earliest days. The solo piano prelude "Feux d'artifice" (Fireworks) features huge rainbows of sound depicting Bastille Day fireworks exploding overhead. Sonata for Violin and Piano was Debussy's last major composition, and it displays his acute ear for sound color and degrees of shading. Richly articulated, it is wrapped in a gossamer veil.
             The fourth revolutionary, Carl Maria von Weber, led the charge into German Romantic opera. He was also a virtuoso pianist whose Grand Concertant for Piano and Clarinet pushes the dual soloists to their limits. It is a perfect concert-ender—a showpiece to marvel and enjoy.
            Don't you love living/visiting in the Lowcountry? Why go to New York when New York comes to you? Two of the artists on this concert, violinist Bella Hristova and pianist Gilles Vonsattel (top two pictures), are regular Chamber Music Society of Lincoln Center performers. New Yorker and Lowcountry favorite, clarinetist Todd Palmer (left), a 19-year participant at the Spoleto Festival, returns, as does peripatetic cellist and host Edward Arron. Hear cutting edge pieces interpreted by cutting-edge performers.
            Additional information and tickets are available on www.uscb.edu/festivalseries or at 843-208-8246, Monday through Friday. The USCB Center for the Arts on 801 Carteret Street opens at 4 pm on the day of the concert, and the performance begins at 5 pm, Sunday, February 8.