I used to love cold weather. These days, I'd just as soon hibernate from Christmas until the Beaufort International Film Festival to avoid the long dark days and cold nights. Thank goodness spring always shows up early in the SC Lowcountry. Along with warmer and sunnier climes, spring brings fresh vegetables, berries and herbs. We have Carolina jasmine in our yard. And, we have lots of rosemary bushes. You can smell them both when you walk out of our back door. Still, the strongest scent is from our basil plants. Basil smells like spring to me. A hearty and easy herb to maintain, basil can be used in so many delicious dishes from tomato pies to homemade pesto. This week's entrée recipe features a basil-laced marinade and a basil cream sauce. I chose chicken thighs for the protein, but chicken breasts or even pork tenderloin would be great alternatives. The sauce really accentuates the flavor of the basil. It's wonderful springtime fare. I also happened upon several ripe peaches at the grocery store this week. I know it's a little early, so if you'd prefer, substitute fresh strawberries in the kale salad. Local honey is a must for the vinaigrette. Dessert is chocolate, but of course. I hope you'll try this menu. All three recipes are some of my new favorites.
Kale Salad with Peaches and Blueberries with Lemon Poppy Seed Vinaigrette
For the vinaigrette:
½ cup lemon juice (3-4 lemons)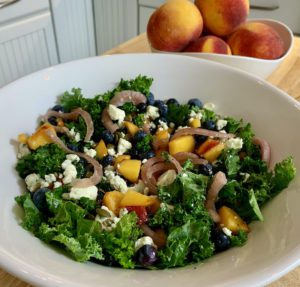 3 teaspoons avocado oil or olive oil
2 tablespoons honey
1 teaspoon poppy seeds
For the salad:
1 bunch kale, leaves cut off the stem and cut into bite-sized pieces
2 peaches, cut into bite-sized pieces
1 cup fresh blueberries
2 tablespoons pickled red onions, or sliced red onions
1/3 cup blue cheese crumbles
2 tablespoons roasted and salted pepitas
Mix vinaigrette ingredients in a small bowl. Place kale in a serving bowl. Drizzle with vinaigrette and toss to coat. Top with peaches, fresh blueberries, red onions, and blue cheese crumbles. Toss to mix. Garnish with pepitas before serving. Serves 4 to 6.

Grilled Basil Lime Chicken Thighs
1½ pounds boneless, skinless chicken thighs
2 limes, zest and juice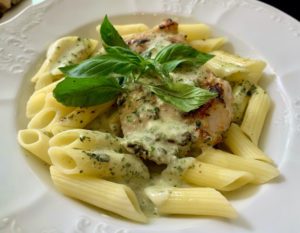 2 tablespoons olive oil
2 tablespoon white wine vinegar
¼ cup chopped fresh basil
2 garlic cloves, minced
1 teaspoon salt
1 teaspoon pepper
Fresh basil leaves, to garnish
Place chicken thighs in a gallon-sized zip-lock bag. Add zest and juice of 2 limes, olive oil, white wine vinegar, chopped basil, garlic, salt and pepper. Seal bag tightly and massage chicken and marinade to coat well. Refrigerate for at least 4 hours or overnight. Cook on grill pan over medium heat for 20 to 25 minutes, turning often, until chicken is cooked through. Serve over cooked pasta or rice. Top with Basil Cream Sauce and garnish with fresh basil leaves.
Basil Cream Sauce
1 cup fresh basil leaves
2 cloves garlic, minced
2 tablespoons olive oil
1 cup heavy whipping cream
1 teaspoon lemon juice
1 tablespoon grated parmesan cheese
Pinch of crushed red pepper flakes
Salt and pepper, to taste
Place basil leaves, garlic, olive oil, whipping cream, lemon juice, parmesan cheese and crushed red pepper flakes in a blender or food processor. Process until smooth. Pour mixture into a small stockpot and heat over medium-low heat until warmed through. Season, to taste, with salt and pepper.
Chocolate Cheesecake Pie
Rich, creamy, decadent and loaded with chocolate!
1 (6-ounce) prepared chocolate pie crust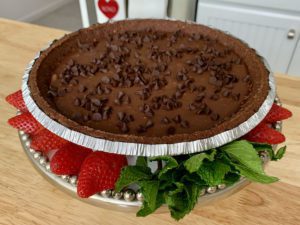 4 ounces cream cheese, softened
¼ teaspoon salt
1 tablespoon Kahlua
1-1/3 cups mini semi-sweet chocolate morsels
¾ cup heavy whipping cream
¼ cup mini semi-sweet chocolate morsels
In a mixing bowl, with a hand mixer, beat softened cream cheese with salt and Kahlua until smooth; set aside. Place chocolate morsels in a medium bowl. Pour whipping cream into a microwavable bowl. Heat in microwave until cream begins to steam, about 45 seconds. Pour hot cream over chocolate morsels. Stir with a whisk or fork until mixture becomes chocolaty and smooth. Pour chocolate mixture into cream cheese mixture and beat until well combined. Pour chocolate mixture into prepared chocolate pie crust. Sprinkle with ¼ cup mini chocolate morsels. Refrigerate uncovered, for 3 hours. Cover and keep refrigerated until ready to serve. Serves 10.
The writer owns Catering by Debbi Covington and is the author of three cookbooks, Celebrate Beaufort, Celebrate Everything! and Dining Under the Carolina Moon. For more great recipes and to view her cooking demonstrations, visit and subscribe to Debbi's YouTube channel. Debbi's website address is www.cateringbydebbicovington.com. She may be reached at 843-525-0350 or by email at dbc@cateringbydebbicovington.com.