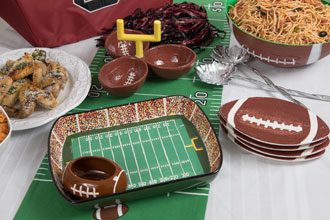 Tailgating: Part One

'Tis the season! It's once again time to break out the coolers and team banners and head back to college to watch football teams pass, toss and kick a pigskin ball up and down a field of green grass. Some folks that I know actually plan their lives around football season and travel up and down the east coast to attend every game.
What's the most fun – the game or tailgating? Over the past few years, I've had multiple requests for recipes for tailgating food. So, I contacted my gal pal and favorite photographer Susan DeLoach, and she and I spent an afternoon tasting and photographing some new and fun ideas for tailgating. We'll be sharing them with you in the next two issues of Lowcountry Weekly. Happy Football Season!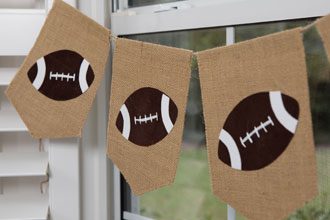 Sweet Vidalia Onion Dip
2 cups finely diced Vidalia onion (1 large onion)
¾ cup mayonnaise
2 cups shredded Monterey Jack cheese
½ cup grated parmesan cheese
1 teaspoon Worcestershire sauce
¼ teaspoon garlic powder
1 green onion, sliced, to garnish
Crostini or crackers, to serve
Preheat oven to 350 degrees. Spray a 1-quart casserole dish with cooking spray. Set aside. In a large bowl, stir onion, mayonnaise, cheeses, Worcestershire sauce and garlic power together until well combined. Spread the mixture evenly in the prepared casserole dish and bake for 40 to 45 minutes until hot and bubbly. Remove from oven and cool for 10 minutes. Garnish with green onion. Serve with crostini or crackers. Serves 8 to 10.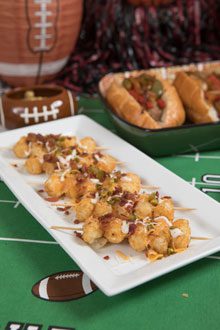 Loaded Tot Kabobs
1 (2-pound) bag frozen tater tots, thawed
Wooden skewers
Shredded Colby-Jack cheese
Real bacon bits
Finely diced jalapeno peppers
Sour cream
Thread 5 or 6 tater tots on each wooden skewer. Place prepared skewers on a lightly greased baking sheet or on a grill pan. Bake at 350 degrees until browned and crispy or grill until browned and toasted. Sprinkle skewers with shredded cheese and continue cooking until cheese begins to melt. Remove skewers from heat and top with bacon bits, jalapenos and sour cream before serving. Serves 12-15.
Pepperoni Pizza Puffs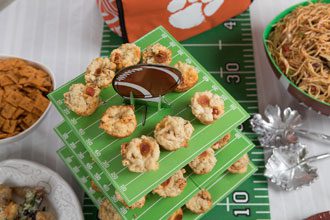 1½ sticks salted butter
2 cups finely shredded mozzarella cheese
2 teaspoons dried oregano
2 cups self-rising flour
1 cup sour cream
1 cup pepperoni minis
Jarred pizza sauce, heated
Preheat oven to 375 degrees. Spray two 24-cup mini muffin pans with cooking spray. Set aside. Melt butter in a medium saucepan over medium heat. Add cheese and stir until cheese has melted. Remove from heat. Stir in oregano, flour, sour cream and pepperoni minis. Mix well to combine. Fill each muffin cup about ¾ full with the cheese-flour mixture. Bake in preheated oven for 14 to 17 minutes or until lightly browned. Remove from muffin pans and serve with warm pizza sauce. Makes 40-48 puffs.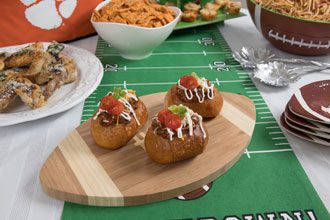 Sloppy Joe Bread Bowls
8 sourdough rolls
1 pound hamburger, cooked and drained on paper towels
1 (15-ounce) can sloppy Joe sauce
1/3 cup chopped onion
2 tablespoons ketchup
1 teaspoon dried Italian seasoning
Shredded cheddar cheese
Sour cream
Sliced grape tomatoes
Sliced green onions
Hollow out the inside of sourdough rolls. Set aside. Combine cooked hamburger with sloppy Joe sauce, onion, ketchup and Italian seasoning in a medium saucepan over medium heat. Cook until heated through. Fill each sourdough roll with meat mixture. Top with cheese, sour cream, sliced tomatoes and green onions. Makes 8.
Garlic-Parmesan Chicken Wings
1 dozen chicken wings
Salt and pepper
1 tablespoon olive oil
1 tablespoon minced garlic
4 tablespoons butter
3 tablespoons chopped Italian parsley
1/3 cup parmesan cheese
Season wings generously with salt and pepper. Preheat oven to 350 degrees. Place wings on a lightly greased baking sheet and bake for 30 minutes. Heat oven broiler to high and broil for 5 to 7 minutes or until wings are brown and crispy. In a small saute pan, heat 1 tablespoon olive oil over medium heat. Saute 1 tablespoon minced garlic over medium-low heat for about 3 minutes. Turn off heat and add 4 tablespoons butter. Stir until melted. Add parsley. Pour mixture over hot wings, tossing to coat. Sprinkle with parmesan cheese before serving. Makes 12.
The writer owns Catering by Debbi Covington and is the author of two cookbooks, Gold Medal Winner of the Benjamin Franklin Award, Celebrate Everything! and Dining Under the Carolina Moon. Debbi's website address is www.cateringbydebbicovington.com. She may be reached at 525-0350 or by email at dbc@cateringbydebbicovington.com.