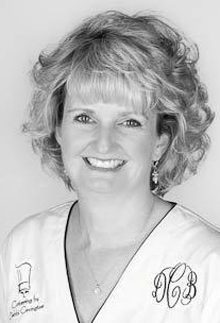 Come on over, the drinks are on the house! Festive beverages — hot or cold, spirited or nonalcoholic – will enliven any holiday gathering of friends and family! What brings merriment better than a frothy glass of Southern Eggnog? What wards off Jack Frost quicker than a mug of Praline Coffee?
Serve a cupful of Christmas cheer with these irresistible beverages. They're perfect for any holiday party and can easily be doubled or tripled for large gatherings. With a generous splash of your favorite spirits, these festive party sippers will spread the warmth of the season like a fleece blanket. Cheers!
Southern Eggnog
2 quarts milk, divided
12 large eggs, lightly beaten
1½ cups sugar
¼ teaspoon salt (optional)
2 tablespoons vanilla extract
¾ teaspoon ground nutmeg
1 cup bourbon
2 cups heavy whipping cream, whipped
Freshly ground nutmeg, to garnish
Stir together 1 quart milk, beaten eggs, sugar and salt. Cook over low heat, stirring constantly in a large saucepan.  Cook over low heat, stirring constantly about 25 minutes or until mixture thickens and coats the back of a spoon. (Do not boil.)  Stir in remaining milk, vanilla and nutmeg. Pour into a large bowl or pitcher; stir in bourbon. Cover and chill for 4 hours. Fold in whipped cream just before serving. Pour into individual glasses and garnish with freshly ground nutmeg. Serves 15.
Praline Coffee
6 cups hot brewed coffee
1½ cups half and half
2/3 cup firmly packed light brown sugar
1 cup praline liqueur
Sweetened whipped cream
Heat coffee, half and half, and brown sugar in a saucepan over medium heat, stirring constantly, until heated through. Do not boil. Stir in praline liqueur and serve with sweetened whipped cream. Serves 6.
White Christmas Punch
1 (12-ounce) can frozen lemonade concentrate, thawed
1 (48-ounce) bottle apple juice
1 (24-ounce) bottle white grape juice
1 (1-liter) bottle club soda, chilled
Stir together lemonade concentrate, apple juice and white grape juice; cover mixture and chill. Stir in club soda just before serving. Serves 10 to 12.
Hot Buttered Rum
1 pound butter, softened
1 (16-ounce) package light brown sugar
1 (16-ounce) package powdered sugar
2 teaspoons ground cinnamon
2 teaspoons ground nutmeg
1 quart vanilla ice cream, softened
2 quarts light or dark rum
Boiling water
Cinnamon sticks, to garnish
Beat butter, brown sugar, powdered sugar, cinnamon and nutmeg with an electric mixer until fluffy. Stir in vanilla ice cream and spoon into a freezer container. Cover and freeze for 8 hours.  For one (1) individual serving: Combine ¼ cup ice cream mixture and 2 tablespoons rum in a large mug; stir in ¾ cup boiling water. Garnish with a cinnamon stick. Serves 18.
Peppermint Patsy
4 (1-ounce) envelopes hot chocolate mix
4 cups hot milk
1/3 cup peppermint schnapps
Sweetened whipped cream
Empty contents of hot chocolate mix envelopes into a large pitcher. Add hot milk to pitcher, stirring until hot chocolate mix dissolves. Stir in peppermint schnapps. Pour into 4 mugs and top with sweetened whipped cream. Serves 4.
Spiced Cranberry Cider
1 quart apple cider
1 quart cranberry juice drink
¼ cup firmly packed brown sugar
1 teaspoon whole cloves
2 (3-inch) cinnamon sticks
1 small lemon, thinly sliced
Cinnamon sticks, for garnish
Bring cider, cranberry juice, brown sugar, cloves cinnamon sticks and lemon slices to a boil in a Dutch oven, stirring often; reduce heat and simmer 15 to 20 minutes. Discard spices and lemon. Garnish individual servings with cinnamon sticks. Serves 8.
Sparkling Citrus Punch
1 (46-ounce) can pineapple juice
1½ cups orange juice
¾ cup lemon juice
¼ cup lime juice
1 cup sugar
2 (2-liter) bottles ginger ale, chilled
Combine pineapple juice, orange juice, lemon juice, lime juice and sugar, stirring until sugar dissolves. Pour mixture into ice cube trays; cover and freeze until firm. Place 4 juice cubes into individual glasses. Pour 1 cup ginger ale into each glass; stir until slushy. Serves 15.
Spirited Hot White Chocolate
7 cups milk
1 teaspoon vanilla extract
1 (12-ounce) package white chocolate baking squares, chopped
1 cup brandy
6 tablespoons white crème de cacao
Sweetened whipped cream and grated white chocolate, to garnish
Heat milk and vanilla in a heavy saucepan over medium heat, stirring often. Do not boil. Remove from heat. Place white chocolate in a medium bowl. Gradually whisk about ½ of the hot mixture into chocolate; whisking until chocolate melts, add to remaining hot mixture, whisking constantly. Stir in brandy and crème de cacao. Garnish with whipped cream and white chocolate. Serves 6 to 8.
Scarlett O'Hara
12 ounces Southern Comfort
Cranberry juice
12 slices fresh lime
Fresh cranberries, frozen
In a glass pitcher, combine Southern Comfort and cranberry juice to taste.  Pour into individual glasses.  Squeeze a slice of lime into each cocktail before serving.  Garnish with 4 to 5 frozen cranberries. Serves 12.
The writer owns Catering by Debbi Covington and is the author of the cookbook, Dining Under the Carolina Moon. Debbi's website address is www.cateringbydebbicovington.com. She may be reached at 525-0350 or by email at debbic@cateringbydebbicovington.com.