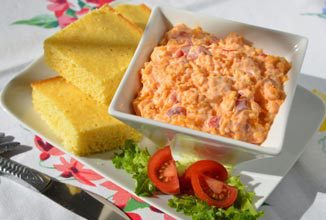 Recipes and food styling by Debbi Covington
Photography by Mark Shaffer
Roll out the red carpet! The 9th annual Beaufort International Film Festival is in full swing with film makers, directors, screen writers, movie stars and lots of film-loving fans. Our local film festival is a heatwave of fun and excitement during what is typically a chilly February. This year's festival celebrates all things southern.
The recipes this week feature a taste (actually, a great big gourmet bite) of the south and showcase some of my favorite things: chicken, peaches, broccoli, pimento cheese and bourbon. According to MovieMaker magazine, the Beaufort International Film Festival has been rated as "one of the 25 coolest general film festivals in the world." It's not too late to purchase your golden ticket! For more information about the Beaufort International Film Festival and to purchase movie and event tickets visit www.beaufortfilmfestival.com. See you at the movies!
P.S. Thank you, Mark Shaffer, for taking these beautiful photos of my BIFF-inspired culinary creations!
Pimento Cheese and Cornbread (above)
For the pimento cheese:
16 ounces sharp cheddar cheese, grated
½ to ¾ cup mayonnaise
1 (8-ounce) jar chopped pimentos, drained
¼ teaspoon cayenne pepper
Dash tabasco sauce

Combine all ingredients in a medium bowl. Stir with a fork until thoroughly mixed. Chill for at least 2 hours before serving.
For the cornbread:
¾ cup yellow cornmeal
1¼ cup all-purpose flour
½ cup sugar
1 tablespoon baking powder
½ teaspoon salt
¼ cup vegetable oil
2 tablespoons butter, melted
2 eggs
1 cup milk
Preheat oven to 350 degrees. In a large mixing bowl, stir together cornmeal, flour, sugar, baking powder and salt. In a medium bowl, whisk together vegetable oil, melted butter, eggs and milk. Make a well in the center of the flour mixture and pour in the wet ingredients. Stir just until mixture is moistened. Pour batter into a lightly greased 8×8-inch baking dish and bake for 20 to 25 minutes, until top is golden and toothpick inserted in center comes out clean.  Serves 6.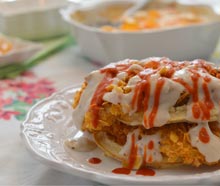 Buttermilk Chicken and Waffles with Maple Gravy
For the chicken:
4 boneless, skinless chicken breast halves
2 cups buttermilk    
2 cup corn flakes cereal, crushed
1/3 cup grated Parmesan cheese
1 tablespoon mustard powder
¼ teaspoon garlic salt
½ teaspoon cayenne pepper    
4 tablespoons butter, melted

Marinate chicken in buttermilk for a least 8 hours. Preheat oven to 350 degrees.  Combine cereal, cheese, mustard powder, garlic salt, and pepper in a shallow dish or pie plate.  Shake excess buttermilk from chicken and dip each piece in the cereal mixture, coating well on both sides.  Place chicken on a baking rack on a foil-lined baking sheet. Spay the rack with cooking spray. Drizzle chicken with melted butter.  Bake for 35 to 40 minutes or until chicken is golden brown and cooked through.
For the waffles:
2 cups all-purpose flour
1 teaspoon baking soda
½ teaspoon salt
2 eggs, separated
2 cups buttermilk
¼ cup butter, melted
Combine flour, soda and salt; set aside. Combine egg yolks, buttermilk and butter; add to flour mixture, stirring briskly until blended. Beat egg whites (at room temperature) until stiff peaks form; carefully fold into batter. Bake in preheated oiled waffle iron.
For the maple gravy:
1 (2.64-ounce) package country gravy mix
½ cup pure maple syrup
Prepare gravy mix according to package directions. When gravy is thickened, stir in syrup and heat through.
To assemble chicken and waffles:
Place of piece of chicken on top of a waffle and drizzle with generous amounts of maple gravy. Garnish with shredded cheddar cheese, crumbled bacon and/or hot sauce, if desired. Serves 4.
Southern-Style Broccoli Salad
1 cup mayonnaise
1/3 cup sugar
2 tablespoons white vinegar
1 large bunch broccoli, cut into florets
½ cup diced red onion
¾ cup raisins
8 to 10 slices bacon, cooked and crumbled
½ cup chopped pecans

Stir together first 3 ingredients in a small bowl.  Cover and chill the dressing for at least 3 hours.  Mix broccoli, red onion, raisins, bacon and pecans. Toss gently with dressing to coat.  Serve with a slotted spoon. Serves 4 to 6.
Quick Peach Cobbler
2 tablespoons butter, melted
½ cup self-rising flour
½ cup sugar
½ cup milk
Dash ground nutmeg
1 (29-ounce) can sliced peaches

Preheat oven to 350 degrees. Pour melted butter evenly into a one-quart baking dish. In a small bowl, mix together flour, sugar, milk and nutmeg. Slowly pour the flour mixture into the baking dish. Pour the can of peaches into the center of the flour mixture. Bake, uncovered, for 30 to 40 minutes or until cobbler is lightly browned. Serve warm. Serves 6 to 8.
Carolina Belle
1.25 ounces bourbon
2 ounces freshly squeezed ruby red grapefruit juice
1.75 ounce ginger liqueur
Fresh mint leaves, to garnish
Combine bourbon, grapefruit juice and ginger liqueur in a martini shaker. Add ice and shake. Strain into a martini glass. Garnish with a fresh mint sprig. Serves 1.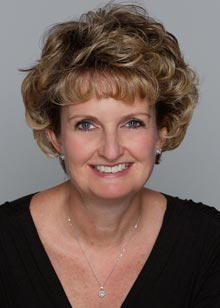 The writer owns Catering by Debbi Covington and is the author of two cookbooks, Gold Medal Winner of the Benjamin Franklin Award, Celebrate Everything! and Dining Under the Carolina Moon.  Debbi's website address is www.cateringbydebbicovington.com. She may be reached at 525-0350 or by email at dbc@cateringbydebbicovington.com.