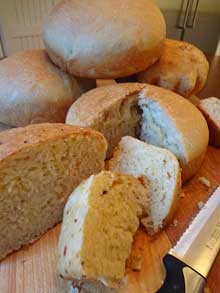 Nothing in the world smells quite like sourdough bread does when it's baking. My mother was the Queen of Sourdough Bread in my hometown of Wilson, North Carolina. It was her ministry. If someone was sick, she sent them a loaf of her freshly baked bread. If someone had a birthday, she sent them a loaf of her bread. Baptist ministers have preached sermons about her bread. Her bread has even been used for Communion.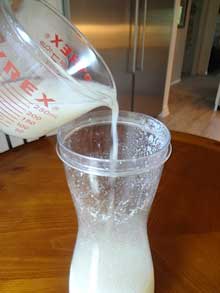 It was not uncommon to return home from a hospital stay or funeral to find a loaf of Mama's bread, in a handled bag, hanging on your front doorknob. She used to send my Daddy around on Sunday afternoons to make her weekend deliveries.
She did it for years. Years and years, actually. My brother, Ray, and I can't even remember when the whole bread-baking business started. I do know that our next door neighbor, Mrs. Creasy, gave Mama her first cup of starter. The rest is bread-baking history.
I'm sure that many of you know my maiden name is Baker. Sad fact is, I'm not much of a baker. It's my least favorite part about cooking. I prefer to make up recipes in my head and experiment with them. Baking takes discipline and precise measuring. My mother, on the other hand, married into the Baker name, and it fit her like a glass slipper. She was an amazing baker and an excellent cook. She was my very best friend and the inspiration for my decision to become a caterer and cookbook author. We spent hours in the kitchen while I was growing up and she taught me anything and everything she could about cooking. My culinary training began when I was about 4 years old.
Sorry, I got a little off track there for a minute, going down memory lane. Let's get back to Mama's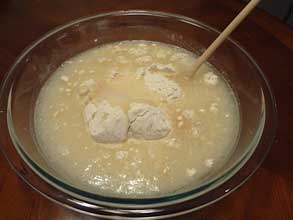 bread. If you have a friend who bakes sourdough bread, ask for a cup of starter. It's the easiest way to begin the process. If you would like to make your own starter, I've included the recipe. After you've made a few batches of bread you will see that you have extra starter. You can either bake two batches of bread or share a cup of starter with a friend.
Potato flakes make an easy starter for sourdough bread. Don't use the rapid rising yeast. With attention, you can keep your starter going for a very long time. It will continue to gather wild yeast from the air. Mama's starter had been around for decades. The older it gets, the better it is. After your initial starter has had a chance to season and you're ready to bake your first 3 loaves, the bread-baking process takes about 2 days. As with most yeast breads, you'll need to plan ahead for rising time when you use the starter. I usually feed my starter at 8am on the first day, mix up the dough at 8pm, prepare the loaves at 8am the next morning and then bake the bread after it has risen, usually just in time for supper.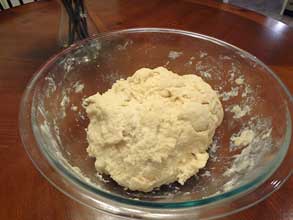 I know it seems kind of complicated, but it's really not. There are just a few things you'll need to remember. You'll need to feed the starter every 5 days, and let it sit on the counter for 12 hours, even if you don't want to bake the bread. Instead of using a cup of starter for the bread dough, you can give it away or dump it down the sink. Just be sure to get rid of a cup of starter each time it has been fed. When catering season is in full swing, I go through weeks of feeding and throwing the starter out. No worries, it will still be delicious the next time you decide to bake. Another thing to always remember: Never stir the starter with a metal spoon and don't put it in a jar with a metal lid. I have always followed this rule so I have no idea what will happen if metal actually meets the starter. My guess is that it will somehow affect the chemistry with regard to the yeast. I mean seriously, after you've put this much time and effort into making this delicious bread, why risk ruining it?
Mama was a purist. She always used the same recipe. I, of course, had to experiment. I tried adding cheddar cheese. Cheese was disastrous. It made the bread gooey. The outside was gold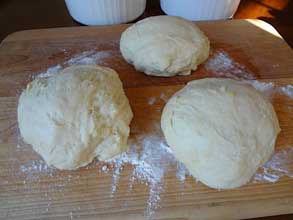 en brown but the inside was doughy. The same thing happened with grated parmesan. The addition of herbs, however, turned out delicious! Dried herbs work best. When making the bread dough, add 2 tablespoons of caraway seeds OR 2 tablespoons of freshly chopped rosemary leaves OR 1 tablespoon of dried minced onion mixed with 1 tablespoon of dried oregano. The herbed breads are delicious and add another level of aroma to your kitchen when baking. If you like your sourdough bread straight up, consider serving it with a delicious compound butter. I'm sharing two of Vince's and my favorites.
For a sweet twist, add a mixture of cinnamon and sugar. In a small bowl, combine ½ cup sugar with 1 tablespoon ground cinnamon. When you're dividing your bread dough, before placing it in the
baking pans, very gently pat out the three pieces of dough into small rectangles. Sprinkle the cinnamon-sugar mixture evenly on each piece of dough and roll the bread dough up like a jelly roll. Shape the dough to fit in the bread pans, cover and let rise. Follow the same directions for baking but instead of topping with butter, let the bread cool and spread with an easy icing of confectioner's sugar and milk. I've included the recipe that I like to use.
When Mama was sick, we didn't feed her starter, and sadly it was ruined. A year or so after her death, I decided to resurrect her ministry. It took me a while to find a starter recipe that tasted like Mama's, but I did. The bread recipe is Mama's actual recipe. I still use the ragged run-off copy that I found tucked in one of my old cookbooks. So, if you come home one day and find a handled bag containing a loaf of sourdough bread hanging on your doorknob, you'll know that we were there, Mama and me, spreading the love and keeping the Baker tradition.
Sourdough Starter
First time starter:
1 cup warm water
½ cup sugar
1 package (2¼ teaspoons) dry yeast
3 level tablespoons instant potato flakes
(If you use a starter from someone else, you can omit this step.) Mix water, sugar, yeast and potato flakes in a large container with a plastic lid. Let ferment on the counter for two days (48 hours). After two days, feed with starter feeder.
Starter feeder:
1 cup warm water
½ cup sugar
3 level tablespoons instant potato flakes
Combine water, sugar and potato flakes. Add to starter. Stir with a wooden or plastic spoon. Cover and let sit on the counter for 12 hours. Refrigerate for five days before making bread for the first time.
To make bread:
Remove starter from refrigerator. Feed with starter feeder (recipe above). Let sit on the counter for 12 hours. After 12 hours, it's time to make the dough.
Bread recipe:
6 cups bread flour
¼ cup sugar
1 teaspoon salt
½ cup vegetable oil
1½ cups water
1 cup bread starter
3 tablespoons butter, divided (to top after baking)
Combine bread flour, sugar, salt, vegetable oil, water and starter in a large mixing bowl. Mix well with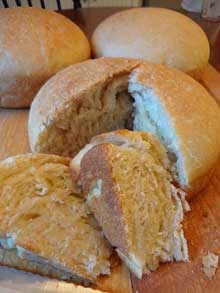 your hands to combine. Knead the dough 8 to 12 times. Place dough in a large bowl that has been sprayed with cooking spray. Cover with plastic wrap. Place in a draft-free area of the kitchen and let rise for 12 hours. After 12 hours, lightly flour counter or cutting board, turn out dough and knead a few times. Divide dough into three equal pieces and place in 3 lightly-greased loaf pans. Cover each pan with plastic wrap and let rise for 8 to 12 hours. To bake: Preheat oven to 350 degrees. Bake on center rack of oven for 30 to 40 minutes, depending on your oven. The bread should be golden brown on top. Remove bread from oven and spread each loaf with 1 tablespoon butter while hot. Remove from pans and cool on racks. Serve warm or cool completely before wrapping in plastic wrap. Don't let the bread sweat. Freezes well. Makes 3 loafs.
Herbed Butter
1 stick salted butter, at room temperature
¼ teaspoon dried minced onion
1 teaspoon dried tarragon leaves
1 teaspoon fresh chopped Italian parsley
Combine all ingredients in a small bowl. Serve at room temperature with warm bread. Cover and refrigerate any leftover butter. Makes ½ cup.
Preserved Lemon Butter
¾ preserved lemon
1 stick salted butter, at room temperature
Remove pulp and seeds from preserved lemon; discard. Do not rinse. Chop lemon rind into small pieces. Add to butter in a small bowl; mix well to combine. Serve with warm bread. Cover and refrigerate any leftover butter. Makes ½ cup.
Easy Icing
2 cups confectioner's sugar
1 tablespoon milk
1 teaspoon pure vanilla extract
Combine all ingredients in a small bowl. Add up to 1 teaspoon additional milk, if needed, for desired consistency. Spread over cooled cinnamon bread. Makes about 1 cup.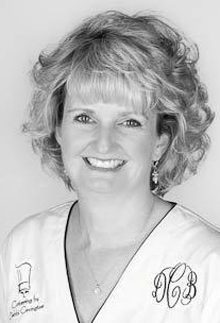 The writer owns Catering by Debbi Covington and is the author of two cookbooks, Celebrate Everything! and Dining Under the Carolina Moon. Debbi's website address is www.cateringbydebbicovington.com. She may be reached at 525-0350 or by email at dbc@cateringbydebbicovington.com.