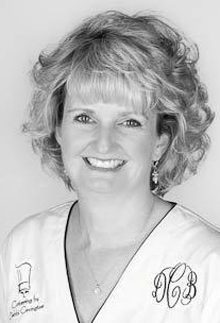 In November 2005 my first cookbook, Dining Under the Carolina Moon, was published. I'm happy to report that the 4,000 copy first printing is sold out! And, with the exception of a very few used copies still available on Amazon.com the book is currently out of print. The exciting and good news is that I have a brand new cookbook coming out in just a few days!
Celebrate Everything! is in transit to South Carolina and will be available through my website and in local shops and bookstores on June 25th. Watch for the next issue of Lowcountry Weekly for a sampling of recipes from Celebrate Everything! and a special interview with Mark Shaffer. Mark will be interviewing Paul Nurnberg, photographer for Celebrate Everything! and Lydia Inglett of Lydia Inglett Publishing and of course, me – for a behind the scenes look at all of the nuances associated with publishing a full-color cookbook. Be sure to pick up your copy of Lowcountry Weekly on July 4th!  In the meantime, I would like to share with you, some of my favorite recipes from my first cookbook, Dining Under the Carolina Moon.   Happy Cooking!
Raspberry-Pecan Salad
Once reserved for summer, flavorful fresh raspberries are available year-round in most grocery stores these days. Choose brightly colored, plump berries. Raspberries are very fragile and are best served fresh. Store in a single layer in a moisture-proof container in the refrigerator for no more than 3 days.
½ cup raspberry spreadable fruit
1/3 cup raspberry vinegar
1 tablespoon honey
1 tablespoon poppy seeds
¾ cup vegetable oil
8 cups mixed salad greens
1 cup fresh raspberries
1 avocado
½ pound mushrooms, sliced
2 bunches green onions, chopped
½ cup chopped pecans
Combine first 5 ingredients in a blender until smooth.  Place greens in a salad bowl, top with remaining ingredients and toss with dressing.  Serves 8.
Barbecue Burger Casserole
This is a great casserole for kids — actually, for the kid in all of us. A dill pickle garnish makes the dish!
2 pounds ground sirloin
1 medium sweet onion, chopped
¾ cup barbecue sauce
¾ cup ketchup
1 tablespoon Dijon mustard
½ teaspoon salt
½ teaspoon pepper
1 (8-ounce) package cream cheese, softened
1 (8-ounce) container sour cream
¾ cup chopped green onions
1 (8-ounce) package wide egg noodles, cooked and drained
2 cups (8 ounces) shredded Colby-Jack cheese, divided
Chopped dill pickle
Cook ground sirloin and onion in a large skillet over medium heat, stirring until beef crumbles and is no longer pink.  Drain and return to skillet.  Add barbecue sauce and next 4 ingredients to beef mixture.  Simmer until mixture is warmed through, stirring often.  Combine cream cheese and sour cream, stirring until smooth.  Stir in green onions and hot cooked noodles.  Layer half of noodle mixture in a greased 2-quart baking dish.  Top with half of beef mixture.  Sprinkle with 1 cup cheese.  Top with remaining noodle mixture and remaining beef mixture.  (If desired, cover and chill overnight.  Let stand at room temperature 30 minutes before baking.) Cover and bake at 350 degrees for 30 minutes or until thoroughly heated.  Uncover and sprinkle with remaining 1 cup cheese.  Bake 5 more minutes.  Garnish with chopped dill pickle. Serves 8.
Cornbread Salad
In the South, we eat cornbread with everything.  Count on a southerner to invent a salad made with cornbread!  The name doesn't give this delicious dish justice! Give it a try — it's much better than you might think!
1 (16-ounce) package cornbread mix    
1 (1-ounce) package ranch dressing mix
1-1/2 cups sour cream
¾ cup mayonnaise
¾ cup salad dressing (Miracle Whip)
2 (15-ounce) cans pinto beans, rinsed and drained
3 tomatoes, chopped
1 cup chopped green pepper
1 cup chopped green onion    
2 (11-ounce) cans whole kernel corn, drained
10 slices bacon, cooked and crumbled
1 cup (4 ounces) shredded Cheddar cheese
Prepare cornbread according to package directions.  Cool, crumble, and set aside.  Whisk the dressing mix with the sour cream, mayonnaise, and salad dressing.  Crumble half of the cornbread in the bottom of a large serving dish.  Top with half the beans.  Layer with half of the tomatoes, green pepper,  green onions, corn, bacon, and salad dressing mixture.  Repeat the layers.  Top with Cheddar cheese. Cover and chill at least 2 hours before serving. Serves 12.
Country Club Squash
Even if you don't think that you like squash, you'll like this recipe!
2 pounds yellow squash
¼ cup chopped onion
1 (10 1/2-ounce) can cream of chicken soup
1 cup sour cream
1 cup shredded carrots
Basil
Salt
Pepper
1 cup dry bread crumbs
1/3 cup grated sharp Cheddar cheese
¼ cup butter, melted
¼ teaspoon paprika
6 slices bacon, cooked and crumbled (optional)
Wash squash.  Cook with onion in water until tender (about 15 minutes).  Drain. Combine soup with sour cream.  Stir in shredded carrot.  Fold in drained squash and onion.  Season with basil, salt, and pepper. Pour into a greased baking dish.  Combine bread crumbs with cheese, butter, and paprika.  Sprinkle over squash mixture.  Top with crumbled bacon.  Bake at 300 degrees for 30 minutes. Serves 6.
Herbed Parmesan Biscuits
These herb and butter biscuits are addictive!!
1 (16-ounce) can refrigerated buttermilk biscuits
¾ stick butter, melted
½ teaspoon dill weed
1 teaspoon dried minced onion
1 tablespoon chopped fresh parsley
2 teaspoons grated Parmesan cheese
Preheat oven to 350 degrees.  Separate biscuits and divide into quarters.  Add dill weed, onion, parsley, and cheese to melted butter; mix well. Roll each biscuit piece in butter mixture to coat well and place on buttered baking sheet.  Bake for 8 to 10 minutes until golden.  Serves 4 to 6.
Cherry Yum Yum
This is my Aunt Ola Mae's recipe.  She makes it for family reunions and church suppers.  I've been wearing out the recipe ever since she gave it to me!  If you aren't a cherry fan, use strawberry, peach, or blueberry pie filling.  They're all delicious!
6 tablespoons butter, melted
1½ cups graham cracker crumbs
¾ cup sugar
1 (8-ounce) container frozen whipped topping
1 (21-ounce) can cherry pie filling
1 (8-ounce) package cream cheese
Mix melted butter with graham cracker crumbs.  Cover bottom of 13×9-inch dish with mixture.  Mix whipped topping with cream cheese and sugar.  Spread mixture over crumbs.  Spoon can of cherry pie filling over cream cheese layer. Chill before serving. Serves 12.    
Lime Mint Tea
Iced Tea is so popular it's sometimes called "the house wine of the South."
8½ cups water, divided
6 tea bags
2 cups loosely packed fresh mint leaves, chopped
1½ cups sugar
1¾ cups lemon juice
1/3 cup fresh lime juice
Fresh mint to garnish
Bring 4 cups water to a boil in a large saucepan; pour over tea bags.  Cover and steep 5 minutes; discard tea bags.  Stir in mint; let stand 15 minutes.  Pour tea through a wire-mesh strainer into a bowl, discarding mint.  Bring remaining  4¼ cups water and sugar to a boil in saucepan; cool.  Stir in tea and juices.  Chill; serve over ice.  Garnish, if desired.  Serves 10 to 12.
The writer owns Catering by Debbi Covington and is the author of the cookbook, Dining Under the Carolina Moon. Debbi's new cookbook, Celebrate Everything! will be released in June 2012. Debbi's website address is www.cateringbydebbicovington.com. She may be reached at 525-0350 or by email at dbc@cateringbydebbicovington.com.