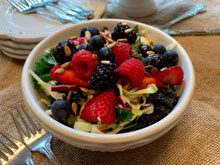 What do you do when life gives you lemons? Easy. You make lemonade. What do you do when you end up with a bunch of leftover pulled pork barbeque? That was my dilemma earlier this week.
So, I went on a quest to come up with recipes to serve when there's a surplus of the South's favorite style of cooked pork. As it turns out, there are about a zillion ways to reinvent barbeque. I feel kind of like Forrest Gump'sBubba, but here goes: You can make BBQ Pizza, Brunswick Stew or BBQ Stuffed Baked Potatoes. How about Pulled Pork Nachos, BBQ Tacos, BBQ Macaroni and Cheese, BBQ Biscuits, BBQ Egg Rolls, Grilled BBQ Sandwiches, BBQ Chili, BBQ Enchiladas, BBQ Spaghetti or BBQ Stuffed Peppers? The list goes on and on. Who knew? I grew up in Eastern North Carolina, smack dab in the heart of pork barbeque country and only ate barbeque straight up, just barbeque. The BBQ recipe that's featured this week is a Pork BBQ Quesadilla. It's so easy to make. It's fast and uses very few ingredients. The dill pickle relish is what puts the recipe over the top. The barbeque that I used was seasoned NC-style with vinegar and red pepper. Pulled Boston butt or even leftover grilled pork tenderloin would work just as well. Of course grilled chicken, the OTHER white meat would be good, too. Pig Pickin' Salad Slaw is a fabulous side dish. Beautiful and delicious, it would complement any barbeque entree. Chocolate Chip Pie is like a gigantic cookie with no pie crust. Sweet and yummy! Isn't it fun to try something new? Happy Cooking, ya'll!
Pig Pickin' Salad Slaw
I love this unique salad, especially the vinaigrette. Use your favorite fruits. Apples and kiwi would be delicious, too!
For the vinaigrette:
¼ cup cider vinegar
½ cup sugar
¾ cup vegetable oil
2 tablespoons soy sauce
½ teaspoon grated fresh ginger, optional
For the salad:
1 (16-ounce) package refrigerated slaw mix
Fresh rainbow kale, roughly chopped
Red onion, finely diced
Fresh blueberries
Fresh raspberries
Fresh blackberries
Fresh blueberries, sliced
Roasted salted sunflower seeds
In a large salad bowl, toss slaw mix, kale and red onion with vinaigrette. Top with fresh berries. Garnish with sunflower seeds. 
Pork BBQ Quesadillas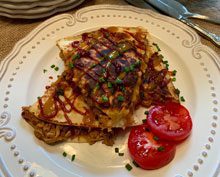 This is a great way to use leftover pork barbeque or barbequed chicken. Amounts of ingredients needed will depend on the size of your tortillas. As always, I recommend my favorite pickles from home, Mt. Olive Pickles, for the relish. 
Flour tortillas
Shredded sharp cheddar cheese 
Cooked pulled pork barbeque, warm or at room temperature
Red onion, finely diced
Dill pickle relish, drained
South Carolina mustard BBQ sauce, optional
Sweet bottled BBQ sauce, optional
Chopped fresh chives, to garnish
Preheat a large nonstick skillet over medium heat. Spray lightly with cooking spray. Place one tortilla in hot pan sprinkle half of tortilla with shredded cheese. Top the same half of tortilla with barbeque, diced red onion and dill pickle relish. Sprinkle with more shredded cheese. Fold over tortilla. Flip quesadilla and continue cooking until both sides are lightly browned and crispy. Slice into quarters and drizzle with your favorite barbeque sauce. Garnish with chopped chives. 
Chocolate Chip Pie
This yummy pie recipe has no crust. It's like a big, thick and super sweet chocolate chip cookie. Serve it with a dollop of whipped cream or a scoop of ice cream.
2 cups all-purpose flour
1 tablespoon baking powder
¼ teaspoon salt
1½ cups light brown sugar, packed
1 stick butter, melted
2 eggs
1 tablespoon bourbon or vanilla extract
1 (10-ounce) package semisweet chocolate mini morsels
¾ cup chopped walnuts
Preheat oven to 350 degrees. Spray a 10¼ -inch quiche dish or deep dish pie pan with cooking spray. In a large mixing bowl, combine flour, baking powder, salt and brown sugar. Add the melted butter, eggs and bourbon; stir well to combine. Stir in mini morsels and chopped walnuts. Mixture will be stiff. Spread evenly in prepared pan. Bake in preheated oven for 35 to 40 minutes or until a knife inserted in center of pie comes out clean. Cool on a wire rack. Serve warm or at room temperature. Store covered. Serves 8 to 10.
The writer owns Catering by Debbi Covington and is the author of three cookbooks, Celebrate Beaufort, Celebrate Everything! and Dining Under the Carolina Moon. Debbi's website address is www.cateringbydebbicovington.com. She may be reached at 525-0350 or by email at dbc@cateringbydebbicovington.com.