Love is in the air! Every year, I have all kinds of great ideas for Valentine's Day treats and before I realize it, time has flown by and I've missed the food part of the holiday entirely. Not this year! Best of all, these beautiful creations were quick and easy to prepare. Please make and share one of these fun recipes with someone that you love. Happy Valentine's Day!
Chocolate cake with chocolate frosting, lemon cake with lemon frosting or even a white cake with cream cheese frosting would also be great with this recipe.
1 (15.25-ounce) strawberry flavored cake mix (vegetable oil, eggs & water to Bake)
1 (16-ounce) container strawberry flavored frosting
1 (14-ounce) bag conversation hearts candies
Bake cake according to package directions, using 8" or 9" round pans. Cool cake rounds completely on baking racks. After cakes have cooled, place first layer on a cake plate or cake stand. Frost first layer. Top with second layer, frost the top and the sides of the cake all the way around. Smooth frosting as evenly as possible. Start placing the first row of candy hearts around the bottom edge of the cake. Repeat until the sides of the cake are completely covered. Pick a color pattern and emulate it throughout the entire cake decorating process. Stager the candy hearts in between each other as much as possible to get the most coverage. Be sure to add the candy hearts before the frosting begins to dry. For the top of the cake, repeat the same process stating your row on the outer edge working to the center. Store cake, covered, for up to three days. Serves 10 to 12.
I'd love to take credit for this easy and fun recipe, but I can't. I found it on Pinterest.
Oreo cookies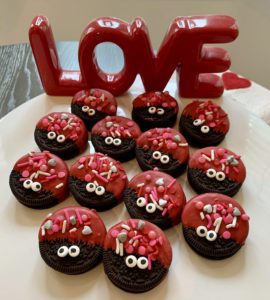 Place a baking rack on a baking sheet. In a microwave safe bowl, melt red candies following package directions. Dip cookie three-fourths of the way into the melted red candies and tap lightly to remove excess. Place on baking rack and immediately add candy sprinkles. Add a drop of melted red candies to the backs of the eyes using a toothpick. Stick eyes to the chocolate part of the cookie. Let cookies dry on baking rack until chocolate is set. Store cookies in an airtight container for up to 7 days.
The writer owns Catering by Debbi Covington and is the author of three cookbooks, Celebrate Beaufort, Celebrate Everything! and Dining Under the Carolina Moon. For more great recipes and to view her cooking demonstrations, visit and subscribe to Debbi's YouTube channel. Debbi's website address is www.cateringbydebbicovington.com. She may be reached at 843-525-0350 or by email at dbc@cateringbydebbicovington.com.