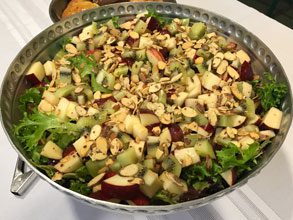 Steamy summer nights have all of a sudden turned into busy autumn evenings. Where does the time go every day? The sun comes up late and goes down early. I find that I'm spending more time chasing my tail than actually accomplishing my tasks.
This past week, in between a full calendar of events and a large weekend wedding, I decided to turn the monthly American Association of University Women's catered menu into my column. Grateful to accomplish two tasks at the same time, I'm happy to share the recipes for their yummy meal with you. Happy Fall Y'all!
Autumn Salad
For the vinaigrette:
¼ cup red-wine vinegar
1 tablespoon Dijon mustard
1 teaspoon sugar
Salt and black pepper, to taste
½ cup extra-virgin olive oil
Whisk the vinegar, mustard, sugar, salt and pepper together in a small bowl. Whisking
constantly, add the oil in a slow, steady stream and continue whisking until thickened. Set aside until ready to use.
For the salad:
Sliced almonds
Mixed salad greens
Red delicious or gala apples, diced, skin-on
Red seedless grapes, halved
Kiwi, peeled and cut into bite-sized pieces
Toast the almonds in a 350 degree oven for 10 minutes or until lightly browned and crunchy. Set aside until ready to use. Place salad greens in a large bowl. Toss with red wine vinaigrette. Top with apples, grape halves, kiwi and toasted almonds.
Chicken and Broccoli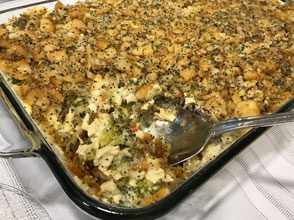 1 cup fresh broccoli florets
5 cups cooked cubed chicken
1 (10½ -ounce) can cream of chicken soup
1 cup sour cream
1 (2-ounce) jar diced pimentos, drained
½ cup butter, melted
1-1/3 cups (1 sleeve) crushed butter-flavored crackers  
2 teaspoons poppy seeds
Place cubed chicken and broccoli florets in a large mixing bowl.Stir in soup, sour cream, and pimentos. Mix well. Spoon mixture into a greased 2-quart baking dish. Combine ½ cup melted butter, crushed crackers and poppy seeds in a small bowl. Sprinkle cracker mixture evenly over the chicken mixture. Bake in a preheated 350degree oven for 20 to 30 minutes until heated through. Serves 6 to 8.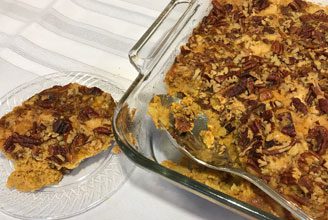 Praline Pumpkin Imperial
2 (15-ounce) cans pumpkin
1½ cups sugar
4 eggs, lightly beaten
3 cups evaporated milk
½ teaspoon ground cloves
½ teaspoon ground ginger
½ teaspoon pumpkin pie spice
½ teaspoon salt
1 (15.25-ounce) box yellow cake mix
2 sticks butter, melted
2 cups chopped pecans
Preheat oven to 325 degrees. Lightly grease a 9×13-inch glass baking dish. In a large bowl, combine pumpkin, sugar, eggs, evaporated milk and spices. Pour mixture into prepared baking dish. Sprinkle top evenly with dry cake mix. Drizzle melted butter evenly over cake mix. Sprinkle chopped pecans on top. Bake for 75 to 85 minutes or until a toothpick inserted in the center of dessert comes out clean. Cool on wire rack for 30 minutes. Refrigerate before serving. Serves 12 to 15.
The writer owns Catering by Debbi Covington and is the author of two cookbooks, Gold Medal Winner of the Benjamin Franklin Award, Celebrate Everything! and Dining Under the Carolina Moon. Debbi's website address is www.cateringbydebbicovington.com. She may be reached at 525-0350 or by email at dbc@cateringbydebbicovington.com.