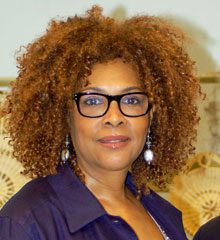 Twenty-five years ago, filmmaker Julie Dash broke through racial and gender boundaries with her Sundance award-winning film (Best Cinematography) Daughters of the Dust, and she became the first African American woman to have a wide theatrical release of her feature film.
In 2004, The Library of Congress placed Daughters of the Dust in the National Film Registry where it joins a select group of American films preserved and protected as national treasures; Dash is the only African American woman with a feature film that has been inducted into the National Film Registry. The film was shot in and around Beaufort, SC.
         On Sunday, February 19, 2017, the Beaufort Film Society will present Julie Dash with the inaugural Robert Smalls Merit & Achievement Award at the 11th annual Beaufort International Film Festival. "This award has been created to be presented to that filmmaker whose body of work has served as a catalyst for groundbreaking discoveries and societal change. Julie Dash's accomplishments during the last quarter century certainly meets these criteria. " stated Ron Tucker, President of the Beaufort Film Society.  The award has been named after Beaufort native and Civil War hero Robert Smalls, who rose from a slave to a United States Congressman.
         The Cohen Media Group recently announced the 25th anniversary restoration of director Julie Dash's landmark film "Daughters of the Dust."  Casting a long legacy, "Daughters of the Dust" still resonates today, most recently as a major influence on Beyonce's video album "Lemonade." Restored (in conjunction with UCLA) for the first time with proper color grading overseen by cinematographer AJ Jafa, audiences will finally see the film exactly as Julie Dash intended. The restored film with be screened at the Beaufort International Film Festival on Saturday, February 18th. The screening will be followed by a panel discussion with Julie Dash and others.
         Julie Dash is the Distinguished Professor of Cinema, Television and Emerging Media (CTEMS) at Morehouse College. From 2013-2015 she was a Visiting Assistant Professor at the College of Charleston, in the department of African American Studies, and with the Avery Research Center for African American Studies; in 2013 she held the Bob Allison Chair in Media at Wayne State University. Dash has written and directed for CBS, BET, ENCORE STARZ, SHOWTIME, MTV Movies and HBO, directing, the NAACP Image Award winning, Emmy and DGA nominated, The Rosa Parks Story, Incognito, Funny Valentines, Love Song, and Subway Stories: Tales From the Underground. Her work as a film director includes theme park, Disney's Imagineering, and museum design Brothers of the Borderland for The National Underground Railroad Freedom Center Museum. Her work includes music videos, documentary, PSA's, industrial documentary films, and commercial spots for fortune 500 brands, i.e., Coca Cola and GMC.
         In 2015, Dash was a part of the Trailblazing Women franchise on Turner Classic Movies (TCM), and co-hosted one evening with Illeana Douglas.
         Julie Dash is currently in production on a feature length documentary about Vertamae Smart Grosvenor, a world-renowned author, performer, and chef from rural South Carolina who led a remarkably unique and complex life. The film is based upon Grosvenor's bestselling work, Vibration Cooking: or the Travel Notes of a Geechee Girl.
         Ms. Dash earned her MFA in Film & Television production at UCLA; received her BA in Film Production from CCNY, and she was a Producing and Writing Conservatory Fellow at the American Film Institute's Center for Advanced Film Studies. When not working on her projects Ms. Dash is a frequent lecturer at many of the leading Universities in the United States.
         Presenting the award to Ms. Dash will be Michael Boulware Moore, the Great, Great Grandson of Robert Smalls and the President and CEO of the International African-American Museum which is planned to be opened in Charleston, SC in 2018.
         For more information about the 11th Annual Beaufort International Film Festival, visit beaufortfilmfestival.com. The festival is produced by the Beaufort Film Society.
         The Beaufort Film Society is a nonprofit, 501 (c) 3, member-supported organization, dedicated to providing the highest levels of entertainment and education to the public from all areas of the film industry.