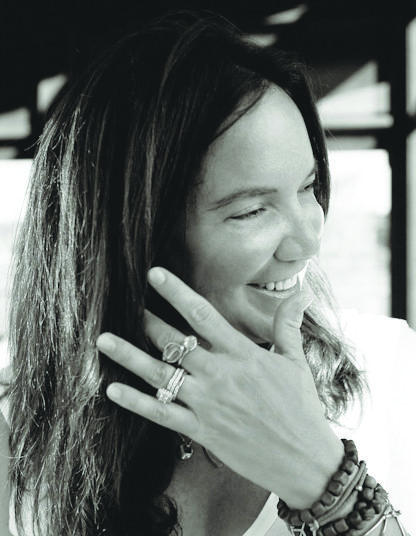 I stepped in it, y'all.
            And I mean both figuratively and literally.
            Not too long ago, I was atop my high horse telling everyone who would listen how I was done. Finished.  Absolutely complete. No longer interested in the baby train, dirty diaper, sleepless nights of life on the Midnight Express. 
I had gotten off, if you catch my drift, and was well into that Autumn of Motherhood, no longer looking back, but forward, to ten-day vacations and available cash.
            Then, I brought home a puppy.
            It happened, 3 years ago, on the evening of "the most exciting two minutes in sports," the Kentucky Derby. Little known 3 year-old chestnut colt, I'll Have Another, came from behind to beat out the favorite to win, Bodemeister, by one and a half lengths.
            It was an exciting race.  And as the patrons hoisted their glasses, chanting "I'll have Another," I was chasing my own dream, a teeny tiny puppy up for auction at a school fundraiser named Mint Julep. She was my quarter horse. I was all in.
            Luckily, we came home the winner. And life as we know it hasn't been the same since.
            See, Mint Julep or "Jules" as we call her, came with an actual instruction book which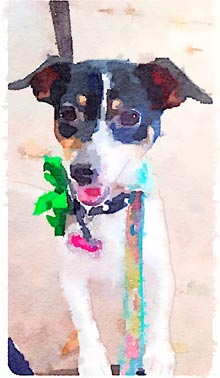 she smartly chewed up upon arrival. But no worries, I already knew the drill: lots of poop and zero sleep.
            As tradition dictates, when I bring home a bundle of pure joy, I write a letter – just like I penned for my other two girls, all those years ago . . .
            My dearest Jules,
            If you are reading this, it's your 21st birthday (in dog years . . . in human years, it's your 3rd so I'll be reading it to you, 'cause you're a dog – but I digress.)  I wanted to tell you know how much you mean to me and how my life has changed so profoundly because of that Derby Day when I brought you home, barely 3 lbs. of fluff and fur that I could hold in the cradle of a single arm. 
            You see, I loved you the minute I saw you, when those two gorgeous brown pools of reflective light met mine. Actually, to be fair, I kind of stalked you around the ballroom because I wanted to take you home so badly.  Even the volunteer with the clip board at one time or another considered filing a restraining order. I didn't care. I knew we were supposed to be together. Little did I know, your father had instructed the volunteer to come to him whenever someone put in a bid. He would counter. It was kismet.  Our fate was sealed.
            And I adored you even more that first night when you pooped on my sleeping daughter's head before falling asleep curled up in my lap. I love the way one of your ears flops down more than the other, and how you watch me with such concentration while I type, cook, brush my teeth and pretend to iron . . . how you love puddles after a good rain, pouncing through the grass after crickets, pawing one of the cat's fur balls around the house, then sleeping at my feet, after gnawing on them, at the end of a long day.
            See, you came to be one of us not because of a snow storm in April at a wedding in Ann Harbor, Michigan. Or like another one of my children, as the result of 9 dollar ovulation kit from the CVS.  No. You chose us, sweet Jules, when you stared at us with those puppy dog eyes and cocked your adorable teeny, puppy dog ear.  Also, you came to be a part of our family because of a text exchange I had with your father 2 weeks before we took you home. 
            Father: Realized I'll be at a golf member-guest party on the 5/11- our wedding anniversary!  Whoops!  Guess we can go out another night.
            Mother: Whoops? Isn't it a bit clichéd to not remember when your anniversary is?
            Father: I did, but I'm not missing member-guest! 🙂
            Mother: Even better! 🙁
            Father: I'll get u a new vacuum cleaner to make up for it!
            Mother: U can't stop topping yourself, can u?  What's next? A new blender and a dust pan?
            Father: U know how Christmas is really your birthday too?
            Mom:
            Dad: Hello?????
            So, when our eyes met and we fell in love, your father mouthed the words "No Way in Hell" across the ballroom.  I held up my cell phone and he knew right then and there that we would be together, forever.   
            Much Love,
            Mom
            But what I take away from the whole experience, besides finding a dog I adore wholeheartedly, was exploring exactly what the phrase I'll Have Another really means.  For the owner of I'll Have Another, J. Paul Reddam, it means another cookie after dinner while relaxing on the couch.  For WC Fields, when asked what he believed in, he responded, "I believe I'll have another drink."
            It's a phrase we use when we partake in something we don't necessarily need, but want all the same. For me, it represents a romantic gesture made during the run for the roses. Did I need another dog? No. Did I want her? You have no idea.
            I guess in the end, when it comes down to an act of love, my answer will always be yes, I'll have another. Please.