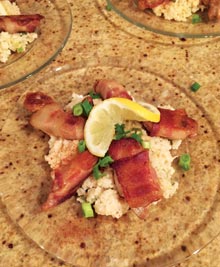 A few weeks ago, one of my favorite customers approached me about catering a birthday dinner for his wife that would feature foods from New Zealand. I, of course, hopped on the idea and suggested that we serve the meal tapas-style. The rest is history. We had a great night and the yummy small plates were well-received!
This week I'm sharing the menu and the recipes that were served. All of the recipes were created by New Zealand chefs. I just tweaked them a bit to make them doable with ingredients that are available in the Lowcountry. Enjoy!
Bacon-Wrapped Quail Breasts with Lemon Couscous (above)
For the quail:
12 slices bacon
1 pound boneless, skinless quail breasts (or chicken breasts)
Preheat oven to 375 degrees. Line a baking sheet with a piece of aluminum foil. Spray foil lightly with cooking spray. Cut bacon slices in half. Cut quail breasts into 24 bite-sized pieces. Wrap each piece of quail with a half slice of bacon and place, seam side down, on baking sheet. Bake for 15 to 20 minutes, or until bacon is browned and crispy and quail is cooked through. Serves 6.
For the couscous:
1½ cups chicken stock
1½ cups couscous
2 tablespoons lemon zest
¼ cup lemon juice
¼ cup chopped green onions, plus extra sliced for garnish
Salt and pepper, to taste
Heat chicken stock to boiling. Place couscous in a large bowl. Pour the hot stock over the couscous and allow to stand for 10 minutes. Fluff with a fork and stir in the lemon zest, lemon juice and green onions. Season to taste with salt and pepper. Serve the couscous topped with the bacon-wrapped quail breasts and extra green onions. Serves 6 to 8.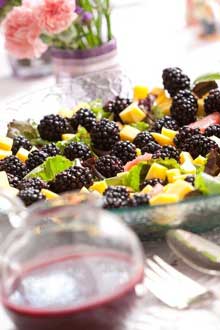 Roasted Kumara (Sweet Potato) Salad with Mint and Honey Dressing
For the dressing:
1 handful fresh mint leaves, chopped
1 clove garlic, finely chopped
1 tablespoon honey
½ teaspoon Dijon mustard
½ teaspoon mild curry powder
2 tablespoons red wine vinegar
5 tablespoons extra-virgin olive oil-packed
Place all salad dressing ingredients in a food processor or mini chopper. Pulse to combine. Pour dressing into a small container and set aside until ready to use. Refrigerate any unused dressing.

For the salad:
1½ pounds sweet potatoes
2 tablespoons olive oil
Salt and pepper, to taste
Mixed salad greens or fresh baby spinach leaves
1 small red onion, thinly sliced
4 green onions, sliced diagonally
1/3 cup cilantro leaves
½ cup golden raisins
Preheat oven to 425 degrees. Peel sweet potatoes and dice into bite-sized pieces. Toss the sweet potato pieces with olive oil and season with salt and pepper. Spread in a single layer on a lightly greased baking sheet. Roast for 20 minutes, stirring gently after 10 minutes, until tender and crisp around the edges. Remove from oven and set aside to cool. In a large bowl, toss salad greens with mint and honey dressing. Add roasted sweet potatoes. Top with red onion, green onions, cilantro leaves and golden raisins. Serves 6 to 8.
Crispy Lamb Chop Lollipops on Butter Bean Puree with Olives and Tomatoes
For the butter bean puree:
1 (16-ounce) bag frozen baby lima beans
1 tablespoon butter
¼ cup heavy cream
2 tablespoons lemon juice
Salt and pepper, to taste
Cook lima beans according to package directions. Season with salt and pepper. In a food processor, puree the beans with butter, heavy cream and lemon juice. Season with salt and pepper.
For the olives and tomatoes:
½ small red onion, peeled and diced
½ cup kalamata olives, pits removed
2 ripe tomatoes, diced
1 English cucumber, diced
1 tablespoon olive oil
1 tablespoon sherry vinegar
Salt and pepper, to taste
Place red onion, olives, tomatoes and cucumbers in a bowl. Pour olive oil and vinegar over and toss to dress. Season with salt and pepper.
For the lamb:
2 pounds rack of lamb, frenched and cut into chops
Salt and pepper, to taste
3 tablespoons Dijon mustard
2 cloves garlic, finely minced
3 teaspoons fresh thyme leaves, chopped
½ cup panko bread crumbs
Season lamb with salt and pepper. Mix mustard with garlic and thyme. Rub mustard mixture on seasoned lamb chops and refrigerate up to 6 hours. Preheat oven to 450 degrees. Just before cooking, pat panko on both sides of the mustard-coated lamb chops. Place lamb on a lightly greased baking sheet. Put cold lamb into the hot oven. Roast for 5 to 7 minutes on each side or just until crispy, for medium-rare. Let rest for 5 minutes before serving.
To plate, spoon warm butter bean puree on individual plates. Garnish with a couple of spoonfuls of the olive and tomato salad. Top with the lamb chops. Serves 6.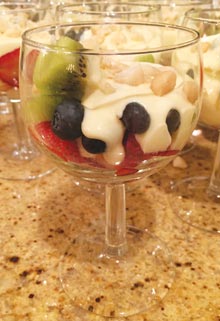 Kiwi Fruit Salad with Creme Anglaise and Macadamia Nuts
For the cream sauce:
1½ cups heavy cream
1/3 cup sugar
4 large egg yolks
Pinch salt
1 teaspoon vanilla extract
Combine the cream, sugar and salt in a large saucepan. Cook over medium heat until sugar is melted and cream begins to steam. Remove from heat. In a medium bowl, whisk egg yolks with vanilla extract. Slowly pour ½ cup of the hot cream mixture into the egg mixture, whisking steadily to combine. Then, pour the rest of the cream into the egg mixture, whisking steadily to combine. Place a fine mesh sieve over the saucepan. Pour the egg and cream mixture through the sieve, back into the saucepan, to remove any bits of egg that may have curdled. Place the saucepan on medium heat. Stir constantly to make sure the cream doesn't scald. Continue stirring until the mixture thickens enough to fully coat the back of a spoon as is smooth as silk. (You can also check the temperature with a candy thermometer. It should be at least 156 degrees and not exceed 175 degrees. The higher the temperature, the thicker the final cooled custard will be.) Refrigerate until ready to serve. Creme Anglaise will keep refrigerated for about one week.
For the fruit:
3 kiwi fruits, peeled and diced
18 large strawberries, hulled and diced
½ cup fresh blueberries
Salted macadamia nuts, roughly chopped
To plate, divide fruit into 6 serving dishes. Top with ¼ cup crème angalise. Sprinkle with chopped macadamia nuts. Serves 6.
The writer owns Catering by Debbi Covington and is the author of two cookbooks, Gold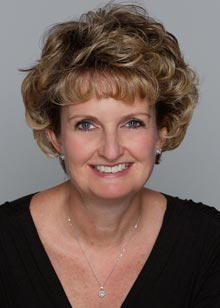 Medal Winner of the Benjamin Franklin Award, Celebrate Everything! and Dining Under the Carolina Moon.  Debbi's website address is www.cateringbydebbicovington.com. She may be reached at 525-0350 or by email at dbc@cateringbydebbicovington.com