The search for the Lowcountry's best handmade burgers continues…

Story & photos by Mark Shaffer
"You can find your way across this country using burger joints the way a navigator uses stars."  – Charles Kuralt
ROSIE O'GRADY'S
Irish American Sports Pub & Eatery
Beaufort Town Center next to Kmart
843.379.7676
Long ago in a misty age known as "The 80s" a visionary reporter named Jim Atkinson set out on a quest to document the great American institution of the Dive Bar, or in Atkinson's terminology the "bar bar." It was a risky and thankless task, but Atkinson stuck to it and eventually published a book of his findings entitled The View From Nowhere.
            Atkinson never took his dive bar tour to the Lowcountry, but I'm convinced that had he carried on he would have eventually stumbled upon Mike and Leslie Pressley's fine example of his beloved art form.
            Michael or "Mikey" to his regulars, calls Rosie O's "a five star dive bar." Step inside and you'll get it. The bar's adjacent to the K-mart off of Boundary Street, but don't let the shopping center location fool you. There's a classic neighborhood vibe to the place with just the right amount of neon and miscellaneous junk. This is also one of the few spots left in Beaufort where you can shoot a friendly game of pool and – to the best of our knowledge – the only joint in town with more than one table.
            Pressley spent a good chunk of his childhood in the wilds of Hunting Island where his
dad was Park Superintendent back in the 1960s. He ran high-end resorts for nearly 30 years before he and Leslie dropped anchor here a decade ago. It's barely noon on a Friday and take out orders – mostly burgers – are already stacking up on the bar. The burgers and everything else that comes out of the kitchen "are made with love," says Pressley, who makes every choice beef patty by hand. Pressley's burger philosophy is in line with ours. A great burger should make your knees buckle. "Everybody likes hamburgers and a good hamburger is easy to make," he says, "but a lot of people screw it up by cooking all the juice out and turning it into a hockey puck. We don't serve hockey pucks."
            The most popular burger is the Beaufort Burger, a build-your-own proposition. This is your burger, your way. Craving some pig on your patty? No problem. Add bacon and the house made Carolina pulled pork. Hell, go nuts and slap on some grilled jalapeños, chili, onions and your cheese of choice. Mikey likes things spicy, even the cheese. If you need a little extra bang for the buck, throw caution to the wind and top off your burger with a hunk of ghost pepper & cheddar. You won't find that anywhere else in town. There are virtually no limits to having it your way. If it's in the house, it's yours says Mikey. "We'll put anything on a burger." All Rosie's burgers are char grilled and served with fresh lettuce, a thick cut slice of juicy red tomato on a corn dusted Kaiser roll.
            Publisher and burger aficionado, Jeff Evans, sets his sights on the Philly Cheeseburger. This twisted bit of genius is a 1/4 pound of beef topped with another 1/4 pound of Philly steak, peppers, onions, pepper jack cheese and house-made yum yum sauce. Be sure to ask Leslie for extra sauce. Mikey's known for "Da Boss's Sauces" including his Creole Honey Mustard and his Orange Wasabi Marmalade.
            I make a quick call to my insurance agent and order the Rosie O's Chili Cheeseburger From Hell! This half-pounder is a Frankenstein's monster of a burger. And we mean this in a good way. This is not a burger for the feint of heart or anyone who has ever ordered a frozen drink in a mall bar. The big beef patty is topped with generous portions of grilled jalapeños, Pepper jack and provolone cheeses, chili, lettuce, tomato and as much of Mikey's homemade habanero sauce as your physician will allow. Big, tough grown men with tattoos and loud motorcycles have shed tears of joy and pain while eating this thing.
            The burger baskets come with a dill wedge, a pickled pepper and a mountain of piping hot old-fashioned crinkle-cut fries, crisp and tender without a hint of grease. The Philly steak spills out from under the bun. The Chili Cheeseburger From Hell just sits there looking mean.
            "That's the kind of burger that looks up at you and goes, 'I double dare you,'" says Jeff.
            What the hell, I was always a sucker for a dare.
            The burgers are hot and juicy and perfectly cooked. The lettuce is crisp and the big slice of tomato does what it's supposed to do: render the ketchup moot. My "Hellburger" is almost too big to bite, but once I do it is indeed one hell of a bite. In fact, this baby bites back but in a very complex way. The flavor of the beef is front and center, never overpowered by the heat. All the flavors come together in a very big way bound by the melty goodness of the cheeses. This is what my dad would call a 'sink burger' as it comes with everything but the kitchen sink and he'd eat something like this over the kitchen sink. There's no skimping on the napkins here and if necessary you can always walk out back and hose off.
BREAKWATER RESTAURANT AND BAR
203 Carteret Street, Historic Downtown Beaufort
Reservations recommended.
843-379-0052
A lot has changed since I first bellied up to the bar at Breakwater back in 2008. For one thing, they moved the bar. Actually they moved to two whole blocks. Back then Breakwater was on West Street in what has fortunately become the Old Bull Tavern. The three partners, Chefs Beth Shaw & Gary Lang and Manager Donna Lang, had some big ideas that just weren't going to happen on West Street. In a move hailed by many as absolute insanity, they shut down and spent the better part of six excruciating months transforming an old furniture store into something special. When the doors finally opened on the new digs in late 2009 Beaufort's downtown dining scene changed. This was a swank, hip eatery and watering hole that was all at once an elegant exercise in design meets function, a slick homage to a bygone era and a funky temple for the chefs' locally sourced, made-from-scratch New Southern Cuisine.
            Flash forward to mid-December of last year as the Burger Beat Irregulars convene for a uniquely elegant spin on the burger experience in the Breakwater Wine Room. Tonight's group includes Everyday Gourmet, Debbi Covington, and LCW Publisher and Editor, Jeff and Margaret Evans.
            Chef Shaw's working burger detail tonight, Gary's in the upstate overseeing operations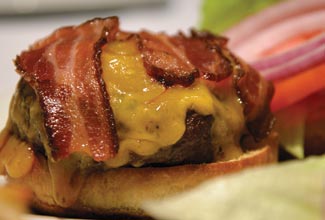 at the fabulously successful Breakwater Greenville.
            The Breakwater Burger is your burger cooked and dressed your way, with thick sliced bacon and a choice of cheddar, Swiss, or blue cheese. All the burgers and sliders come beautifully presented on a pristine white platter with a matching bowl of Breakwater's famous fries.
            We've settled on two of the house favorites, the Blue Cheese Burger and the Cheddar Bacon Burger and they are beautiful. No, really. These platters are to burgers what Adriana Lima and Alessandra Ambrosio are to lingerie. Okay, maybe that's a bit much. But you get the point. Even the tomatoes are gorgeous.
            We've requested one burger medium rare and one rare and they are both cooked to absolute perfection. Debbi, the self-proclaimed "meatavore," likes hers just this side of Beef Tartare.
            "I had a friend from Texas who used to call it 'on the hoof' when it was this rare."
            We're all deep into the wine room burger experience before Margaret points out that no one's asked for a condiment or reached for the salt & pepper.
            "They don't need anything," says Debbi. "This is perfect as is: straight up meat and cheese. And bacon. I love bacon."
            The burgers are exquisite right down to the bun-to-meat ratio: the perfect amount of bun integrity to avoid making a mess of things without too much bread to overwhelm the patty. As all Southerners know, bacon makes everything better, which in this case is kind of nuts because the burger alone is close to perfection. The bacon is thick cut pork candy and the aged cheddar adds an extra kick to the meat. The Blue Burger goes over big. The rich, tangy cheese is absolutely decadent taking the flavor of the meat to a whole new level.
            Regardless of what goes on top, the key to all of this is the certified Black Angus beef. Even so, this is not your average Black Angus burger.
            "We house-cut our tenderloins and short ribs," says Beth. "So we just take the extra pieces from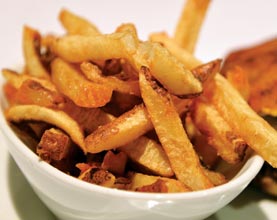 that and grind it up."
            One of the real challenges in writing about the Great American Hamburger is finding the unique in something that has become so ubiquitous. Not so here. You can really taste the quality of the ingredients.
            Which brings us back to the fries. I'm a freak for fries in all shapes sizes. I love 'em . It's just that I love some a little bit more than others and love a few a whole lot more than the rest. The fries at Breakwater fall into the latter category. I can barely control myself with a bowl of these amazingly crisp, tender, salty strips of Solanum tuberosum right in front of me. My fellow diners are on the same page. By the end of the evening nary a fry survives. Debbi offers a simple theory as to why they're so good.
            "They taste like potato."
            She's right. That's it. This is the real thing, not some processed, mass produced product shipped cross-country in a freezer truck.
            "They're hand cut and we rinse off the starch," says Beth, "then we blanch them at a low temperature and fry them at a high temperature. It's that simple."
            "Let's talk the bar angle," says Debbi. "Since we've been doing this we've agreed that every bar ought to have a great burger. They take it to another level here. With Breakwater you can come to a beautiful restaurant with a very nice bar, and if you're from out of town and don't know anybody, you can enjoy a really good glass of wine or a cocktail with this fabulous burger & fries and be by yourself and still be comfortable."
            And should you have occasion to venture out for burgers with, say, a dozen or so of your best friends we highly recommend the Wine Room experience. You may never eat fast food again. And honestly, would that be a bad thing?
JOIN THE BEAT
We're in search of the best burgers in The Lowcountry. Email us at backyardtourist@gmail.com and tell us about your favorite burger. The criteria's simple: no national chains and all burgers must be handmade on site.