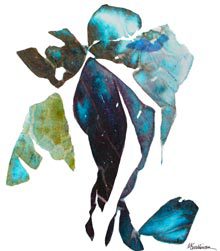 Mary Sullivan is the featured artist at the SOBA Gallery from June 4 through July 14. Her exhibit "Time and Timelessness," will present all new work, exploring that theme with the poured ink abstracts for which she has become known. She will add two additional techniques which ultimately evolved from the ink paintings.
"My first piece in this series I call 'Keeping Time Dancing for Joy.' I was reminded of a dancing "figure" moving along with some timeless, joyful melody, and actually it led me to consider the pursuit of the abstract concepts of time and timelessness as a theme.
"You could say that mine is an exploration of the 'inner landscape' of experience, memory, and emotion. At the same time the abstract nature of the images allows each viewer to form his/her own associations.
"Painting for me is always a process of discovery. That is what intrigues me and keeps me working, and these works have led me on a continuing experience of discovery. For me painting is like writing a poem or creating a piece of music, but with color and shape – capturing an experience, a feeling that might otherwise be fleeting and forgotten. I never cease to get excited about color, how colors mix and form something new. There is something truly mysterious about the process."
Sullivan attributes some of the inspiration for this exhibit to Henri Matisse who, during the last 15 years of his life, came up with the innovative technique of papier coupes (paper cutouts) when he could no longer paint with a brush due to ill health, thus achieving a synthesis of line and color and of painting and sculpture. Sullivan has made her own translation of this technique, using papers created with inks used in her poured ink paintings. She also explores what she calls "the power of white."
Mary has lived in the Lowcountry and been active in the arts community since 2001. Originally from Chicago, she took courses at the School of the Art Institute of Chicago, The American Academy of Art and at various art associations. She recently received grants from the Expansion Arts Fund of the Coastal Community Foundation of South Carolina and from the Arts Council of Beaufort County.
A great opportunity to meet Mary Sullivan and other member artists is at the opening wine and cheese reception on Sunday, June 10 from 3 pm to 5 pm. The Society of Bluffton Artists (SOBA) is located at the corner of Calhoun and Church Streets. For more information call 843-757-6586.