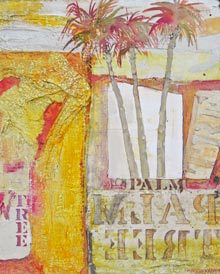 Paintings by Mary Jane Martin at the BAA Gallery
The Beaufort Art Association will be presenting, "How I See It," paintings by featured artist Mary Jane Martin from May 15 through June 23, 2012 at the BAA Gallery, 913 Bay Street. The exhibition will kick off with a free reception, open to the public, in honor of the artist on Friday, May 18, from 5:30 – 7:30 p.m.
The body of highly original new work that will appear in the show is best characterized as experimental and innovative. Mary Jane works in primarily water-based media. She uses acrylic mediums and various grounds to create texture on both canvas and paper, and she often introduces collage elements into her mixed media pieces. "I have a tough time confining myself to one theme or subject or even one medium," she says. "This show is about perspective," a term familiar to artists who use it to paint an illusion of reality in a way that invites the viewer into the two dimensional space of the painting. We know the term best as a way of viewing the height, width, depth, and position of an object, such as a building, on a flat surface.
In Mary Jane's highly abstract work, the word "perspective" suggests her particular way of looking at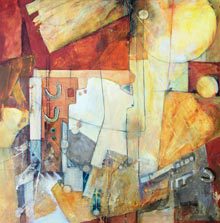 things, her point of view and sense of proportion. "I interpret what I see through texture and my choice of colors, which create the internal planes and surfaces of a painting." Close attention to pattern also figures in her work. Mary Jane has returned to subject matter she has painted in the past, but she's seeing it with new eyes.
She loves to experiment with the notion of "what if" in order to "do something else with what I just did, manipulate elements so that change acts as a kind of bridge to the next painting." As she explores themes usually related to the environment, Mary Jane favors working in series.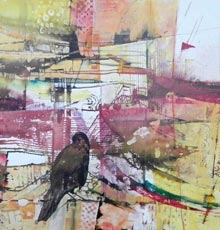 In addition to winning awards locally, regionally, and statewide, Mary Jane has achieved the honor of Master Status in the South Carolina Watermedia Society and Signature Status in the International Society of Experimental Artists. She has been juried into many national as well as international shows and currently has a painting in the South Carolina Watermedia Traveling Show, an exhibit that is shown in many places in the state for one year.
Mary Jane graduated from Purdue University with an Art Education/Fine Arts degree. She is a former art educator here in South Carolina. After moving to Beaufort, she has concentrated on her personal artwork. More of her work can be viewed at the Beaufort Art Association Gallery, The Gallery in Beaufort, and the Hilton Head Art League Gallery. For more about the exhibit, visit www.beaufortartassociation.com, and to view more of the artist's work, visit www.maryjanemartin.com.