By Margaret Evans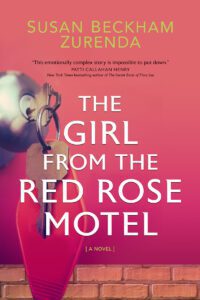 The nonprofit Pat Conroy Literary Center and NeverMore Books will host an evening with novelist Susan Beckham Zurenda, author of The Girl from the Red Rose Motel, on Tues, September 19, at 5:00 pm. Zurenda will be joined in conversation by bestselling author Cassandra King (Tell Me a Story: My Life with Pat Conroy). Free and open to the public, this special event will be held at the Conroy Center, 601 Bladen St. Light refreshments will be provided, books available for sale and signing. Seating is limited; please call 843-379-7025 to reserve in advance.
Inspired by Susan's experiences teaching in a Spartanburg, SC public high school and her knowledge of homeless students living in motels, The Girl From the Red Rose Motel  is set in 2012, in a fictitious southern town. It revolves around two high school students from vastly different backgrounds who fall in love, and with the support of their sympathetic English teacher, attempt to navigate complications readers might never imagine.
Susan and I recently discussed her new novel via email.
Margaret Evans: I'm a big fan of your debut novel, Bells for Eli, and was expecting something similar this time around. But reading The Girl from the Red Rose Motel was a completely different experience. Both are compelling Southern novels about young, forbidden love – among other things – but their style and tone are miles apart. Was that intentional?
Susan Zurenda: Wow, until you asked this question, I hadn't realized the connection of the "forbidden" (though forbidden in different ways) love theme in both my novels. What would a psychologist say about me? I don't think I want to know. On a conscious level, at least, I believe I have created these unusual love stories because at heart I'm a romantic who believes in the power of love to supersede seemingly insurmountable difficulties.
I didn't intentionally create differing styles and tones in the two novels. It happens in part because the characters' perspectives differ.  In Bells for Eli we are always in grown-up Delia's head looking back on her formative years with her cousin Eli. Delia takes us through the emotional arcs of their lives with a grounded voice and mostly sympathetic tone. On the other hand, in The Girl From the Red Rose Motel, the story is told through the three main characters' points of view, the voices interweaving among the chapters. The tone shifts more in The Girl From the Red Rose Motel as each character's experiences build layers of the story.  Hazel's tone tends to be tentative; Sterling's is often full of earnest optimism, and Angela's varies depending on whether she's dealing confidently with her students or expresses more vulnerability in her personal life.
ME: Both your books feature teenagers and might be called "coming of age" stories, but you don't consider yourself a YA novelist. In your mind, what's the difference between a YA novel and just a novel?
 SZ: Though both of my novels focus on young characters, they are written for adults. Also, The Girl From the Red Rose Motel has an adult character with a
story arc. That said, I hope that my novels will also speak to older teenagers. Many of my favorite novels with young protagonists are adult novels that cross over to teens: Catcher in the Rye by J.D. Salinger, To Kill a Mockingbird by Harper Lee, Member of the Wedding by Carson McCullers, Atonement by Ian McEwan, and Normal People by Sally Rooney, to name a few. Even though I taught a graduate-level course in Adolescent Literature a number of times during my career, I don't know how to precisely define a YA novel, except to say it might be how the themes are explored. A YA novel is specifically pitched to the adolescent reading level and interests between the approximate ages of 13-18.
ME: How much of this story is based on your own teaching experience?
SZ: My character Angela Wilmore is a dedicated teacher who is fortunate to teach in a high school that treats her professionally. The same was true for me. Even so, every day of the years I taught in public high school after a twenty-year career at my local community college was full of unexpected situations and exhausting obligations.  Two events in the novel are based on my real life in the classroom. One is the scene in Chapter 2 when Sterling and his classmates usurp their teacher Angela Wilmore's 5th period AP Class, causing her to send these brilliant but rebellious boys to in-school suspension. The other event is veryloosely based on a horrific meeting I endured with a student's parents who objected to a short story I taught in my AP classroom. I created the characters of Donovan Powell and his mousy wife to emphasize the challenges of censorship and to champion an administration that supported me. I should also add that Angela is a much funkier teacher than I ever was!
ME: You never shy away from uncomfortable social issues in your novels. In The Girl from the Red Rose Motel, the divide separating Hazel and Sterling seems mainly socio-economic. Hazel is a girl of mixed race, but racism doesn't seem to be an issue in the novel. Do you believe today's young people are simply post-racial?
SZ: Yes, Hazel is biracial, but I don't consider racism to be a primary issue in the novel. In giving Hazel a Caucasian father and an African American mother, I wanted to emphasize a broad spectrum of society to illustrate that it isn't race as much as poverty that affects Hazel's circumstances. It is my fervent hope, as expressed in the novel through Sterling and friends, that the current generation of young people are moving us toward a post-racial world.
ME: Your multi-award-winning first novel, Bells for Eli, was published during the Covid pandemic. I imagine that put a real crimp in your book tour. How important is it for writers to get out and promote their work at public events?
SZ: My debut novel came out the week the pandemic was declared in March 2020. Though I connected with readers online and am grateful for the awards Bells for Eli garnered, I was devastated to cancel a 50-event tour. I believe meeting readers in person is essential to promoting a book. Plus, it's a whole lot of fun! I have about 40 events lined up for The Girl From the Red Rose Motel and hope Covid doesn't come back with a vengeance to impede my tour.  My events are listed on my website: www.susanzurenda.com.