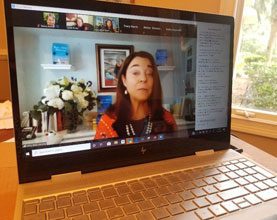 Almost 100 members and guests of the Women's Association of Hilton Head Island (WAHHI) participated in their first online webinar meeting in the organization's almost 60-year history. New York Times bestselling author Mary Alice Monroe was the featured speaker. Monroe introduced her new release, "On Ocean Boulevard" in the webinar, as well as spoke of her other five beach house series books, her writing process, and her love of Loggerhead sea turtles.
A WAHHI member commented that with the webinar format, "You become closer, more connected to the speaker. I felt like Mary Alice was in my room with me."
The webinar was sponsored by Hilton Head Regional Healthcare and Lux Medical Spa making this event free to members and their guests. Webinar participants also shared the books that they had been reading during the stay at home order. Over 85% of women participated reporting reading up to 10 books over the eight-week period.
Women's Association of Hilton Head Island
Founded in 1961, the Women's Association of Hilton Head Island is an influential group of over 800 women who are active in civic, cultural, and philanthropic activities in the Bluffton and the Hilton Head community. Membership in the Women's Association is open to residents of Hilton Head Island, Bluffton and Daufuskie Island. For more information regarding membership, please contact Linda Jackson at membership@wahhi.org.