On Thursday, June 18, at 5:30 p.m., the nonprofit Pat Conroy Literary Center will host a free public program with novelist Johnnie Bernhard, author of Sisters of the Undertow. Books will be available for sale and signing after the author's presentation. Weather permitting, this event will be held on the plaza in front of the Conroy Center at 905 Port Republic Street in downtown Beaufort. The author event will also be livestreamed on the Conroy Center's Facebook page and made available on the Center's YouTube channel afterwards.
In addition to her public appearance, Bernard will be teaching a writing workshop, What It Takes to Be an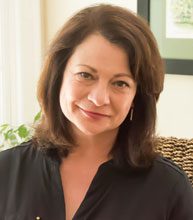 Author, offered through the Osher Lifelong Learning Institute at USCB from 10:00 to 11:30 a.m., also on June 18. This workshop is available to all OLLI members through https://olli.uscb.edu.In Bernhard's novel Sisters of the Undertow, sisters Kim and Kathy Hodges are born sixteen months apart in a middle-class existence parented by Linda and David Hodges of Houston, Texas. The happy couple welcomes their "lucky daughter" Kim, who is physically and mentally advanced. Following several miscarriages, Linda delivers "unlucky" Kathy at twenty-nine weeks, ensuring a life of cognitive and physical disabilities. Kathy enters public school as a special education student, while Kim is recognized as gifted. Both sisters face life and death decisions as Houston is caught in the rip current of Hurricane Harvey. Kim learns the capricious nature of luck, while Kathy continues to make her own luck, surviving Hurricane Harvey, as she has survived all undertows with the ethereal courage of the resolute."Johnnie Bernhard has become one of the South's finest writers. Sisters of the Undertow is a book you can't and won't put down, a story of sisterhood, love, and loss," says Allen Mendenhall of the Southern Literary Review


Erin Z. Bass at Deep South Magazine says,"Bernhard writes with such humanity and genuine care for her characters that it's hard to leave them on the page. In her latest novel Sisters of the Undertow, sibling rivalry between two very different sisters impacts the course of their lives, as storms swirl both inside and outside. I think we all feel swept up in an undertow sometimes, and Bernhard gives up something to hope for amid the wreckage."
A former teacher and journalist, Johnnie Bernhard is also the author of the novels A Good Girl and How We Came to Be. Her work has also appeared in University of Michigan Graduate Studies Publications, Heart of Ann Arbor Magazine, Houston Style Magazine, Southern Writers Magazine, The Texas Review, Southern Literary Review, and in the anthologies Writers on Writing, The Pulpwood Queens Celebrate Twenty Years, and Katrina Memories.
TripAdvisor's top-ranked destination in Beaufort, the nonprofit Pat Conroy Literary Center is located at 905 Port Republic Street in historic downtown. Winner of the 2019 Civitas Award for Tourism Leadership presented by the Beaufort Regional Chamber of Commerce, the Conroy Center is South Carolina's first affiliate of the American Writers Museum and second American Library Association Literary Landmark. Through its interpretive center, year-round educational programs, and annual literary festival, the Conroy Center preserves and continues the literary legacy of Pat Conroy (1945–2016) as a teacher, mentor, advocate, and friend to readers and writers alike. Learn more at www.patconroyliterarycenter.org.
Top: Novelist Johnnie Bernhard with Jonathan Haupt, executive director of the Pat Conroy Literary Center