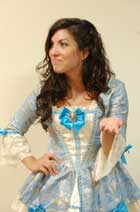 Talking with the cast of 'Talking With'…
Who is Jane Martin? No one really knows. What is known is that Jane Martin is the pen name of an award-winning Kentucky playwright. Though Martin has written numerous plays, including "Talking With…" and was nominated for a Pulitzer, the writer's true identity is still a mystery.
Eleven actresses from Beaufort and Bluffton, ages 18-80, will offer a glance into the unique lives of very different women when "Talking With…" produced by Misspent Youth Productions and directed by Gail Westerfield, comes to the ARTworks stage in Beaufort, June 11-19. The play earned national attention when it premiered at the 1982 Humana Festival of New American Plays at the Actors Theatre of Louisville.
The audience will be "marked" by these women who share stories of their passions, ranging from the far-out eccentric to the ordinary: baton twirling, snake handling, McDonalds, the rodeo, a "Wizard of Oz" character, and a loft full of lamps, among others. According to stage manager Travis Williams, the pieces are "gonna bring a laugh and a tear."
This production is not your usual just-sit-and-watch play. The small, intimate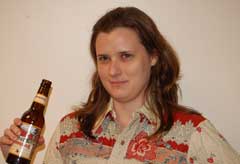 setting makes the collection of monologues more conversational than presentational. The audience will actually feel like each character is talking with them. Westerfield says, "I want it to feel like a conversation with the audience, rather than a speech given to them."
But why did Westerfield choose to produce and direct "Talking With…"? She says "I was familiar with it because I acted in it more than 20 years ago in Boulder, Colorado. It was the first really good play I'd been in. I felt really challenged because I did "Rodeo," who was nothing like me. I learned so much. I love the writing, and have been looking for an opportunity to direct it all this time. I knew there were a lot of talented women here after just directing "The Vagina Monologues." I really love creating with actors, and this is a great play for that."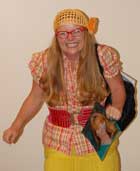 Speaking of actors, this play has a fantastic cast and crew, including three mother and daughter pairings. Williams says, "Everybody has something creative to bring to the table, to their character."
Westerfield seconds that, saying that working with all the unique actors is incredible. "It's just so great because everybody is so different from each other, and they all bring an incredible energy and commitment. Everybody works hard and listens. I get as much out of it as they do. It's really inspiring to me. It's a neat collaboration."
And they are happy to be a part of the process. Christine Smith, who plays Moira, an actress preparing to go on stage in "15 Minutes," has acted in two casts with Westerfield, and heard she was a "really great director to work with. I was looking forward to experiencing that with her."
Billie Shoemaker, who plays a homemaker who's created her own world in "Scraps," wasn't completely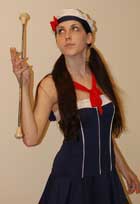 certain if she wanted to audition for the play. She recalled that "when a friend dragged me out of the house to see "Painted Alice," I started feeling that old itch. And lo and behold, right there in the show's program, was an advertisement for an upcoming production to be directed by my old friend, Gail Westerfield (whom Shoemaker directed in "Parallel Lives" in 2001). I thought about it, trying to decide if I should do it or not. On the night of auditions, I tried to chicken out, but my boyfriend pushed me and encouraged me… so I showed up, and am ever so happy that I did!"
A couple of actors weighed in on performing a monologue as opposed to working with other actors in an ensemble. Maggy Norden, who plays a desperate actress in "Audition," feels it is more difficult being onstage alone. "There is no dialogue to jog your memory. You're on your own."
Smith, however, finds working with other actors more challenging because "you have to learn the other actor's lines (to know your cues). If you're by yourself, I think it's easier."
As each actor spends more time with her character, she is learning more about the ways in which they are essentially alike, and how their "real" selves to their characters. Norden says, "Everyone I tell about my character says, 'That's not a stretch for you!' I have a lot of the same tendencies as her."
When asked if she was like her character or completely different, Shoemaker says, "You know, when I first was offered the role, I asked myself that same question. And initially I was concerned, because I had a hard time relating to her at first. But as I delved deeper and got to know her better, I realized that I am more like her than I realize. She escapes the tedious monotony of her real life by cocooning herself in her fantasy… this work of fiction that she, in her own mind, has turned into an entire world of color and life, where she is adored for her quick mind and unconventional beauty. I, too, have been guilty of the same coping mechanism as far back as I can remember. The medium is different, but the compulsion is the same. I feel so deeply for this character on many levels, more and more each day that I know her."
Other cast members include: Jennifer Shand, Kirsten Gobble, Mimi Westerfield, Julia Trask, Anne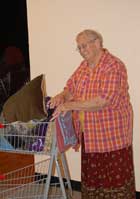 Errington, T.D. O'Neill, Debbie Anderson, and Barbara Thomas, with a special guest appearance by Carrie Freeman, assistant to the director. Louise Trask has designed the fabulous costumes. Irby Rentz is the technical director, and Keela Singleton will take on hair and makeup. Stacie Van Vulpen is the go-to-girl for props, some of which are harder to find, like a hospital gurney for the piece "Dragons."
Despite the show sporting an all-female cast, Westerfield is unconcerned about men not enjoying the show. "Oh, men definitely will love it," she said. "First of all, there are a lot of good-looking women on stage! But also, the issues the play deals with are not exclusive to women by any means. It's not stereotypical at all: They never talk about food and they never talk about guys. They discuss their passions and their lives, not "girl things." Men and women both deal with questions of faith, aging, coping with loss, the search for security and happiness…Everyone can relate to that."
So everyone (you too guys!) mark your calendars. You do not want to miss this remarkable show. These characters will hit you at your core and make you love them. Show dates are June 11 &12, 17-19 at 8 p.m. with a 3 p.m. matinee June 13. Everyone is invited to a special opening night reception June 11.
Call ARTworks for details and reservations at 843-379-2787.
Tickets are $15, $10 for students, and $10 each for groups of 10 or more.
ARTworks is at 2127 Boundary Street in Beaufort (the K-Mart / Bi-Lo shopping center, next to OMNI).