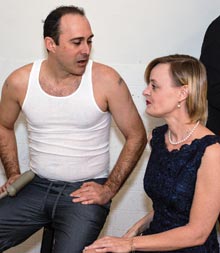 Tennessee Williams' name is almost synonymous with Cat on a Hot Tin Roof, May River
Theatre's final play of their 13th season.
The original stage production of Cat on a Hot Tin Roof opened on Broadway on March 24, 1955. It was produced by the Playwrights' Company. It is one of William's best-known works and his personal favorite. The play won the Pulitzer Prize for Drama in 1955.
Set in the plantation home in the Mississippi Delta of Big Daddy Pollitt, a wealthy cotton tycoon, the play examines the relationships among members of Big Daddy's family, primarily between his son Brick and Maggie the "Cat," Brick's wife.
The play features several recurring motifs, such as social mores, greed, superficiality, mendacity, decay, sexual desire, repression and death. Therefore parental guidance is suggested for this production; it is age appropriate for 18 years and older.
The original production starred Barbara Bel Geddes. Burl Ives , Ben Gazzara and Madeleine Sherwood. Ives and Sherwood were the only two actors who were also in the film, which was made in 1958 and starred Elizabeth Taylor and Paul Newman.
Williams made substantial excisions and alterations to the play for a revival in 1974 and this version has been used for most subsequent revivals, which have been numerous.
Produced by Ed DuPuis and directed by Jim Kadra, May River Theatre's version features Christine Grefe ( Maggie); Ron Ruckle (Brick); Tony Falgiani (Big Daddy) Sheila Kadra (Big Mama); Pat Morgan (Gooper); Jacqueline Scott (Mae); Bert Cayer(Reverend Tooker) and Chad Hsu as Doctor Baugh.
            Says Kadra, "I am pleased and proud to be directing May River Theatre's first production of a play by Tennessee Williams. The cast is top notch and is up to Williams' standards. "
            "Cat" will play February 13 through March 1 on Friday and Saturday evenings at 8 pm and Sunday matinees at 3 pm at the Ulmer Auditorium at Bluffton Town Hall. Cat on a Hot Tin Roof is presented with permission from Dramatists Play Service, New York, New York.
Tickets for the show are available by calling the box office at 843.815.5581. Box office hours are 10 am – 2 pm Monday-Friday. All reserved seats are $25.