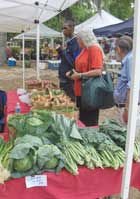 Growing up on King Street in downtown Beaufort, Harry Chakides remembers produce farmers from "the islands" driving their horse-drawn wagons through the streets, calling out "okra…fresh okra" or "get your corn right here, fresh from the field this morning."
"I remember you knew what days certain farmers would be in your neighborhood and when you heard that call, the mothers would head out to the street to see what the family would have for dinner," he recalls.
Chakides also remembers on special occasions, if good-behavior was the order of the day, his mother would let him to ride on the wagon with the vendor for a couple of blocks.
"Those were the days," he said.
When Chakides had John Cross Tavern and, downstairs, Harry's Restaurant, those "curb-side delivery" days were past. He would drive out to "the islands" to buy tomatoes or other vegetables from roadside vendors.
Times have indeed changed, and because of business licenses and other regulations, there are very few "roadside vendors." Those stands where you can buy watermelons, cantaloupes, tomatoes, boiled peanuts – the flavors of summer – and the "you-pick" farms are regulated by the U.S. Department of Agriculture as well as the county's business license division.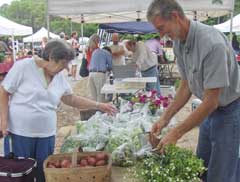 Back in the early 1900's, truck farm vegetables (called that because the produce was generally "trucked" to market) were the county's leading "cash crop," well before the military and tourists became the area's financial mainstay.
Indeed, Beaufort was known as "Lettuce City" in one point in its' history because of the boxes and boxes of sea-island grown produce that were shipped by rail up north and throughout the country.
The price of land went up, the price of transportation and production went up and farm fields were converted to subdivisions.
But the interest in fresh vegetables, particularly organically grown produce, as well as the economic development drive to diversify the local economy, has sparked a growth of community farmers' markets, according to York Glover, agriculture agent for Clemson Extension Service.
"With the national attention being paid to the importance and health value of local produce, there's definitely been an increase of interest around here," Glover said in a recent interview.
Glover now works with groups in Beaufort, Port Royal, Bluffton and, most recently, Hilton Head Island, to operate weekly farmers' markets, where local farmers can bring their wares for sale and the consumer can shop for everything from local honey to zucchini bread.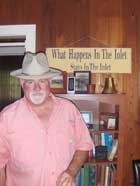 The popular Port Royal market, operating on Saturdays during the growing season, has even expanded to include local musicians and the local humane association, which means shoppers can go home with a new pet.
According to Glover, the Beaufort farmers market began in 1987, under the leadership of Dataw developer, the late Bill Cochran who worked as a go-between for the farmers and city regulations to get a weekly produce stand operating in the parking lot of the Baptist Church of Beaufort.
After operating last year in the Pigeon Point Park, the Beaufort market returned to the downtown park this year at the urging of Main Street Beaufort USA which will serve as managers of the Wednesday market
"Clemson Extension and groups like the town of Port Royal and Main Street Beaufort help sponsor the markets but the goal is for the markets to become largely self-supporting," Glover said.
Many people don't realize that the county hosts an estimated $10 million tomato production industry, an industry which draws a large migrant work force to the fields of St. Helena, Lady's Island and Dale-Lobeco. They don't realize it because the majority of that produce leaves the areas in refrigerated trucks.
"Our next goal is to develop a processing, or packing operation that would allow the smaller growers to expand their markets," Glover said.
The Lowcountry climate provides an almost year-round growing season and Glover said local farmers, if provided markets, could benefit from improved markets.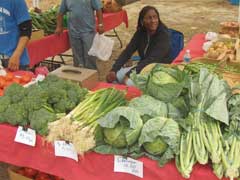 A local task force working with Clemson Extension is trying to develop those markets, including a processing operation possibly somewhere in the Yemassess area which would be more centrally located and accessible to Interstate-95.
"We're dealing with age-old issues but with the interest on fresh produce and organic production, we're also hoping Beaufort County can be on the forefront of this movement," he said.
Open Land Trust Cultivates Awareness… and Gardens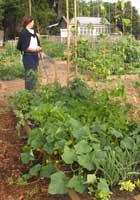 In its 39-year history, the Beaufort County Open Land Trust has become known as a leading advocate for the preservation of open space and vistas in the Lowcountry, preserving almost 14,000 acres of land through purchase and donation agreements.
With that record of success under its belt, the non-profit trust is now getting into farming – community farming with a goal of increasing public awareness about the value of open spaces.
"The idea of bringing community volunteers together to promote an appreciation of the Open Land Trust's properties and at the same time providing an opportunity for education in the area of organic, self-sustaining farming was something the Board of Trustees supported," said OLT Executive Director Ann Bluntzer.
The Trust began in 2009 working with Laura Lee Rose of Clemson Extension Services to pull together a group of volunteers to work on a community garden on donated property located on Bladen Street in downtown Beaufort.
This spring, some 40 plots are being farmed with a variety of products ranging from flowers to vegetables.
Bluntzer hopes to see the same community project repeated in Pigeon Point on land opened by OLT or in Mossy Oaks, possibly in the new Southside Park complex.
Volunteers are also planting vegetables on a two-acre tract owned by the trust on St. Helena Island, providing an opportunity for those who might not have land for a garden to get their hands dirty.
"We'd love the opportunity to go after grants for these activities so we could, for example, get school kids in there to promote their education of sustainable gardening and the importance of land production," said Bluntzer.
· S.C. Dept. of Agriculture Certified Roadside Markets
·
Barefoot Farms
Address: 939 Sea Island Parkway (Hwy. 21), St. Helena, SC 29920
Hours Of Operation: Sunday – Saturday, 9 a.m. – until
Product List: Summer vegetables, watermelons, cantaloupes, cucumbers, peppers, greens, lettuce, squash, strawberries, pumpkins
Telephone: 843-838-7421, 843-838-7421
Lowcountry Produce Inc.
Directions: Hwy. 21, Sheldon, 12 miles north of Beaufort
Product List: Vegetables, jams, jellies, syrups, sauces, cheese, ciders, hams, heart pine furniture, pottery, baskets, kitchen – hot meals, homemade pies, cakes, canning, pickling
Telephone: 843-846-9438, 843-846-9438
· S.C. Dept. of Agriculture Community-based Farmers
· Markets
·
Habersham Farmers Market
Address: 13 Market St., Habersham Community, Beaufort
Hours Of Operation: Fridays, 4:00 p.m. – 7:00 p.m.
Web Site: http://www.habershamfarmersmarket.com
Beaufort Farmers Market
Address: Downtown Marina Parking lot, Beaufort
Hours Of Operation: Wednesday 3:00 p.m. – 6:00 p.m.
Port Royal Farmers Market
Address: 1615 Ribaut Rd., Naval Hospital, Port Royal
Hours Of Operation: Saturday, 8:30 a.m. – 12:30 p.m.
Web Site: http://www.portroyalfarmersmarket.com
· The Farmers Market of Buckwalter
· Address: Buckwalter Place, Bluffton
· Hours of Operation: Tuesday, 4 –7 p.m.
The Farmers Market of Bluffton
Address: 40 Calhoun St., Bluffton
Hours Of Operation: Thursday, 2 – 7 p.m.
Web Site: http://www.farmersmarketbluffton.com
The Mall at Shelter Cove
Address: 24 Shelter Cove Ln., Hilton Head, SC 29928
Hours Of Operation: Thursday, 8 a.m. to 12 p.m.
Jasper County Farmers Market
Address: 9935 S. Jacob Smart Blvd. (Hwy. 17 S.,) Ridgeland
Hours Of Operation: Saturday, 8 a.m. to noon
S.C. Dept. of Agriculture
Community-Supported Agriculture Projects
Marshview Organic Farm- Young farmers of the Lowcountry
12 Georgees's Trail
St. Helena Island
Phone Number: (843) 838-3709
Email: svreynolds@earthlink.net