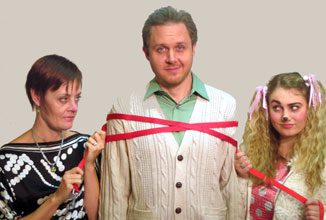 Comedy lovers and dog owners take note: This winter Coastal Stage Productions (CSP) unleashes a howlingly funny and touching tale that turns romance, marriage and pet ownership on its' ear.
Forty-something Greg brings home a dog he found in the park, bearing only the name "Sylvia" on her tag. A street-smart mixture of Lab and Poodle, Sylvia (Rebecca Donaldson) becomes a major bone of contention between husband Greg (Mark Erickson) and his loving wife Kate (Christine Grefe) who soon desperately seek counsel from marriage therapist, Leslie (Daniel Bittick).
Sylvia offers Greg an escape from the frustrations of his job and the emotional turmoil of middle age, but ultimately becomes a rival for love and attention. When Greg begins to spend more time with Sylvia and less time at his job or with Kate, the real struggle begins. It's laugh-out-loud comedy as we witness the two females battle it out.
"I can only call it one of the most involving, beautiful, funny, touching plays I have ever seen…" says NY Daily News.
CSP's production of Sylvia is directed by Luke Cleveland who says, "This play offers audiences a clever paradox – a classic love triangle of two women and a man, coupled with the not so classic love triangle of a man, his wife and his dog. While delighting audiences with its double entendre, this hilarious comedy combines love and discovery with the ease of a good, brisk walk in the park."
Author A.R. Gurney, who also brought us Love Letters, filled houses with the revival of Sylvia on Broadway as recently as January 2016. The original premier in 1995 featured Sarah Jessica Parker in the title role and was nominated for three Drama Desk Awards.
Sylvia is CSP's Theatre Season 2017* premier production. Other planned productions include, Lewis Black's comedy One Slight Hitch, Clybourne Park, the compelling dramedy by Bruce Norris and a reprise of the fun-loving Great American Trailer Park Musical. *For the best seating, lowest prices, and exclusive privileges purchase CSP Season Tickets.
Performances of Sylvia: Feb., 10th & 11th at 8pm and 12th at 2pm – Advance $20.
Dinner Theatre: Feb., 11th at 6pm – Advance Only $48. (Reserve by Feb., 9th)
All Tickets: 912-656-1598 or www.sylviaportroyal.bpt.me. (Adult humor & some adult language) All performances take place at The Shed, 809 Paris Avenue in Port Royal.
Opening its second season, Coastal Stage Productions is a traveling theatre company, based in Ridgeland, SC and dedicated to presenting diverse, high-quality productions in communities across SC & Georgia. CSP incorporates the finest actors, directors and craftsmen into their professional quality productions.