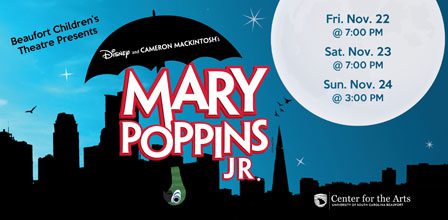 If you are between the ages of 7 and 18 you're invited to join Beaufort Children's Theatre for auditions for Mary Poppins, Jr on September 24 and 25 at USCB Center for the Arts in historic downtown Beaufort. 
About the Story: The jack-of-all trades, Bert, introduces us to 1910 England and the troubled Banks family. Young Jane and Michael have sent many a nanny packing before Mary Poppins arrives on their doorstep. Using a combination of magic and common sense, she must teach the family members how to value each other again. Mary Poppins takes the children on many magical and memorable adventures, but Jane and Michael aren't the only ones upon whom she has a profound effect. Even grown-ups can learn a lesson or two from the nanny who advises that "Anything can happen if you let it."
Auditions will be held on Tuesday, September 24 and Wednesday, September 25. Audition times for Tuesday are:  5:15-6:30 pm for ages 7-9 AND 6:30 -8:00 pm for ages 10 -12. Wednesday, auditions are 5:15-7:00 pm for ages 13-18 and 7:00-8:15 pm  for Call-Backs. 
Production for dates for Mary Poppins, Jr. have been set for November 22 and 23 at 7 pm, November 24 at 3 pm, and November 21 at 9:30 am and 12 pm (for schools only) at the USCB Center for the Arts.  
Rehearsals are held Tuesdays and Thursdays 6 -7:30 pm and Sundays 2-4 pm. Depending upon the part, you may not be required to attend every rehearsal, but should be available in case. Tech week (the week prior to shows) rehearsals are every day, and are absolutely mandatory for all parts. If you are interested in auditioning, please arrive 15 minutes prior to the audition time to complete the registration information. Please bring a non-returnable recent photograph of the person auditioning. No experience or preparation is required, only a positive attitude.