Former Members of Beaufort Little Theatre will reunite to raise money for Alzheimer's Family Services…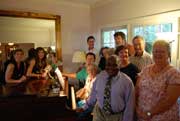 Lowcountry residents have the opportunity to enjoy an evening of musical dinner theater, support a vital community organization, and claim a tax deduction all at the same time. The Alzheimer's {mosimage}
Family Services of Greater Beaufort (AFSGB) presents its second annual dinner theater fundraiser June 27th through the 29th in the Palmetto Showroom of the new Holiday Inn on Boundary Street.
This year's production, ShowTime Memories – Low Country Idyll reunites members of the Beaufort Little Theatre's Original Showtime Troupe. Director Tooka Helms says the all-volunteer production is well worth the effort. "It's a matter of working on it about three months to get [the show] ready to go, picking the right songs, and the cast – rehearsals. It's a labor of love. Besides, we're all a bunch of hams."
The evening features a broad mix of musical numbers running the gamut from old standards and show tunes to a splash of '60s party music, all with a contemporary twist (cough, American Idol, cough).
Producer Dennis Adams promises the audience can expect "a real polished evening – we've been polishing it for months, now – with old talent, new talent, but lots and lots of talent." Tickets are $75 for the Friday and Saturday shows, $50 for the Sunday matinee. Each performance kicks off with a pre-show reception and dinner with a brunch featured on Sunday.
Proceeds benefit Alzheimer's Family Services of Greater Beaufort, a non-profit United Way Agency providing a variety of community-based education and support programs. For more information call 843-521- 9190. Tickets may be purchased at The Starving Artist Café in Beaufort Town Center, Hometown Realty on Lady's Island, THA Group in Newcastle Square and the office of Jatin Patel, CPA on Paris Ave. in Port Royal.