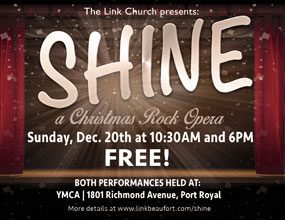 Hear the Christmas story like you've never "heard" it before! In the first performance of this kind, The Link Church presents  
Shine: A Christmas Rock Opera 
on Sunday, December 20
th
 at 10:30 am and 6 pm at the YMCA, 1801 Richmond Avenue in Port Royal.  
            Shine: A Christmas Rock Opera is a modern rock musical re-telling of the Nativity. A full band and ensemble will perform an hour of popular songs like "Takin' it to the Streets" by The Doobie Brothers and Journey's "Don't Stop Believing" that have been rewritten to tell the greatest story of all time.  It's a thrilling production full of classic hits, clever lyrics, and entertaining musical performances, that will leave you on the edge of your seat!   
            The show, written and produced by The Link Church's worship band will be presented Sunday, December 20th at 10:30 a.m. and 6 p.m. at the YMCA (1801 Richmond Avenue) with no admission fee and no tickets required.  
        The Link Church is a community-focused, Bible-believing, contemporary church centered around small groups and worship in the Beaufort area. To learn more about The Link Church and Shine: A Christmas Rock Opera, please call 843-592-1352 or visit www.linkbeaufort.com