A fabulously funny ghost story at the Arts Center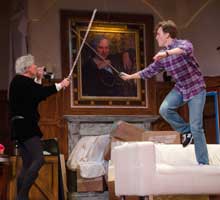 The premise of this incredibly witty comedy is much more about taking chances in life and far less about Shakespeare's Hamlet.
Onstage at the Arts Center of Coastal Carolina this February, this play, which the NY Times called "hilarious," centers around a young, successful television actor who relocates to New York from L.A., where he rents a marvelous apartment in Greenwich Village. With his career in turmoil, the actor named Andrew Rally [played by Ethan Saks] is offered the role of Hamlet. But alas – you guessed it – he hates Hamlet!
It turns out the gothic and historic apartment he now inhabits was once owned by none other than the legendary American Shakespearean actor John Barrymore (played by James Donadio). Following a séance in the apartment, Andrew's dilemma escalates when John Barrymore instrusively – and following Zeus-like fanfare – appears as a ghost to both haunt and taunt Andrew until he acquiesces to play this quintessential theatrical role.
The contrast between the two actors – the roguish, lecherous Barrymore whose Hamlet was the greatest of his time and the hot young TV star Andrew Rally – leads to a wildly funny duel over women, art, duty, success and even the apartment.
Andrew's life is further complicated by the women in his life: his ethereally beautiful but virginal girlfriend Deirdre (played by Amelia Mathews), his no-nonsense agent Lillian (Jane Ridley), and his psychic and broker Felicia (Marina Re), who conjures up the spirit.
Things get even crazier when Andrew's schmoozing writer/director/producer friend — whose personality is "totally L.A." (Brad DePlanche as Gary Peter Lefkowitz) – enters the scene, offering Andrew an enticing new TV deal worth millions. "He's really the devil's advocate character in all of this," says Andrea Gannon, vice president of marketing for the Arts Center. "Each of the six characters in I Hate Hamlet has a distinctive and strong personality, and these seasoned actors – five of whom are returning to our stage having been Arts Center favorites in previous productions — bring them to life convincingly, endearingly and with comic precision."
It's a wild ride for the audience as Andrew fights with his conscience, his sword, Barrymore, and this illustrious Shakespearean role.
Chock full of one-liners, this comedy even has a love triangle as the womanizing Barrymore tries to lure the lovely Deidre from Andrew's arms.
The onstage magic that brings all of these elements together is conjured by NY-based Director Russell Treyz, who has directed dozens of shows at the Arts Center, including the season opener The Unexpected Guest, last season's successful Lend Me a Tenor and Boeing, Boeing. Treyz stated this is one of his favorite shows here at the Arts Center to date. "We have an incredibly talented cast for I Hate Hamlet, each of whom brings zest and life to each of their characters! The audience is going to absolutely love this clever show," Treyz said.
The production is onstage through February 24th at the Arts Center, and tickets are $44 for adults and $31 for children, and may be purchased by visiting www.artshhi.com or by calling the box office, 843-842-ARTS or toll free at 888-860-2787. Group rates for ten or more are available and are accompanied by two free tickets!