For all the women who have gone through "The Change" and all the men who have lived with them, the Arts Center of Coastal Carolina will present "Menopause the Musical," the hit musical that has had audiences across America laughing out loud at chocolate cravings, insomnia, mood swings and hot flashes.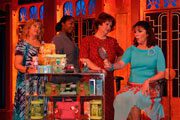 The little play that could, "Menopause" debuted in 2001 in a 76-seat Orlando, Fla., theater that once housed a perfume shop. Audiences were so taken with the show, they began flocking to it in droves. Before long, it was playing off Broadway and then across the country and around the world. It is estimated more than 11 million people have seen the musical in 14 countries.
Now "Menopause" comes to the Lowcountry, making its regional premiere June 9 through July 26 in the Elizabeth Wallace Theatre.
The hit musical pokes fun at all the classic menopausal maladies with parodies of popular songs from the baby boomer era: "Chain of Fools" has been turned into "Change of Life," "Puff the Magic Dragon" into "Puff, My God, I'm Draggin'" and "Stayin' Alive" is now "Stayin' Awake."
"I have always written parody words to songs," said writer/producer Jeanie Linders. "My brain synapses connect differently than most, I guess. 'Menopause the Musical' came out of my standing in front of the freezer singing the words 'Hot Flash' to Rod Stewart's 'Hot Legs.' "
Set in Bloomingdale's, the story begins when four seemingly different 40-something women — a housewife from Iowa, a professional woman, an Earth mother and a soap opera star — get into a tug-of-war over a discounted black lace bra in the lingerie department. Bursting into tears, the television actress apologizes for losing it, blaming her erratic behavior on "The Change."
Soon, all four are lamenting the mood swings, wrinkles, weight gain and nocturnal sweats that come with this new stage of life. But rather than just complain about the onerous afflictions, they commiserate in song.
In one humorous number set to the music of "My Guy," the Iowa housewife explains her recent weight gain, bemoaning, "Nothin' I can do, 'cause it sticks like glue to my thighs."
Each number in the show is choreographed in the dancing style of the day. A favorite with audiences is the Bee Gees medley, which features iconic disco moves from the blockbuster film "Saturday Night Fever," starring John Travolta.
"Everybody recognizes the song," said Patty Bender, the original choreographer of the show. "As soon as they hit the Travolta pose, the audience goes crazy."
Tuesday – Saturday performances are at 8 p.m. and at 7 p.m. Sundays. Matinee performances are at 2 p.m. June 21 and July 5. Tickets are $39 with group discounts available.
For tickets and show times, call 843-842-ARTS or visit www.artshhi.com for more information.