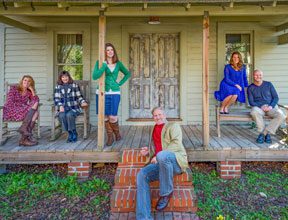 Making classical theater a main stream within the rich Lowcountry theater scene is the goal of new theater company in Beaufort County. Sea Island Classical Studio sets out to teach classical theater skills, as well as perform. And cooperating with schools, presentation venues, and existing production companies is the Studio's design from the start. 
Artistic Director Libby Ricardo said, "These works have shaped our shared experience. That's why they've lasted and why they're anything but dull."
Ricardo, a theater graduate of New York University and the University of Georgia, said she found early in her schooling that, "The classics are unavoidable."
They were prevalent in Ricardo's studies at NYU, she said, because they call for healthy vocal practices, body awareness and critical analysis of the text. "Applying those same classical disciplines to contemporary material added depth and resonance to the performance."
"The point of training is to give everyone tools and a common vocabulary, because each actor will eventually shape her own approach," Ricardo explained. "Different artists take different routes, and so a theater company focused on training becomes a kind of workshop where methods collide, interweave and enrich one another."
Collaboration is the key to Sea Island's approach, Ricardo said, because there is a discourse between the actor and the audience in theater. "We intend to use that same principle in our teaching and our productions."
Lowcountry audiences have a wide array of productions to choose from, because there is an abundance of talent, venues and interest here. These conditions create the opportunity that Ricardo and other Sea Island founders have identified.
"The students I've met in my own teaching practice are inspiring, the theater artists in the community exhibit a commitment to training and the audiences prove again and again that their appetite for theater is healthy and vast," Ricardo observed.
"We have the same bountiful source of actors and audience, and the same inspiration to share, so we intend to cooperate with other theater companies," Ricardo said. "We're thrilled at the choices people enjoy here and we will support and celebrate that by working together."
Libby Ricardoholds a Bachelor of Fine Arts with Honors from New York University, and a Master of Fine Arts in Performance from the University of Georgia. She was recognized as Best Director in the 2014 South Carolina Broadway World Awards, and is nominated for the same honor again for the 2015 Season. Libby currently teaches at the University of South Carolina Beaufort and conducts private coaching and classes. She has served extensively as a guest lecturer and trainer. Libby's continuing professional studies have included the Bali Conservatory and the International Theater Workshop in Amsterdam.
Above: Sea Island board members include Terry Long, Rebecca Bass, Kelly Hall, Executive Director Michael Weaver, Artistic Director Libby Ricardo and Bill Dalton.