I wasn't really sure what to expect when I decided to review the opening night of "Sugar" at the May River Theatre in Bluffton.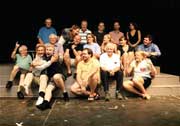 I knew little about the play, and had never been to a May River production. For a reviewer, this was good; no pre-conceived notions. As a mom, it was nerve-wracking. I hoped for a perfect evening out – dinner and a show with my fourteen-year-old before she started HIGH SCHOOL! After my husband told her the premise of the play, she seemed wildly enthused about its comedic potential, and fortunately, the production did not disappoint. We were all exceedingly pleased with this "hot" musical version of the award winning movie, Some Like It Hot, starring Marilyn Monroe, Jack Lemmon and Tony Curtis. OK, now that's a hard act to follow.
Cyndi Palmer as Sugar will remind you of those days when women had real curves. She has a great voice, and when the girls in the band jump in on the harmonies, it's the music of the heavens. This all girl band from Chicago loses its sax and bass player just before an engagement in Miami. This is when Jerry and Joe, having just witnessed a mob hit, take refuge with the girls as "Daphne" and "Josephine," the newest members of the band, hoping to escape the mobsters. The ladies start off the musical in sizzlin' harmonic style with "When You Meet a Girl in Chicago" and "Turn Back the Clock". The stage is set for a fantastic evening.
J. T. Chinn, as Jerry/Daphne could not have been better cast, and his transformation, from broke musician on the run from murdering thugs, to future wife of millionaire Sir Osgood Felding, played wonderfully by Philip Keating, is the comedic highlight of the show. Heck, we all fell in love with him, so when Felding retorts, after learning his darling Daphne really is a Jerry, "Well we all can't be perfect," it truly does sum up how believable Chinn's performance was.
With over 30 musicals on his resume, including stints as writer and director, Keating is superb as Sir Felding, a man who knows what he wants and has the money to get it. Keating and the millionaires provide some comedic fun in "November Song" and "The Beach," creating some hysterical montages of stereotypical rich retirees in Miami, complete with the requisite bevy of young, attractive women.
Michael Weaver's chiseled features and stunning voice make him a stand out, too; whether playing a broke sax man or a millionaire, it was very hard not to fall for his charismatic, charming self. Rounding out the cast is Barbara Clark as Sweet Sue and Travis Marshall as Bienstock, both doing a terrific job in their roles.
It was especially fun to have a live band, led by Ted Seaman, and it was wonderful to see a cast with such a diversity of experience – from local high school students to veteran thespians with over a half century of stagecraft under their belts.
So, if you are looking for a great way to spend a family evening, sweeten up your funny bone with a little "Sugar" after dinner in old town Bluffton.
"Sugar" runs through August 31 at the Ulmer Auditorium in Old Town Bluffton on the corner of Bridge and Pritchard Streets, Fridays and Saturdays at 8 pm and Sundays at 3 pm. To purchase or reserve tickets call 815-5581. Their website is www.MayRiverTheatre.com. They are also promoting their fundraiser "Have a Seat," where for a donation you can have your own plaque engraved on a seat in the 203 seat venue. If you would like more information about supporting this fine group please call 837-7798.