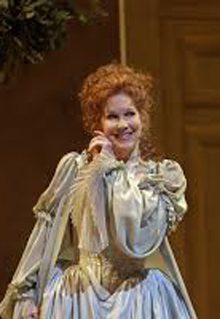 A peerless pair of Rossini virtuosos joins forces in "La Cenerentola" – a vocal tour de force for mezzo-soprano Joyce Di Donato, singing her first Met performance of the Cinderella title role, and the charismatic Peruvian tenor, Juan Diego Florez, as her Prince Charming. Met Principal Conductor, Fabio Luisi, leads the effervescent score on Saturday, May 10 at USCB Center for the Arts.
Rossini composed the opera in 1817 at the age of 25, following the success of "The Barber of Seville" the year before. He completed the opera in only three weeks, and it is considered to have some of his finest writing for solo voice and ensembles. Not wanting the magical element of the original fairytale in his composition, Rossini replaced the fairy godmother with Alidoro, a philosopher and tutor to the Prince, who escorts Angelina to the ball in place of the pumpkin coach and white mice horses. Alidoro is sung by baritone Luca Pisaroni.
The character of Cinderella's evil stepmother becomes an unloving stepfather, Don Magnifico, sung by Alessandro Corbelli, but the two stepsisters remain as mean and idle as the original characters. In a twist to the story, Rossini has the Prince disguised as his valet so he can better evaluate the true personalities of the women vying for the Prince's affections as he announces his search for a wife.
When Dandini, the real valet disguised as the Prince, sung by baritone Pietro Spagnoli, woos Angelina at the ball she rejects him, saying she is instead in love with his valet. And, rather than losing a glass slipper, she gives the disguised Prince one of her two matching bracelets and tells him if he really loves her he will find her again.
We all know the ending – one of very few operas that ends happily, with vocal sparks and dazzle provided by two phenomenal talents in the final opera of the Met's Live in HD season.
For tickets go to www.uscbcenterforthearts.com or contact the Box Office at 843-521-4145. Adults $22, OLLI Members $18, all seats reserved. Also available at the door on hour prior to 12:55 p.m. curtain. USCB Center for the Arts, 801 Carteret St, downtown Beaufort.