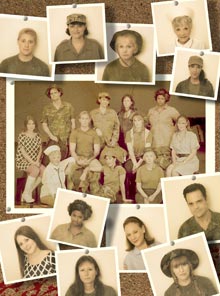 Latest play at the USCB Center for the Arts portrays the anguish, anger, love and camaraderie of women who served in Vietnam.
"A Piece of My Heart" is a powerful drama about six women who served in the Vietnam War and their struggle to survive their experiences during their service and after their return home. The play will be presented by Beaufort Theatre Productions on May 16, 17, 18 and 25 at USCB Center for the Arts, with a special preview performance on Military Appreciation Night, Thursday, May 15.
Shirley Lauro wrote her play in 1988, based on a 1986 oral history by Keith Walker who interviewed 26 women who served during the war in the military, the USO and the Red Cross. From these diverse personalities, Lauro created six main characters and turned their recounted experiences into an intense drama that lays bare the anguish and anger – but also the love and camaraderie – experienced by everyone who was thrust into the chaos and carnage that was Vietnam. But as volunteers they went willingly – even eagerly – some with illusions of a heroic calling, some with a sense of patriotism and some seeking an adventure. And just as our country did, the characters quickly learn that nothing is as they thought it would be, either during or after the war.
Since its premiere in 1991, "A Piece of My Heart" has been featured in some 2,000 productions around the world. In a review, The New York Times said, "There have been a number of plays dealing with Vietnam, but none with the direct, emotional impact of Ms. Lauro's work." Vietnam Veterans of America said that the show "…has become the nation's most enduring theatrical production dealing with the Vietnam War."
Gail Westerfield directs
Director Gail Westerfield is a veteran of Beaufort stage productions and owns her own production company, Misspent Youth Productions. When discussing why she selected this play, Gail explained, "One of my favorite directors from years ago had directed 'A Piece of My Heart' and told me to look into it when I was looking for a show for USCB with a mostly female cast. I fell in love with it immediately. It has all the components of the kinds of shows I like to direct, plus a lot of challenges I'm excited to take on."
The six main characters in the play include nurses, a career military intelligence officer, a Red Cross "Donut Dolly" and a singer touring with a USO show. The play begins and ends at the Vietnam War Memorial in Washington, DC. In the period between, through monologues and scenes, the women are seen as they were before, during and after the war. The first act reveals their journeys from their homes to the war zone and how they coped with the challenges they faced once they were there. The second act focuses on their return home and their struggles to make sense of a war that changed them and a nation that shunned them along with their GI brothers.
Talent "an embarrassment of riches"
"As always, there's so much talent in the Beaufort area that my auditions were an embarrassment of riches," laughed Gail. "I enlarged the cast a little and also have two men playing all the American men's roles rather than one as originally written. The characters range in age from 19 to their 60s, and every one of them is extraordinary. We all liked each other from the first read-through, and all feel a deep commitment to telling these stories. They are quite powerful and I cry or get goose bumps at every rehearsal. But the show also has some very funny moments, so we laugh a lot too – the story is really beautiful and the acting is divine!"
Cast members include, in alphabetical order: Maria Combess; Anne Helm; Joellen Hirschey; Jessica Lopes; Carol Miller; Margy Oehlert; Kay Owen; Jill Sheldon; Heather Szeder; Eddie Watson; and Karl Wells. Jill Sheldon is also the assistant director, and Susan DeFoe is stage manager. Louise Trask is costume and prop design manager, and Jason Lake is doing lighting and set design.
According to Gail, word is really getting around about the play, "… and everyone who hears about it wants to tell me about their Vietnam connection. Our cast members have or had parents, grandparents, siblings and friends who served in-country, Stateside or elsewhere overseas, and they are anxious to see that experience honored. We truly believe "A Piece of My Heart" does that, and there is no where else we'd rather present this play than in this great military town!"
Special Preview Night for active military and veterans
USCB and Beaufort Theatre Productions will honor our military with Special Military Appreciation Night on Thursday, May 15, with all seats just $15 for Active Duty Military and Veterans. Military ID must be presented for $15 tickets. Tickets for family and friends will be the same as for all the shows, Adults $22; Seniors $20 and Students $15, all seats reserved. For the remainder of the play's run, military tickets will be the same as seniors, $20. Go to www.uscbcenterforthearts.com to purchase tickets online, or call the box office at 843-521-4145. Tickets also available at the door one hour prior to each performance. Performance times for May 15, 16 and 17 at 7:30 p.m., and May 18 and 25 at 3:00 p.m. at USCB Center for the Arts, 801 Carteret St., downtown Beaufort.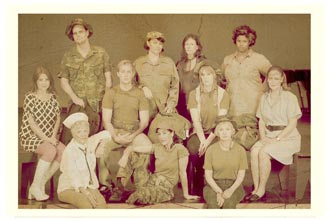 Photography by Captured Moments
Front row: Margy Oehlert; Maria Combess; Carol Miller
Middle row: Kay Owen; Eddie Watson; Joellen Hirschey; Anne Helm
Back row: Karl Wells; Heather Szeder; Jill Sheldon; Jessica Lopes