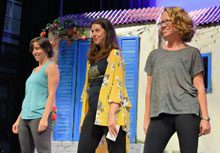 The USCB Center for the Arts kicks off its most ambitious season to date with Beaufort Theatre Company's production of fan favorite Mamma Mia!  You can dance, you can jive, you can have the time of your life experiencing this Broadway smash-hit right here in the Lowcountry.
The tale, set to the energetic and irresistible hits of Swedish super group Abba, follows the journey of Sophie as she attempts to discern the identity of her father on the eve of her wedding.  After finding her mother's diary, she sends out invites to the three men that turned her mother's life upside down over two decades before.  Suddenly, Donna is forced to confront her pa
st and consider her future.  Along with their friends and the colorful occupants of the Greek island they call home, Donna and Sophie sing and dance their way to the ultimate wedding resolution.
Beaufort favorite Elaine Lake lends her formidable talent and charm to the role of Donna.  Beside her are Lauren Cleland and Melissa Florence, providing support, levity, and tremendous vocals as best friends Tanya and Rosie.  Kelly Hall, performer and dedicated Beaufort County teacher, graces the stage as the delightful and exuberant daughter, Sophie.  Curtis Dansby plays Sophie's sweet, caring, and sometimes cheeky fiancé, Sky.  James Duffy, Mike McFee, and Brad Ballington charm their way into Sophie's heart as the three prospective Dads.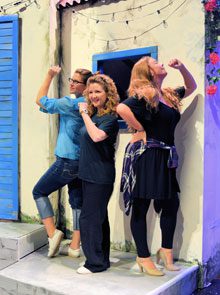 USCB faculty member Libby Ricardo returns to direct her fifth Beaufort Theatre Company show. Joining her behind the scenes are Josh Wall as music director, Christopher Crabb as choreographer, and Lowcountry artist Greg Rawls as set designer.
Beaufort Theatre Company prides itself on producing outstanding work of the highest artistic quality while continuing to foster and highlight the talents of our homegrown performers. Libby Ricardo further explains, "Beaufort Theatre Company recognizes that community is a vital component to any theatrical endeavor. We make theater for the community by the community, and we are very proud of that. The quality of our productions reflects our love of Beaufort and our commitment to continuing a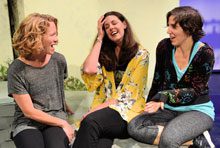 standard of entertainment excellence."
Mamma Mia has performances at 7:30pm on September 22, 28, and 29 with matinees at 3pm on September 23 and 30. Tickets are $30, $25 for seniors and military, and $15 for students and can be purchased in advance at uscbcenterforthearts.com or by calling 843-521-4145. All performances will be at the USCB Center for the Arts located at 801 Carteret St. in Beaufort.