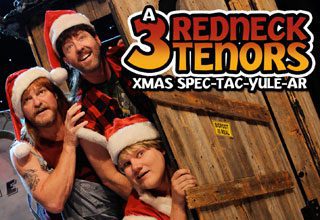 Yes, those singing cousins Billy Joe, Billy Bob, and Billy Billy are packing their festive mullets and will be dashing through the snow just in time for some down-home Christmas cheer at USCB Center for the Arts, December 8 and 9 at 7:30 pm! Grab the family and saddle up the ol'€™ sleigh and come on down for an unforgettable night of music and laughs.
What better way to bring families together than to enjoy a special Christmas with the boys? The familiar Christmas tunes in the show include classics like: Sleigh Ride, White Christmas, I'€™ll Be Home for Christmas, Santa Baby, Santa Claus is Coming to Town, Blue Christmas, O Holy Night, Winter Wonderland, Jingle Bells , and Silent Night. You'€™ll also enjoy Christmas spoofs like Grandma Got Run Over by a Reindeer and I Saw Mommy Kissing Santa Claus and a few other great surprises!

The 3 Redneck Tenors is a musical comedy featuring classically trained veteran artists; Matthew Lord, Blake Davidson, and Jonathan Fruge, The 3 Redneck Tenors were top finalists on "€œAmerica'€™s Got Talent"€ and have been thrilling audiences since 2006.
These real life Broadway and Opera stars are ready to rock your holidays with classic, pop and deep-fried fest of musical delights. There'€™s nothing old-fashioned about this music arranged by award-winning composer Craig Bohmler -€" it'€™s infused with vitality, energy and passion.
It's foot-stompin'€™, toe-tappin'€™, bell ringin' fun for the whole family. So don your Christmas mullet and come join us for 3 Redneck Tenors Christmas SPEC-TAC-YULE-AR. Tickets prices are $35 adults, $30 Senior and Military, $15 for student. Tickets are available online at www.uscbcenterforthearts.com, box office 843-521-4145, or at the door.