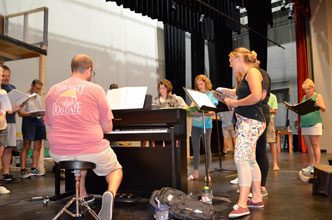 USCB Center for the Arts kicks off new season
By Mindy Lucas
It's a warm, muggy August evening on the University of South Carolina Beaufort campus. Inside the university's Center for the Arts though, where rehearsals for Spamalot are taking place, it is cool and comfortable – a welcome relief from the summer heat.
On stage, the cast is gathered around various music stands as music director Josh Wall, on piano, leads the group through several numbers.
"It never turns out the way I think it will," said director Libby Ricardo earlier in the week. "It usually turns out better."
Ricardo now sits along with the production's choreographer Christopher Crabb about halfway
back, in the middle of the empty theater watching the group rehearse for what will be the center's first locally produced, live show of the season. 
Watching the rehearsal, it's hard not to laugh.
Case in point: Dan Hodges, who plays Not Dead Fred, suddenly injects a bit of bass into his number, "He is Not Dead Yet."
"Are you going to sing it down there?" Wall says as he stops playing.
"Uh no," Hodges starts. Then with a wry little smile adds, "I'm just warming up. I've been on vacation." 
Everyone laughs. 
It's all part of the fun of community theater, when things are still taking shape and being shaped.
In fact, while most theatergoers only know what they see when they walk through the center's front doors on the night of a performance, there's so much more that goes in to creating a successful lineup that will bring people out.
As Bonnie Hargrove, director for the center says, it takes constant year-round planning, networking, and good mix of shows and programs.
"There's very much a pattern to what we do until we find that it doesn't work," she said. "But so far so good."
As usual, this year's season will feature a mix of locally produced and performed productions alongside traveling shows but will also include new live broadcasts from such heavyweight venues as the National Theatre in London and educational and literary programs as well. 
Among Hargrove's personal favorites on the schedule? "Dinosaur World Live" a family-friendly, interactive production featuring large-scale, life-like dinosaur puppets that will move and roar across the stage. The show will also include a meet and greet with the dinosaurs after the show.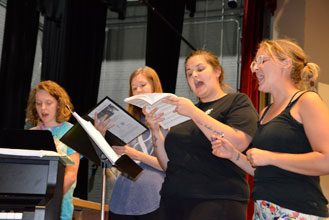 Another favorite is the innovative "Women's Wellness Weekend" which will include four days of workshops, presentations, outdoor activities, entertainment and networking opportunities for women.
The center also puts on a number of other programs and "extras" such as Met Opera Live broadcasts in HD, Monday Night Movie Night, art openings, children's theater performances and summer camps.
It's a mix that has served them well, Hargrove says, as they have found residents and visitors alike enjoy not only the diversity of the center's programming but the sheer volume of things to do as well.
"We really feel like it's Beaufort's community center," she said. "The community really comes together here for different things, whether it's one of the kids programs, or whether it's to listen to a lecture on the Opioid crisis . . . just about every week we have something going on that's attracting different groups of people to the center." 
So how do they pull it off every year?
"With a lot of ongoing note-taking about what's working and what's not," she said.
As part of the planning process, Hargrove and the center's assistant director Deon Furman sit down regularly to discuss shows or programs they've heard about or productions regular theatergoers have told them they'd like to see at the center.
They also reach out to other venues of similar size or programming such as the Newberry Opera House in Newberry, or the Harbison Theater at Midlands Technical College in Columbia, to see what their staffs may be planning or what they've heard about certain shows.
Since multiple stops in one region can make it worthwhile for a production company to book in that area, venues will often team up to lure a production to South Carolina, Hargrove explained. That way multiple centers can go in together to book a show at a group rate, or for a greater cost savings, making it a win-win for everyone.
Hargrove and Furman usually "get serious" about booking for the season in the last part of February and March and by May or June, like to have everything in place – meaning all contracts signed, all negotiations finalized and all press releases written.
Then comes the "giant push" that is summer.
"Summer is usually when you have your scope of work finally lined up, and so you are now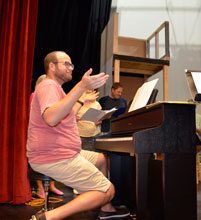 doing the work," she said. That could mean anything from gathering marketing or collateral materials, to getting the word out through traditional or social media. For shows such as Spamalot, it's when rehearsals begin.  
"But yes, it's the push to get it all together," Hargrove said.
At the rehearsal for Spamalot, Ricardo, who has divvied up the show's directing duties with husband and co-director, George Pate, explains the next steps in putting together a production like Spamalot with many moving pieces and parts.
Is there ever a time when she can relax and take a deep breath?
"On opening night, there's certainly a sense of immense pride," Ricardo says smiling. "But the planning never ends. We are always thinking and planning for the next season or the next production. So there's no breath. It's just cyclical."
Center for the Arts – By The Numbers
20 – Locally produced, live shows or programs coming this season
9– Traveling shows booked at the center this season
2– Full-time staff the center employs
80+– Volunteers (including ushers) who work or give of their time at the center
461– Seats in the theater's auditorium
280– Days the center is in use throughout the year
18,000– Tickets sold last season
$350,000– Estimated sales for last season*
*The Center for the Arts is part of the University of South Carolina Beaufort's community outreach department and does not receive any funding from the university. All funding is raised from ticket sales, donors and sponsors.

On Sale Now
Now through August 31, season tickets are on sale for the center's 2019-2020 season. To get a discount of 20% off face value pricing, participants only need to select eight of the 14 main stage shows. You can even select your seats! Package prices vary depending on which shows you select. For more information visit www.uscbcenterforthearts.com.
Coming This Season

All About Eve
National Theatre Live
Sunday, Aug. 18 at 3 p.m.
Tickets: $18
Gillian Anderson (X-Files, NT Live: A Streetcar Named Desire) and Lily James (Mamma Mia! Here We Go Again) will star in this live broadcast from the West End in London. All About Eve tells the story of Margo Channing, true star of the theatre and her biggest fan, Eve, the girl next door. 

Margaret Atwood Live
By Experience
Tuesday, Sept. 10 at 7 p.m.
Tickets: $18
This live cinema broadcast and evening with the Canadian novelist, poet, literary critic and inventor will feature the highly anticipated sequel to The Handmaid's Tale, The Testaments.
The broadcast will include Atwood and exclusive readings from the new book by special guests.

Spamalot
Beaufort Theatre Company
Friday, Sept. 27 and Saturday, Sept. 21 & 28  at 7:30 p.m.
Sunday, Sept 22 & 29 at 3 p.m.
Tickets: adults $25, senior/military $20, student/child $15
Lovingly ripped from the classic film comedy, Monty Python and the Holy Grail, Monty Python's Spamalotretells the legend of King Arthur and his Knights of the Round Table. The hilarious and award-winning production features a bevy of beautiful showgirls, cows, killer rabbits and French people.

Masters of Soul
Friday, Oct. 11 at 7:30 p.m. 
Tickets: adults $35, senior/military $30, student/child $15
The ultimate stroll down memory lane, Masters of Soul is a live celebration of the legendary songs and performers that defined Motown and soul music. For younger generations, the show will offer an opportunity to experience the music of such musical greats as: Gladys Knight & The Pips, Marvin Gaye & Tammi Terrell, Smokey Robinson & the Miracles, The Temptations, The Four Tops and many more.

Puccini's Turandot
Met Opera Live in HD
Saturday, Oct. 12 at 12:55 p.m.
Tickets: adults $20 / OLLI members $18
Puccini's final opera is an epic fairy tale set in a China of legend and loosely based on a play by 18th-century Italian dramatist Carlo Gozzi. Featuring a most unusual score with an astounding and innovative use of chorus and orchestra, it is still recognizably Puccini, bursting with instantly appealing melody. 

One Man, Two Guvnors
National Theatre Live
Sunday, Oct. 13 at 3 p.m.
Tickets: $18
Featuring a Tony Award-winning performance from host of The Late Late Show, James Corden, the hilarious West End and Broadway hit One Man, Two Guvnors returns to cinemas to mark National Theatre Live's 10th birthday

Tapestry: The Carole King Songbook
Friday, Oct. 25 at 7:30 p.m.
Tickets: adults $35, senior/military $30, student/child $15
The premier musical tribute to Carole King, this live show recreates the sound and vibe of a 1970's King concert experience following her legendary album, "Tapestry." Impeccable attention to detail is taken in recreating a respectful and accurate musical presentation of piano and vocals, just as they were.

Massenet's Manon
Met Opera Live in HD
Saturday, Oct. 26 at 12:55 p.m.
Tickets: adults $20, OLLI members $18
A take on the quintessentially French tale of the beautiful young woman who is incapable of forsaking both love and luxury, Massenet's Manon features one of the truly unforgettable, irresistible, and archetypal female characters in opera. 

Frankenstein
National Theatre Live
Sun. Oct 27 at 3 p.m.
Tickets: $18
Frankenstein returns to international cinemas to mark the 200th anniversary of Mary Shelley's most famous novel. Captured live in 2011 from the National Theatre stage in London, this thrilling, sold-out production became an international sensation experienced by almost half a million people in cinemas around the world.

Cassandra King Conroy Pre-Release Party
Tuesday, Oct. 29 at 5:30 – 6:30 p.m.
Tickets: $45/person (includes a signed book). Limited tickets available.
This pre-release cocktail party, at the home of Dr. Lucius and Darryl Lafitte, willfeature the author and her new book"Tell Me a Story, My Life with Pat Conroy."

Cassandra King Conroy Book Release
Tuesday, Oct. 29 at 7 p.m. 
Free
Held at Center for the Arts, this event will feature Cassandra King Conroy and her new memoir,Tell Me a Story, My Life with Pat Conroy.Books will be available for purchase at the event and a book signing will follow.

Madama Butterfly
Met Opera Live in HD
Saturday, Nov. 9 at 12:55 p.m.
Tickets: adults $20, OLLI members, $18
A young Japanese geisha clings to the belief that her arrangement with a visiting American naval officer is a loving and permanent marriage. One of the defining roles in opera, the story triggers ideas about cultural and sexual imperialism for people far removed from the opera house that have been endlessly portrayed in film, Broadway and popular culture.

A Midsummer Night's Dream
National Theatre Live
Sunday, Nov. 10 at 3 p.m.
Tickets: $18
Shakespeare's most famous romantic comedy will be captured live from the Bridge Theatre in London. A feuding fairy King and Queen of the forest cross paths with four runaway lovers and a troupe of actors trying to rehearse a play. As their dispute grows, the magical royal couple meddle with mortal lives leading to love triangles, mistaken identities and transformations with hilarious but dark consequences.  

Mary Poppins Jr.
Beaufort Theatre Company
Friday and Saturday, Nov. 22 & 23 at 7 p.m.            
Sunday, Nov. 24 at 3 p.m.
Tickets: adults $20, senior/military $18, student/child $14
Your favorite practically perfectnanny takes center stage in this Supercalifragilisticexpialidocious adventure based on the award-winning Broadway musical and classic Walt Disney film. Disney and Cameron Mackintosh's Mary Poppins JR. is an enchanting mixture of irresistible story, unforgettable songs and breathtaking dance numbers.

Glass' Akhnaten
Met Opera Live in HD
Tickets: adults $20, OLLI members $18
Saturday, Nov. 23 at 12:55 p.m.
Director Phelim McDermott tackles another one of Philip Glass' masterpieces, following the now-legendary Met staging of Satyagraha. Star counter-tenor Anthony Roth Costanzo is the title pharaoh, the revolutionary ruler who transformed ancient Egypt, with the striking mezzo-soprano J'Nai Bridges in her Met debut as his wife, Nefertiti. To match the opera's hypnotic, ritualistic music, McDermott has created an arresting vision that includes a virtuosic company of acrobats and jugglers.

Berg's Wozzeck
Met Opera Live in HD
Tickets: adults $20 / OLLI members $18
Saturday, Jan. 11 at 12:55 p.m.
One of the emblematic achievements of the thriving artistic forces in Germany and Austria during the brief period between world wars, Wozzeck was a sensation and a scandal at its premiere. Remarkably, it has lost none of its power to fascinate, shock and engage audiences, and its status as one of the defining musical works of the 20th century has not blunted its vitality.

Mike Super: Magic & Illusion
Friday, Jan. 17 at 7 p.m.
Tickets: adults $35, senior/military $30, child/student $15
Magician Mike Super has astonished millions, including the Hollywood elite. A natural entertainer, Super has pioneered a new form of magic with his own inimitable, down-to-earth style and personality. By transcending the "trick," he connects personally with his audience and appeals to both young and old, making him one of the most sought after illusionists in the world.

All My Sons
National Theatre Live
Sunday, Jan. 19 at 3 p.m.
Tickets: $18
Broadcast live from The Old Vic in London, Academy Award-winner Sally Field (Steel Magnolias,Brothers & Sisters) and Bill Pullman (The Sinner, Independence Day) star in this Arthur Miller drama, set in America, in 1947. Despite hard choices and even harder knocks, Joe and Kate Keller are a success story, but nothing lasts forever and their contented lives, already shadowed by the loss of their eldest boy to war, are about to shatter. 

The Gershwins' Porgy & Bess
Met Opera Live in HD
Saturday, Feb 1 at 12:55 p.m.
Tickets: adults $20, OLLI members $18
One of America's favorite operas returns to the Met for the first time in nearly 30 years. James Robinson's stylish production transports audiences to Catfish Row on the Charleston waterfront, vibrant with the music, dancing, emotion and the heartbreak of its inhabitants.

The Piano Men
Starring Jim Witter
Saturday, Feb 1 at 7:30 p.m.
Tickets: Adults $35, Senior/Military $30, Student/Child $15
Award winning Canadian recording artist Jim Witter and his band lead an expertly crafted tour 
through the '70s in this multi-media musical celebration featuring the songbooks of Billy Joel and Elton John. 

Dinosaur World Live
Thursday, Feb. 13 at 7 p.m. 
Tickets: Adults $40, Senior/Military $35, Students/Child $20
Meet & Greet the Dinos following the show: $15 
Dare to experience the dangers and delights of Dinosaur World Live in this interactive new show for the entire family. Grab your compass and join our intrepid explorer across uncharted territories to discover a pre-historic world of astonishing, and remarkably life-like, dinosaurs. 
This live show featuring incredible puppetry is a must see to believe. 

Handel's Agrippina
Met Opera Live in HD
Saturday, Feb. 29 at 12:55 p.m.
Handel's tale of intrigue and impropriety in ancient Rome receives its first Met performances with star mezzo-soprano Joyce DiDonato as the controlling, power-hungry Agrippina with Harry Bicket conducting. Sir David McVicar's production ingeniously reframes the action of this black comedy about the abuse of power to the present, where it should loudly resonate.

Wagner's Der Fliegende Hollander
Met Opera Live in HD
Saturday, March 14  at 12:55 p.m.
Tickets: adults $20, OLLI members $18
The earliest of Wagner's operatic creations to remain in the repertory, Der Fliegende Holländer featured the two roles to which the composer would return, in one form or another, in most of his later works. 

Women's Wellness Weekend
March 19-22, times vary
Tickets/ enrollment: $20; includes access to all free events, discounts to participating area businesses, attractions and events.
This four-day event will feature a variety of spiritual and physical wellness programs, workshops, presentations and networking opportunities including such outdoor activities as kayaking on area waterways, biking the Spanish Moss Trail, wellness programs such as yoga classes, journaling and meditation and fun and entertainment such as lunch with author Patti Callahan Henry, Natalie & Sarah Daise of The Room, and Sherma of The Legendary Lady Singers.

The Room: Songs and Stories of Free Women
With Natalie Daise & Sarah Daise
Friday, March 20 at 7:30 p.m.
Tickets: adults $20, senior/military $18 / student/child $15
This moving performance, which will include traditional and non-traditional music, will feature the powerful stories of such women of color as abolitionist Harriet Tubman, Alice Wine, a James Island woman whose memories of Reconstruction had a major impact on voting rights, and the folktales of Yemaya, goddess of the ocean, and among others.

Sherma Andrews: The Legendary Lady Singers
Saturday, March 21 at 7:30 p.m.
Tickets: adults $35, senior/military $30, student/child $15
Sherma Andrews performs passionately and authentically in many different genres and styles, leaving her audience stunned and captivated every time. This live show will showcase the music of some of the greatest female singers of all time including Whitney Houston, Diana Ross, Aretha Franklin, Tina Turner, Natalie Cole, Etta James, Billie Holiday and many others  – in a way only Sherma Andrews can deliver. 

The Malpass Brothers
Friday, April 3  at 7:30 p.m.
Tickets: adults $35, senior/military $30, student/child $15
Bluegrass Today called them "the best traditional country music that can be seen today." The music of the Malpass Brothers is steeped in the legacy of the Louvin Brothers, Johnny Cash, Marty Robbins, Hank Williams, Sr. and many others. Count on classic, real country music, some new Malpass tunes and a couple of old-time traditional gospels. 

Puccini's Tosca
Met Opera Live in HD
Saturday, April 11 at 12:55 p.m.
Tickets: adults $20, OLLI members $18
Puccini's melodrama about a volatile diva, a sadistic police chief and an idealistic artist has offended and thrilled audiences for more than a century. Critics, for their part, have often had problems with Tosca's rather grungy subject matter, the directness and intensity of its score, and the crowd-pleasing dramatic opportunities it provides for its lead roles. But these same aspects have made Tosca one of a handful of iconic works that seem to represent opera in the public imagination. 

Modern Gentlemen
Friday, April 3 at 7:30 p.m.
Tickets: adults $35, senior/military $30, student/child $15
Landon Beard, Todd Fournier, and brothers Brian and Brandon Brigham were all in-demand singers prior to being brought together as a quartet by the legendary Frankie Valli. For well over a decade, they have wowed audiences as the four voices alongside the rock –n- roll icon. Together in the studio, they finely tuned their "signature sound" to iconic Frank Sinatra hits, blending the classic sounds of yesterday with today's modern style. This discovery led to a cool new take on the popular hits of Pop, Rock and Jazz.

Donizetti's Maria Stuarda
Met Opera Live in HD
Saturday, May 9 at 12:55 p.m.
Tickets: adults $20, OLLI members $18
A searing dramatic setting of Friedrich Schiller's play about Mary, Queen of Scots, and her political and personal rivalry with Queen Elizabeth I of England, Maria Stuarda had a troubled genesis, despite its musical and theatrical brilliance, and only recently achieved a place in the repertory.

Seussical, The Musical, Jr.
Beaufort Children's Theatre
Friday and Saturday, May 15 & 16 at 7 p.m.
Sunday, May 17 at 3 p.m.
Horton the Elephant, the Cat in the Hat and all of your favorite Dr. Seuss characters spring to life onstage in Seussical JR., a fantastical musical extravaganza from Tony-winners, Lynn Ahrens and Stephen Flaherty. A wonderful story in which the powers of friendship, loyalty, family and community are challenged and emerge triumphant!

All Shook Up
Beaufort Theatre Company
Friday, June 5 & 12 and Saturday, June 6 & 13 at 7:30 p.m.
Sunday, June 14 at 3 p.m.
It's 1955, and into a square little town, in a square little state, rides a guitar-playing young man who changes everything and everyone he meets. Loosely based on Shakespeare's Twelfth Night, this hip-swiveling, lip-curling musical fantasy will have you jumping out of your blue suede shoes with such classics as "Heartbreak Hotel," "Hound Dog," "Jailhouse Rock," and "Don't Be Cruel."