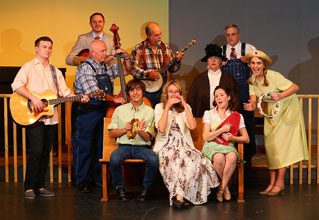 Choosing a season of shows for community theatre is always a challenge for those tasked with the decisions. I recently had the pleasure of sharing my knowledge of the theatre with family and friends. Their comments were: "We didn't know so much went into a production!" The last two shows of the May River Theatre Company's 2015-16 season were unknown to our board but the content was what we thought our audiences would really enjoy. Our fall show, You
Haven't Changed a Bit (and other lies!)
sold out 7 of 9 performances!
Smoke on the Mountain
will close our 14
th
season
and based on the content and the talented cast, it promises to be another box office hit.
"Smoke" will open February 19 and play through Sunday March 6.at Ulmer Auditorium in Bluffton's Town Hall. It was conceived by Alan Bailey and written by Connie Ray. Musical arrangements are by Mike Craver and Mark Hardwick. The musical is being presented with permission from Samuel French and is reported to be one of the most produced shows worldwide!
Set in North Carolina in 1938, Smoke on the Mountain follows the Sanders Family Singers as they perform at Mount Pleasant Baptist Church's Saturday Night Gospel Sing! Meet a talented family… quirky, flawed and uniquely entertaining! Become the congregation and enjoy more than 30 classic gospel tunes that bring us all back to a much simpler time. Laugh at their crazy antics with downright contagious laughter. Sing along and witness a heartwarming conclusion that reminds us all what it means to be a family.
Yours truly can't wait to see the show based on the following reviews:
"Totally beguiling … foot stomping soul food." – New York Post
"Wildly funny…. So well written that I found myself laughing, rooting for the family, and singing along and clapping with the rest of the audience." – The Trentonian
Smoke is directed by May River Theatre veteran Scott Grooms. Beth Corry, another MRT vet, is the music director and husband Jeff, playing bass, will be on stage with Beth throughout the show.
Playing the patriarch of the Sanders family is new-comer, Dennis Congrove along with another newcomer, Cyndi Shedd, who plays Sanders' wife. More of the Sanders clan are newcomers Matt Davey as Dennis and David Southern as Burl Sanders. Rounding out the Sanders family are vets Rebecca Donaldson as June and Christa Fortney as Denise.
Mark Erickson, last seen in No Time for Sergeants is Pastor Oglethorpe.
Smoke on the Mountain plays Friday and Saturday nights at 8 p.m. and Sunday matinees at 3 p.m. from February 19 through March 6. Reservations may be made by calling the box office at 815-3581, Monday through Fridays from 10 am to 2 pm starting February 8.