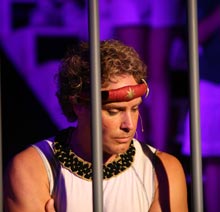 Joseph and the Amazing Technicolor Dreamcoat by Tim Rice and Andrew Lloyd Webber, will be presented at The Baptist Church of Beaufort on Friday, September 30 at 7pm and Saturday, Oct. 1 at 3pm and 7 pm. Tickets are $10 for General Admission and $5 for seniors and children under 12.
They may be purchased in advance at The Baptist Church of Beaufort(600 Charles St), Antiques and Such (1600 Burnside, #105, Beaufort Town Center), and Lighthouse Deli and Café, 81 Sea Island Parkway. Tickets will also be available at the door. This community production is sponsored by The Baptist Church of Beaufort and LowCountry Children's Chorus, which is celebrating its 10th Anniversary Year.
Based on the "coat of many colors" story of Joseph from the book of Genesis in the Bible, this light-hearted show was first presented as a 15-minute pop cantata at the Colet Court School in London on March 1, 1968. It then morphed from a 15-minute production to a 35-minute production referred to as a "pop oratorio." In 1970, Lloyd Webber and Rice used the popularity of their second rock opera, Jesus Christ Superstar, to promote Joseph—which was advertised in America as a 'sequel' to Superstar. Its popularity eventually led the show to its first Broadway performance at the Royal Theatre, where it ran for 749 shows The production was restaged in 1991 at the London Palladium in an expanded version which toured off-Broadway in America for a decade. This expanded version now runs about 2 hours and includes the addition of a children's chorus and prologue, mega-mix dance numbers, and more technical production feats. In 1999, a video version was released with Donny Osmond in the title role.      
In 1995, Northern Kentucky Children's Ensemble (another community children's chorus founded by Dr. Williams) was selected to participate with an off-Broadway touring company of Joseph in downtown Cincinnati. The same chorus was later used in a production at her church that same year, with adults and youth from the church family filling the other roles. In order to afford the same opportunity for LowCountry Children's Chorus to undergo an exciting musical theater stage experience, to work with other friends and talented colleagues who share the same love of musical theater, and to
offer more adults and youth performance opportunities within her church family and the community, the idea to come together was conceived and birthed for the first time in 2007… and now once again in 2011!
Through collaborative efforts of the music and drama ministries at The Baptist Church of Beaufort and Port Royal Baptist Church, a very talented and capable direction crew as well a cast and technical crew has emerged with Melanie Williams, musical director, Lynda McLain, stage director, and Casey Chucta, choreographer. The title role of Joseph is played by Gregg McLain and the Narrator's role will be sung by Dawn Bates. Jim Wooten, Senior Pastor at BCOB, will be featured in the role of Jacob, and Kiel Seley, Youth Minister at Port Royal Baptist will play one of the brothers.
Although much rehearsal time is required from everyone in order to produce a musical such as this one, some local families have committed to work on this project together. Not only the McLains (Lynda and Gregg) and the Chuctas (Casey, Casey, and Eliott), but also Joe Poveroni and his son, Chris, Diane and Marshall Smith, Dawn and Sam Bates, Jay and Chris Holloway, and Stephanie and George Toman. And there are several other cast members from the community who have really bolstered their efforts! Much time is spent encouraging one another in rehearsal as the 33-member cast and LowCountry Children's Chorus converge!
The church is excited about the performance opportunities that the USCB Center for the Arts has provided, and they seek to expand those opportunities for the amateur and professional to enjoy. The Baptist Church of Beaufort has been very supportive in providing a performance venue in the past for such productions as Smoke On the Mountain and Sanders Family Christmas which were well-received within our region, and looks forward to another celebration of community within and without our families of faith.