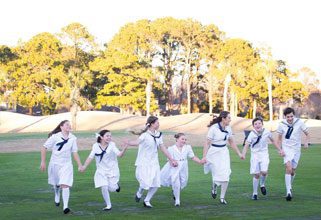 The Hilton Head Christian Academy performing arts department takes us on a journey through the hills of Austria during WWII and over the mountains of Switzerland with a delightful production of the Rodgers and Hammerstein musical, The Sound of Music. The skilled performers are supported by a live orchestra, impressive set design and arduous choreography.
The most infectious moments however, belong to the Von Trapp children with their happy yodeling, hopping on a bed to escape a scary storm and learning to sing Do-Re-Mi from their new nanny, Maria. The acting and singing is well executed and endlessly charming.
The Von Trapps have some undeniable chemistry and seemingly effortless harmonies largely due to some clever casting. Five of the actors are real-life siblings! Sisters, Elliott, Addeline and Emmelia Lentz play the roles of Maria, Louisa and Brigitta Von Trapp respectively. Brothers, Caden and Christian Becker play the parts of Friedrich and Kurt Von Trapp.The oldest Von Trapp, Liesl is played by Samantha Norton and the second youngest Marta by Millie Gilbreath. The littlest Von Trapp, Gretl, Ella Kate Green, bears an incredible likeness to her movie counterpart. The stern disciplinarian turned loving father, Captain Von Trapp is brought to life by Daniel Harrington.
"Everyone in the cast is so talented and I think people will love watching how we all portray the iconic characters," explained Gilbreath.The cast of 35 students range in age from 2nd grade to 12th grade. Clay Holmberg (Max), Jacey Robinson (Elsa) and Emma Stewart (Mother Abbess) join the talented cast in delivering uncanny authenticity to their characters. "I feel like my character (Liesl) is sort of like the mom they don't have but she still wants to act like a kid." shared Norton. For Harrington the challenge of playing Von Trapp is hitting all the high notes. "I have big shoes to fill . . . you know, Christopher Plummer!" he exclaimed. "Playing a Von Trapp is awesome and fun!" according to Emmelia Lentz. She describes Brigitta as "Sassy!" The favorite Von Trapp character amongst the cast is unanimously Maria. "Maria is a fun, caring, passionate firecracker," described Elliott Lentz. It has been a fun experience being Maria but working with my sisters and learning all the material has been a challenge," she added.
The beloved story of Maria and the Von Trapp Family has entertained audiences for decades with its award winning score, including "My Favorite Things," "Do-Re-Mi," "Climb Ev'ry Mountain," "Edelweiss" and title song, "The Sound of Music." Based on the true story of the Von Trapp Family Singers, this play represents a tale of growth and hope amidst the terror of World War II. The spirited nun, Maria Rainer has trouble fitting into the rules of Nonnberg Abbey and is sent by Mother Abbess to serve as governess for the motherless Von Trapp children. Maria transforms the home from a somber place to one filled with joy and music while winning the hearts of the children – and their widower father, Captain Von Trapp. Maria and the Captain marry and when they return from their honeymoon, they learn that Austria has been taken over by the Nazis, and the retired Captain is asked to report for service in the Navy. When the Nazis show up to take Von Trapp away, a family singing engagement buys the family time to make their harrowing escape to Switzerland.
"All my family knows the movie and are excited that I am in it. My favorite part is that I get to be on stage a lot!" blurted Green. "People love this show because it is a classic," stated Caden Becker. "Our mom loves that movie. It is her favorite," he added. "We watched the movie when we were really young . . . it was really long and I didn't even know there was a whole other half!" laughed Christian Becker. "I remember watching it for the first time with my grandma," recalled Elliott Lentz. The cast really admires the Von Trapps after stepping into their roles. "They (Von Trapps) are always together through the toughest of times, " said Norton. "The Captain goes through hard times and he becomes cold and distances himself from his kids . . . but in the end, Maria really changes things and he returns to himself," added Harrington. Each of the cast has their own favorite song from the score. Green is partial to, "The yodeling song!" Similar to a real family, Norton admits feeling like she is organizing people and helping to keep the peace. "We actually do get along, considering we spend so much time together," said Gilbreath. "I think because we have real siblings in the show it makes this cast special," stated Emmelia Lentz. For Green being the youngest seems to have its perks, "Everyone is very nice to me!" she asserted.
The artistic team is led by Director Michelle McElroy, with Music Direction by James Berry and Choreography by Patti and Cassie Maurer. "This is a show our creative team has wanted to tackle for years and with several successful seasons under our belts paired with an all-star lineup of kids, we finally felt the time was right," affirmed McElroy. "To me it feels like a real family. They all get along even though there is some bickering. "I think this show is special to many families because everyone has grown up watching it together," she added. The romantic musical, runs March 22nd-24th at The Seahawk Cultural Center. Tickets can be purchased by following the link: hhcadrama.eventbrite.com