Main Street Youth Theatre to perform Sondheim's modern musical fairy tale.
An ambivalent Cinderella? A blood-thirsty Little Red Ridinghood? A Prince Charming with a roving eye? A Witch… who raps? They're all among the cockeyed characters in James Lapine and Stephen Sondheim's fractured fairy tale turned Broadway smash.
When a Baker and his Wife learn they've been cursed with childlessness by the Witch next door, they embark on a quest for the special objects (a cow as white as milk, a cape as red as blood, hair as yellow as corn, a slipper as pure as gold) required to break the spell. And begins "Into The Woods"…
Main Street Youth Theatre's fall production of this contemporary classic opens on October 13th and runs through October 23rd at the Visual and Performing Arts Center on Hilton Head Island. Main Street is celebrating the opening of its 14th Season by reducing ticket prices to $14 for adults and $6 for students."
"We want people to know that Main Street is m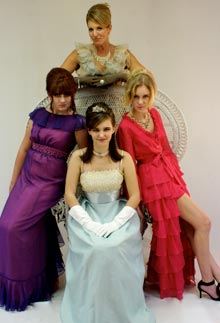 ore than a 'children's theatre,'" says operations manager Erika Pyle. "In fact, this particular show features 'older' youth, starting at age 12, but 2/3 of our cast is over the age of 18."
Pyle says the production's director, Peggy Trecker White of the South Carolina Repertory Theatre, has updated the show by using a "modern, abstract set" with 1100 books suspended from the rafters.
"Set designer Scott Spahr is the mastermind behind this set," says Pyle, "and all the books were donated by community members and local thrift shops."
Caroline Noble, owner of Madhouse Vintage in Bluffton, is the costume designer for "Into the Woods." She has enhanced the production's updated look by dressing the characters in haute couture circa 1964. "Think Audrey Hepburn and James Bond," says Pyle.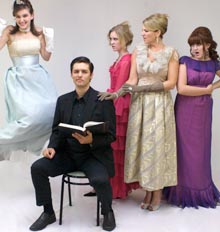 Tackling one of the production's greater challenges is music director Tim Reynolds, leading a cast of extraordinarily talented performers through Sondheim's complex, memorable score.
Show dates are October 13th – 15th and October 21st –  22nd with curtain at 7 pm, and October 16th and 23rd with curtain at 2 pm.
To purchase tickets, visit the theatre on-line at www.msyt.org or call 843-689-MAIN. Adult tickets are $14 and student tickets are $6. There are also Senior, Military and group discounts available. To purchase tickets by phone, please leave your name and phone number and someone will return your call. The Visual and Performing Arts Center is located at 70 Wilborn Road.