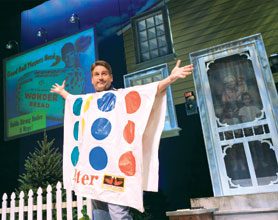 Showtime once declared Pat Hazell one of the five funniest people in America. His 30 years of experience as a writer (Seinfeld), producer and director have made him a go-to guy for new American theater. USCB Center for the Arts will present Pat'€™s fresh and funny salute to Americana, with his show The Wonder Bread Friday, November 10 at 7:30 PM.
The Wonderbread Years is a fast-paced, hilarious production that gracefully walks the line between standup and theater. Audiences across the country enjoy a show that not only restores a much-needed sense of wonder, but leaves audiences laughing and savoring the past like never before. From sitting at the kids table to riding in the way-back of the Country Squire Wagon, The Wonder Bread Years is a comic bulls-eye for Baby Boomers everywhere. Everyone will recognize someone they love in this parody of family life as we once knew it -€" Grandma, Aunt Ethel, or fill in your own names. Come prepared to have the time of your life!
Pat Hazell is one of the original writers for NBC'€™s Seinfeld, a veteran of The Tonight Show, a critically acclaimed playwright and a contributing commentator to National Public Radio. He is recognized for his genuinely funny Americana humor and his salute to nostalgia.

Tickets are available online at www.uscbcenterforthearts.com or at the box office (843)521-4145. Ticket prices $35 Adult, Senior/ Military $30 and Students $15.