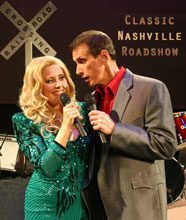 Fans of country music should be making plans to see the Center for the Arts'€™ season opening production of Classic Nashville Roadshow on Friday, September 29 at 7:30 pm. Remember when June fell for Johnny and Loretta was just a coal miner's daughter? Let Classic Nashville Roadshow take you on a journey down memory lane with your favorite classic hits honoring the world'€™s most beloved country greats!
Starring Jason Petty and Katie Deal, Classic Nashville Roadshow features renowned duets, such as Golden Ring; Louisiana Woman, Mississippi Man; and Jackson; poignant tunes like Crazy and He Stopped Loving Her Today; and gospel traditions such as Will The Circle Be Unbroken.
Petty and Deal sing more than two dozen songs, mostly from the 1940s through the early 1970s, tracing the history of popular country music and its biggest stars, from Kitty Wells and Hank Williams to Dolly Parton and George Jones. In addition to the music, Petty and Deal offer – mini bios of the singers, historical tidbits and even a few (still funny) Minnie Pearl jokes, all delivered in light but genuine banter.
Katie Deal has appeared for years in shows focused on Patsy Cline, and she pours her heart into that medley, but she's even better than delivering some of country music's best story songs – "Coal Miner's Daughter," "Harper Valley PTA," "Jolene," "Stand By Your Man" -€" when she has not just a song to deliver but a character to embody along with it.
Jason Petty hails from Manchester, Tennessee and has thrilled audiences across the United States, Canada and Europe with his veracious portrayal of country music legend, Hank Williams. Petty's journey began in 1996 at the world famous Ryman Auditorium in Nashville, Tennessee, and led him to New York City where he received an Obie Award for his Off-Broadway performance as Hank in Hank Williams'€™ Lost Highway. Since that time, Petty has appeared in national tours of Lost Highway, as well as his own shows, Hank and My Honky Tonk Heroes, Country Royalty and Jason Petty's The Swingin'€™ Cowboys.
Tickets are available online at www.uscbcenterforthearts.com or call the box-office 843-521-4145.
Ticket prices: Adults $30, Senior/Military $25 and Students $15.