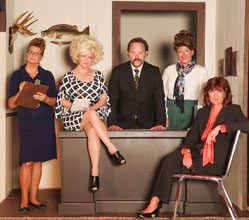 For the first time since Grease: The Musical in 2014, all three members of the Sweetgrass Angels will appear together in a production at the Beaufort Theater Company. And this theatrical reunion only scratches the surface of the ways that 9 to 5: The Musical brings Beaufort together. The cast members represent a wide array of the communities that make up life in the Lowcountry, with ties to the military, USCB, the public schools, the arts, small businesses, and many other walks of life.
            Closely following the plot of the movie on which it's based, the play focuses on the trials and triumphs of three strong, independent women at different places in their personal and professional lives but united by a common enemy. That enemy, though personified in the character of Mr. Hart, is really discrimination and an uneven playing field. Violet, Judy, and Doralee band together to overcome adversity and assert their rights to be given an equal opportunity to prove themselves.
            In addition to the well-known title track, 9 to 5 features catchy, powerful, and moving songs written by none other than Dolly Parton. Under the musical direction of Anna Wheeler, the cast is producing a big sound worthy of the queen of country.
            "When I first signed on to collaborate with the BTC production team for 9 to 5, I had mixed emotions," says Wheeler. "I am a Webber, Sondheim, Rogers and Hammerstein, and Schwartz devotee. But I also consider Dolly Parton to be an iconic musician and exceptional writer. ('Jolene,' anyone?) I was curious."
            The show's director Libby Ricardo is a passionate Parton fan herself. With three BTC productions under her belt, two of which won Broadway World South Carolina awards, she's more excited than ever about this project. "My husband and I are actually season-pass holders to Dollywood. He gave me several Dolly Parton vinyls as a gift once, and I couldn't stop weeping. The musical really exudes her energy: upbeat, indomitable, and fierce without ever losing warmth."
     " I think most patrons anticipate hearing music that sounds like Parton's work and compositional style from the 80's, and they will," says Anna Wheeler. "But this score is eclectic and speaks to her continuous evolution as an artist. Over thirteen genres are represented, including country, rock, big band swing, and bluegrass. There is no possibility for aural boredom and this cast breathes life into each character and song. This music is deceptively complex, and the hours the cast has devoted to learning and refining the score is admirable. Beaufort is fortunate to have access to these talented individuals who generously share their gifts with the community!"
            One of those talented individuals is Elaine Lake. Along with her good friends Velma Polk and Penney Lynn Smith – both in the 9 to 5 cast, as well – Elaine is famous throughout the Lowcountry as one of the Sweetgrass Angels. Known for their sweet harmonies and sassy style, the Angels perform in the area several times a week and their fan base continues to grow. Elaine was recently seen on the USCB stage as Sandy in Grease and Chiffon in Little Shop of Horrors, but she made her BTC debut with her friends Velma and Penney in the 2012 production of Honky Tonk Angels.
            About her character in 9 to 5 – the role originated by Dolly Parton – she says, "Doralee is so very different than any character I have ever played before and I am thrilled to be playing her. She is strong, self-assured, no nonsense, flashy and fearless, with a heart is as big as her . . . um . . . hair. I am having an absolute blast in this role and I love every moment of it. I am singing like I never have before and am surrounded by a phenomenal cast, directors and production crew."
            9 to 5:The Musical opens at the USCB Center for the Arts at 805 Carteret Street on September 9th and continues with performances on the 11th, 16th, 17th, and 18th. Tickets can be purchased in advance online, by phone, and at the box office. For more information, visit www.uscbcenterforthearts.com or call 843-521-4145.