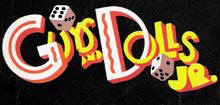 The Beaufort Children's Theatre presents the timeless musical comedy "Guys and Dolls, Jr." Saturday, November 19, 7:00 p.m., and Sunday, November 20 at 3:00 p.m. Performances are at the USCB Center for the Arts located 801 at Carteret Street in historic downtown Beaufort.
Ticket prices are adults $12 and students $8. Tickets are available at the USCB Center for the Arts box office The box office is open from 10am-2pm, Tuesday through Friday and. Order by phone at (843) 521-41145. All major credit cards are accepted.
Based on the Broadway stories of Damon Runyon, "Guys and Dolls" tells the tale of Nathan Detroit (Zachery Wells), the organizer of the oldest established permanent floating crap game in New York, who bets fellow gambler Sky Masterson (Eliott Chucta) that he can't make the next girl he sees fall in love with him. That "next girl" is Miss Sarah Brown (Allie Fraley), a pure-at-heart Salvation Army-type reformer. Meanwhile, Nathan is having trouble with his own girlfriend, Adelaide, (Ellen Hodges) who after 14 years of dating is ready for marriage. "Guys and Dolls" is a cornerstone of the musical comedy stage that continues to delight audiences over 50 years after its Broadway premiere. Featuring the songs "Luck be a Lady" and "Sit Down You're Rockin' the Boat," this musical is the perfect balance of story, dance, music, and romance.
Written by composer/lyricist Frank Loesser, with a book by Jo Swerling and Abe Burrows, "Guys and Dolls" won a Best Musical Tony for the original 1951 production, and a second Tony for Best Revival for the 1995 production starring Faith Prince and Nathan Lane. The musical also received international attention thanks to the 1955 MGM motion picture adaptation featuring Marlon Brando, Jean Simmons and Frank Sinatra.
"Guys and Dolls, Jr." Cast member include: Adelaide — Ellen Hodges, Arvide Abernathy – Michelle Perri, Benny Southstreet – Preston Coleman, General Cartwright — Natalie Alvarez, Harry the Horse – Campbell Dukes, Big Jule – Johnathan Wright, LT. Brannigan — Ryan Arbuckle, Nathan Detroit — Zach Wells, Nicely-Nicely Johnson – Ivan Estrada, Rusty Charlie KAtty Waller, Sarah Brown — Allie Fraley, Sky Masterson — Eliott Chucta, Angie the Ox — Amelia Evans, Calvin — Michael Holmes. Hotbox Girls: Akasha Nelson, Pat Balmediano, Anjhanee Daise Julianna Dunphy, Zoe Farley, Reilly Kilpatrick, Isabelle Lieblein, Rachel Shelton, Jasmine Walker, Raquelle William. Gamblers: Jonathan Boulon, Jada Hudgens, Rebecca Johnson, Hezzie Jordan, Reagan Kilpatrick, Madison Logan, Trissy Long, Morgan Louw, Grace Lubkin, Kidron Martin, Janelle Mills, Emily O'Regan, E'lana Phillips, Nick Purdham, Stewart Trask
Little Gamblers: William Davidson, Austin Major, Jack McDougall. Mission Band: Carolina Alvarez,. Lexi Cannon, Alexandria Clark, Sara Correll, , Samantha Farley, Daphne Fraley, Leith Gray, Jacquelyn Johnson, Briana Raiff, Caroline Robinson, Rebecca Scheper, Avery Thomas, Maureen Waunch. New Yorkers: Quinn Fleming, Alyssa Hines, Bayli Lake, Misti Lake, Rachelle Martz, Hannah Messenger, Ansleigh Pingree, Ledare Pingree, Abbie Pollitzer, Julia Pollitzer, Ashley Taylor, Grace Trask, Jamari Young.